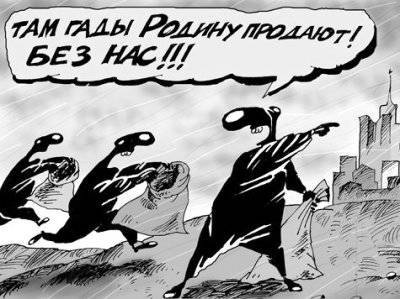 "Hooray! Hooray, shouted Democrats of all stripes. "We finally became free! Freedom of speech! Freedom of thought! Freedom from ideology! Finally, we got rid of it! "But it was here that the gentlemen" free-loving "are cunning (or do not understand). They did not get rid of ideology. They simply stopped hiding the ideology that they had cherished in their soul for many years, nurtured it as a hardworking farmer, laid it in their children. After all, it is only stated that in a democratic society there is no ideology. In fact, each party has its own ideology. But let's go in order.
What is ideology
«
Ideology
(Greek ιδεολογία, from Greek ιδεα - a prototype, an idea; and λογος - a word, mind, doctrine) - a system of conceptually shaped views and ideas expressing the interests of various social classes, groups, societies, in which the attitudes of people to reality are realized and evaluated and to each other and also authorize
forms of domination and power existing in society (conservative ideologies), or their transformations (radical, revolutionary ideologies) are justified.
Ideology is not a science
(although it may include scientific knowledge): unlike science, ideology not only represents knowledge about social and political life, but also includes an assessment (degree of desirability / undesirability from the point of view of the subject of ideology) of tendencies, processes and various forces of this social and political life.
Types of ideologies
The main modern ideologies were formed in the XIX century. Despite a significant number of different ideologies, in the most general form it is customary to single out liberal, conservative, fascist and socialist ideologies.
At the end of the 20th century, among politicians and parties, there was a tendency for pragmatic purposes to increasingly reject a stable ideology, that is, to adopt the tactics of antiideologism, and even populism. "
This is the definition of ideology in the most famous (and frequently used) Wikipedia. But "Vicky" would not be "Vika" if she hadn't kept silent about the most popular ideology that is currently being planted -
consumer ideologies!
It may not officially declare, but in every way popularize through the media and television. "Dear people and stars" willingly declare various material values, luxury cars, jewelry, advertise them on all channels. Well, if this is some kind of oligarch with a multimillion-dollar bank account (and better abroad), then he "has the right" to rob, murder, blackmail with complete impunity! This is "freedom from everything" and, first of all, from the law and elementary conscience. All in the name of welfare!
In no case do I call to condemn or hostile to those who, with honest work, try to provide their families and children with normal housing, decent wages, education, and proper rest. And at the same time laid out on all 100! This is absolutely normal for any person. The question is, HOW he achieves his welfare. And here suddenly comes the question of "laying the ideology in the human consciousness" When and how does this happen? You may laugh, but this happens in the very early childhood, when we try to inculcate in children the concepts of good and evil.
"What is good and what is bad"
Many of you remember this funny poem, and even now read it to children. However, at the same time with this poem, children listen to fairy tales, watch movies, cartoons, communicate with each other. And it is good if we do not allow this early upbringing to take its course. Because it is precisely folk tales, legends, the best examples of classical literature that bring into consciousness a huge layer of culture and SPIRITUALity, which has no place in the society of consumers. This is the layer of GOOD that is necessary for the development of a MAN. And it is precisely this that those who instill in us the ideology of consumers are trying to destroy. In general, the concepts of "good and evil" can be very easily distorted, and this is something that some individuals who long for freedom use.
- Kotigoroshko (Ukrainian hero) won the serpent of the bitter, who had fired his land for so many years, destroyed the village, and took the girls into captivity! Children orphan and old people hurt!
"Why did he kill him?" Maybe he would have re-educated? And in general, he wanted to eat, why kill immediately?
Do you think this is a joke? By no means! The real conversation in the classroom in the 4 class between teacher and student. And what do you think, what is the concept of the Motherland and the people already embedded in the child? Yes, spit on his native land! Where is freedom and democracy? - here is the main message!
Another example (I have already given it somehow)
Spartacus! A hero, a talented commander, a courageous warrior. He freed the slaves, led them along. And he did not abandon them, although he understood that the battle for Rome would be the last! Who didn't admire him? And if you look from the patricians? - Scoundrel, bastard, scoundrel! Robber - took away private property (slaves). But this is our all!
Another life example.
A neighbor who worked at the dairy during the time of Andropov:
"Tse are scary! It's not possible to infuse anything else! "Later she successfully traded in the market, but she complained about the damned Soviet power, which did not allow her to save enough to pay bribes in sufficient quantity. "And everyone demands! And the police, and the station, and firefighters! "What do you think, what ideologies will its children stick to?
К
So.
What is the concept of good and evil, you lay in the child - such he will have an ideology in the future
! Will he think that the main thing in this life is only money, things, purchases? Will he rejoice only in this? Will he spend his whole life on clothes and all sorts of junk? He can be very "successful" in life, but will he be a MAN at the same time?
But if a child - a teenager - an adult speaks and remembers the glorious
stories
of his people, proud of the heroes of the Great Patriotic War, lays flowers to the Eternal Flame (even if only a couple of flowers, no more money), bow to the veteran .... To the one who will raise such children, I myself am ready to worship! Because for such people the concept of "honor, conscience and dignity" is not an empty phrase. Such people will be able to restrict their freedom if it is necessary to save the motherland. And they themselves will go to defend it! Such people will never go to achieve their well-being at the expense of deceiving and depriving other people. As far as they are concerned, they will not only take care of their personal well-being, but will always come to the aid of those who need it. And they will spend not only their time, but also their money. And they will not consider it as some kind of "outstanding feat." Because, it turns out, they have a Soviet ideology!
Probably best to summarize the question "what is ideology," an example from the report
"Ideology and goals of future society"
Leonidova O.V. - corresponding member. ICA, MANEB, head of the public organization "Institute for the Development of Man and Society".
Dudy A. S. - Head of the public organization "Movement of the Spiritual Revival of Man and Society".
«
To understand and understand who is who in ideology and politics, you need to answer three of the most important questions:
1.
That
one or another
ideology suggests,
What is its ultimate goal?
2.
Who does she base herself on in achieving these goals?
which groups of people (real or formal)?
3.
Who is
for her n
rotivnikom
who is she fighting with? "
Answer yourself to these questions, and you will understand who you are and who you are raising? Patriot, statist and great servant of the people? Or just a consumer?
People who consider themselves patriots want to "see their country intellectually and industrially developed in a high level of production, wealth, education and culture", but at the same time they think that "without the free expression of the will of everyone, Russia simply cannot get through", do not want to understand that a person lives in society. And people will always unite around some kind of ideology. The country and society will achieve development and prosperity not depending on free will, but depending on which ideology will unite more supporters! And the majority will never submit to the minority. Patriotism can not be raised in isolation from the Soviet past! And the question always arises: "Why then were there so many heroes? What guided these people? Could they only be guided by fear? "(Unless the parents laid the mind of the child, then everyone was foolish and" What idiots! We acted for the sake of some mythical socialism and general equality at gunpoint.)
Free will say? You are welcome!
Ukrainian nationalists have announced their readiness to kill
"If there is no revolution, then Ukraine has no future. This opinion was expressed by a social activist, member of the Congress of Ukrainian Nationalists Nikolai Kokhanovsky.
"About 30, my friends publicly state that they are ready to kill the scum for Ukraine and die themselves. I am ready for torture and repression. If it works out or who can have mercy on us? No one. Accordingly, we should not pardon anyone," he, transfers "Minprom" ... ..
Well, after his vision of the revolution process, this pan declares: "after the revolution, it is necessary to hold democratic elections, elect a President.
"A revolution costs nothing if it is not able to take property away from oligarchs. Ours are the former nomenklatura, crime or henchmen of Moscow, here they make money for the Russian gebni. Entire industries must return to the state. Some oligarchs should be punished. Some will leave or repent in front of the Ukrainian nation. For some, it will be better for real money to buy what they have stolen, "said Kokhanovsky.
And in fact it is completely "democratic and free" expressing its will! And even provided democratic elections! But do you want such free will? Will you stand up for the defense of such a patriot, gentlemen free-thinking?
The ideology of consumers, even with all the assurances of patriotism, will lead to a dead end, because there is NO spirituality in it! And a country with a spiritless society will surely perish. What us diligently and pushing!
But what about democracy and freedom of speech and thinking?
"Thinking is the processing of information in the course of the flow of thoughts, images and sensations. This can occur in a variety of forms, different styles and with different qualities: thinking can be different degrees of coherence, consistency and expediency, can be nonsense, and a model of high wisdom, thinking can be effective and empty.
Free thinking - thinking, not clamped in the framework of restrictive patterns. A free-thinking person is not necessarily one who has not been raised - it may be the one who was brought up in the format of internally free thinking. "
What does this mean in practice?
A person can listen to a different, completely opposite opinion, but simply do not accept this opinion. And to say: "Well then! Maybe such an opinion! "At the same time, a person thinks freely, democratically and tolerantly. And he doesn't shout: "But I'm right!"
But at the same time he does not change his ideology!Make your choice, gentlemen!
Used materials:
1. http://ru.wikipedia.org/wiki/%D0%98%D0%B4%D0%B5%D0%BE%D0%BB%D0%BE%D0%B3%D0%B8%D1%8F
2. http://m-system-party.org/osnidei/ideologiaizeli.html
3. http://www.psychologos.ru/articles/view/vidy_myshleniya
4. http://obozrevatel.com/politics/46873-ukrainskie-natsionalistyi-obyavili-o-gotovnosti-ubivat.htm