28 February 2013 was announced that the American corporations Boeing and Sikorsky Aircraft created an alliance to jointly design and build a demonstrator of a high-speed military helicopter of a new type, designed to offer to the US Army competition for the Joint Multi-Role (JMR) program, which is part of an extensive project on the creation of a new generation of helicopters Future Vertical Lift (FVL).
The helicopter will be developed by Boeing and Sikorsky based on the innovative high-speed demonstration helicopter Sikorsky X2, using a combination of coaxial propeller and pusher propeller. The maximum speed of the new helicopter, as stated, will be 230 miles per hour, while compared to the current Sikorsky UH-60 multi-purpose helicopters, the new machine must have a larger combat range and 60% improved performance for hot and mountain flights . Flight tests of the prototype demonstrator of the new helicopter must be launched in the 50 year.
The "Initiative" Future Vertical Lift (FVL) has been explored by the US Army since 2004, suggesting the creation of new types of helicopters designed to replace the current main aircraft with the American Army in the future.
aviation
- helicopters of the Sikorsky UH-60, Boeing AH-64 and Boeing CH-47 families. The beginning of the arrival of new-generation machines is expected in 2027–2035, with priority being given to the program for creating a new multi-purpose Joint Multi-Role (JMR) helicopter, which Boeing and Sikorsky are planning to develop their own version of. It is expected that the US Army will send out requirements for the first phase of the creation of the "technology demonstrator" JMR (JMR Technology Demonstrator (TD) Phase 1) March 6, 2013.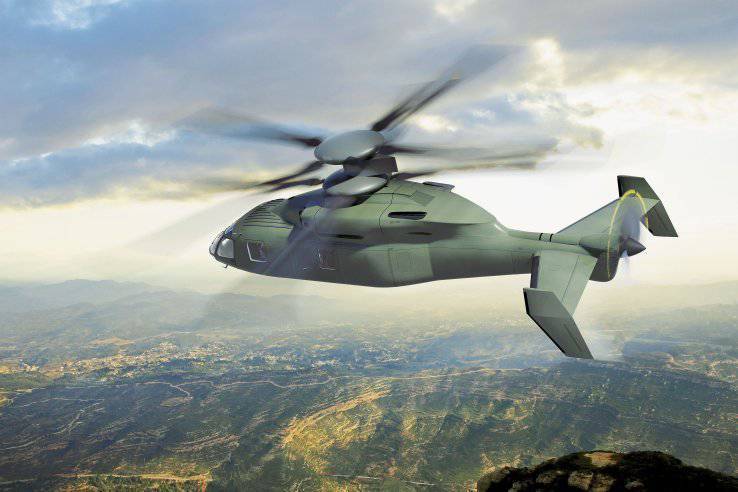 An image of a new generation high-speed multipurpose helicopter co-created by Boeing and Sikorsky Aircraft under the program of the US Joint Multi-Role (JMR)