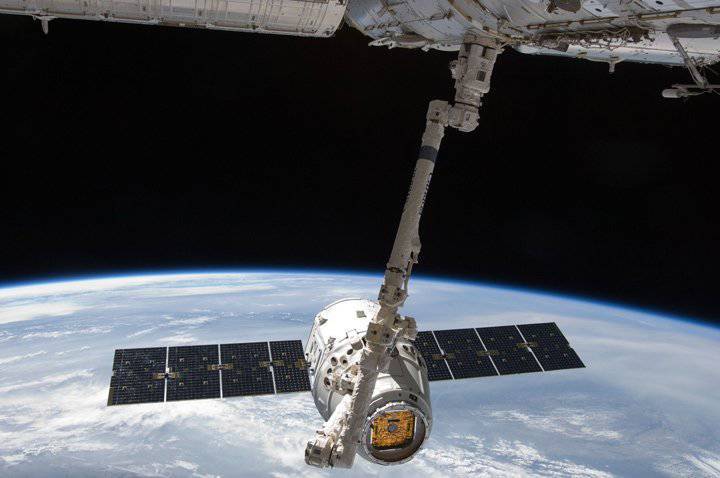 The second flight of the private spacecraft Dragon to the ISS was in jeopardy - the launch truck from Cape Canaveral on 19: 10 Moscow time the truck did not operate three of the four engines. This was announced by the head of the company owning a SpaceX drone Elon Musk in his Twitter.
"Problems with the Dragon engines. The control system stopped the launch of three of the four engines," a record appeared in his microblog. Later Musk said that the engines did not work due to automatic locking. In SpaceX reported that due to a problem with the engines of the ship, the solar batteries of the ship could not open.
Dragon managed to uncover batteries around 21: 00 MSK, after SpaceX specialists successfully launched two of the four engine groups. If this had not happened, the truck would have "disconnected" after 13 hours after launch, and this time, we note, NASA decided not to reserve a section in the Pacific Ocean for an emergency landing of the ship.
However, the docking of the Dragon with the ISS is postponed. It was scheduled for 2 March and was supposed to be the fastest in
stories
Nasa The truck carries more than half a ton of payload to the station, including 300 kg of scientific equipment.
The first commercial flight of the private ship Dragon Space Exploration Technologies company made 8 October last year. Dragon successfully delivered to the station about 450 kg of cargo, including materials for carrying out more than 150 scientific experiments onboard the ISS, parts needed for the station, batteries, a refrigeration unit, clothing for crew members, and food, including chocolate vanilla ice cream parcels.
In May, the 2012 of Dragon went to the ISS and made a successful docking, however, that flight was considered a test flight, since it did not deliver the shuttle to the station. The contract for $ 1,6 billion, concluded between NASA and SpaceX, implies 12 flights of commercial vehicles to the station.
Dragon was developed by order of NASA under the program "Commercial orbital transportation." According to the developers, in the future, the device will be able to deliver to the ISS not only valuable goods, but also people. It is the only space truck in the world capable of returning to Earth, all others are burned in the dense salts of the atmosphere.