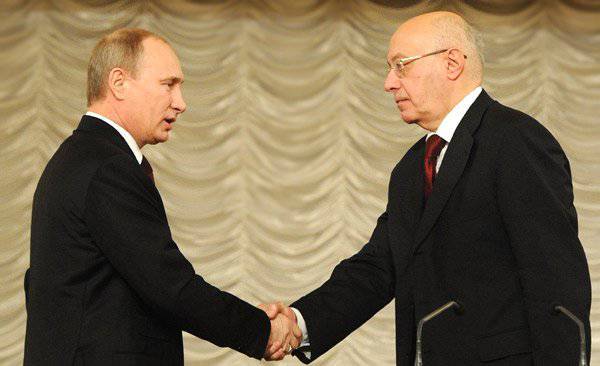 "The authorities are again in the wake of the liberals" - from time to time the reporter reproaches me with a true uterus who is not indifferent to the fate of the fatherland.
I sometimes object, sometimes I agree. To deny the truth is stupid: sometimes - yes, it goes. And when I agree, my indifferent interlocutor proudly, with dignity straightens up, raises his chin and looks over him at me who has fallen down, with his whole appearance demonstrating his superiority above me, which has just been confirmed by a crushing victory of his convictions over mine.
His conviction lies in the fact that the real patriot should not go to any contacts, negotiations and cooperation - in order to avoid loss of independence. How can you cooperate with the government, which all the time proves its treacherous essence by constantly walking about the liberals? If the power were patriotic, then it would be in the wake of us - patriots!
All this is told to me by an educated man, well dressed, not starving, whose patriotic activity is that with regard to everything that happens in Russia, he has a patriotic opinion and is not lazy about expressing it. Or he was not lazy before, he was not finally disappointed in people.
So: this person reproaches the state for sometimes cooperating not with him, but with the Higher School of Economics, the Levada Center, and sometimes even INSOR and other ultra-liberal structures. At the same time, a patriot who is not indifferent to the fate of the Fatherland, as a patriot, does not conduct sociological research, does not produce economic programs, does not train specialists - and many more. And above all - the community of educated and well-dressed patriots and lovers of the Russian people has no structure, relying on which the government could do what it is in general for power - to lead social, political and economic processes.
It's a shame to specify: it's impossible to rely on something that doesn't have a structure, spreads under your feet and runs away from the light. Unable to rely on slush.
But on the structures created by Westerners back in 90-e, you can rely. Because these structures are - once, and in every possible way ready to cooperate - two. At the same time, they, of course, will do everything in the way that is beneficial for them, but they are not to blame for the fact that they have no competitors. The monopoly is successfully provided by nationalist, communist and patriotic movements, whose role is to maintain a situation in which all patriots are against power, and the liberals are its only ally, consolation, a place where you can bow your head.
The requirement of liquid and gaseous patriots for power and Putin V.V. to personally cooperate with them is tantamount to expectations from the authorities that, like Christ, he will walk on them like a dry land. And since authority is not Christ, it must rather quickly and deftly run along the patriotic moods spreading beneath it, like
exotic basilisk lizard
.
Like this
In the opinion of liquid and gaseous patriots, the picture "Vladimir Putin, relying on patriotic forces, leads Russia into a bright future" should look like.
... However, recently the situation has begun to change. The majority - the very people whose lovers are well-dressed independent patriots - began to grow structures representing an alternative to the structures of pro-Western minorities, and the media, representing an alternative to their picture of the world.
About the media modestly keep silent and focus as an example on the structures. Here, for example, arose
Patriotic All-Russian Organization
leading active educational activities. It conducts sociological polls, collects signatures of the population regarding legislative initiatives of the authorities, collects broad associations of citizens on the basis of patriotic positions on specific issues.
What does power do? Power reacts instantly. Namely - it is itself, its main head, on the All-Russian Parent Assembly assembled by the "Essence of Time". Behaves adequately, is willing to cooperate.
And this is precisely what proves, from the point of view of an educated, well-dressed and not indifferent citizen to the fate of the Fatherland, that the head of "SV" Sergey Kurginyan is not a real, but an agent. That he is a project and a trap for patriotic people who are not indifferent to the fate of the Fatherland, so that
make them cooperate with the authorities
instead of independently having a patriotic opinion on all important issues.
In this regard, I would like to say that, according to the degree of independence, liquid and gaseous patriots have almost caught up with the two most independent categories of people - fools and deceased.
Homeland also needs those who wish that at least something depended on them.
In order to make something dependent on oneself, one needs to acquire a structure. And consequently - the form.
But to form, you see, and epaulettes will grow.