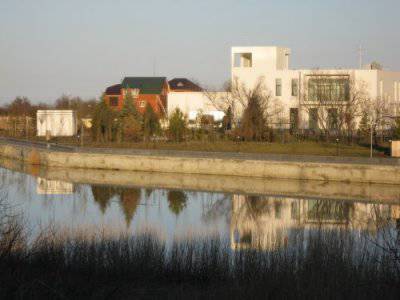 History
With the so-called "Serdyukov's dacha", which grew up on the site of the announced radar station in the Bolshoi Utrish conservation area, it continues to develop according to an exciting scenario. As you know, the administration of the Anapa municipality "at the request" of the Ministry of Defense allocated land near the Black Sea itself. For what? The letter, signed personally by ex-minister Serdyukov, said that the military department needed the land for the purpose that a radar object would be built here for the needs of the Black Sea
fleet
. Deputies of Anapa went to meet large military ranks and "shared" with those "golden hundred parts". But after that, the radar did not appear on the coast, and by definition could not appear. After all, the seashore surrounded by the Caucasus Mountains is far from ideal for the construction of a radar.
As a result, some time after receiving the land for their own use, the military department suddenly decided to sell the land as non-core. And the sale took place with a hefty discount of the company, which in the end the buyer and made. Further, on the spot where communications mighths and radars were supposed to grow, the summer house and the berth for yachts began to grow. Locals claim that building materials and finishing items were brought to the construction site, which obviously could not be called ordinary: pool equipment, cast iron
oven to give
, expensive furniture and stuff.
At the same time, the same local residents assert that after the "dacha" was built, the very highest ranks of the generals, who once asked for land for the construction of a radar station, began to run here. As a result, investigators became interested in this state of affairs. In fact, the alienation of land from the municipality of Anapa and the implementation of the site through front companies initiated a case. The ex-minister Serdyukov himself was summoned for questioning in connection with the "summer cottage" on Bolshoi Utrish, but according to the tradition that has developed over the recent period, he was silent, using what they say the investigators themselves, their constitutional right.
Today, there are disputes around the "Serdyukov dacha". There are also many contenders for elite real estate that has appeared by the sea. Anapa environmentalists, in particular, propose to use the "summer cottage" as the environmental center of the local municipality, where young environmentalists and nature lovers will be able to meet.