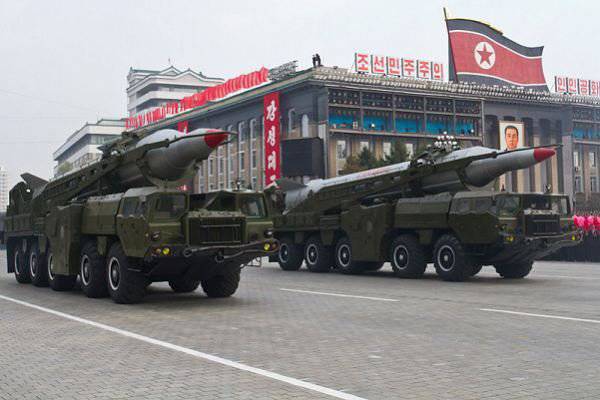 American intelligence believes that Egypt once again used the help of specialists from China and North Korea to improve Egyptian ballistic missiles. A participating Chinese firm (China Precision Machinery Import-Export Corp) was previously sanctioned by the United States for the illegal export of ballistic missiles and related technologies. North Korea also did not have to export such things, but it never adhered to any international restrictions imposed by non-export weapons. North Korea was recently suspected of supplying ballistic missile units to Egypt.
Since 1987, North Korea has exported about 500 ballistic missiles. Most of these shipments (around 420) were produced between the 1987 and 1993 years. In the rest of the 1990-s period, only about 30-missiles were delivered. Over the past decade, only about 60 missiles have been exported. Most of these missiles were received by Syria, Iran, Egypt, Pakistan, Libya, the United Arab Emirates (United Arab Emirates) and Yemen. Most of the missiles were SCUD missiles at a price of about a million dollars each. These supplies were the main source of export revenues for North Korea. Currently, this export is banned due to international sanctions imposed on North Korea in connection with the development of its nuclear
weapons
.
Egypt is believed to have acquired more than fifty North Korean ballistic missiles, about twenty of which (Nodong) have a range over 1200 km. Most of the 500 Egyptian ballistic missiles are variants of the Soviet SCAD missiles of the 1950-type, and most of them are locally produced missiles. The range of their action is about 500 kilometers or even less. The newly elected Islamic government does not hide its hostility towards Israel, it shows dictatorial tendencies and needs the support of the army. The violation of international sanctions in order to restore their dilapidated ballistic forces will allow to solve several problems at once.
The presence of Chinese and North Korean experts in the missile field observed in Egypt recently is most likely related to the modernization of Egyptian missile developments and their production capacities. Egyptian missiles are believed to be in a deplorable state, and their calculations are hardly ready for combat conditions. Foreign aid can significantly increase Egypt's ability to use these missiles properly. These ballistic missiles are the only means by which Egypt is able in reality to strike at Israeli targets. Despite Egypt's 240 F-16 and 970 fighter jets
tanks
M-1, Egyptian pilots and tankers are not able to compete with their Israeli counterparts.