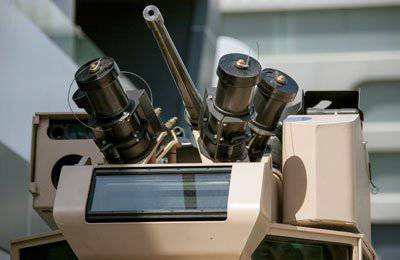 BAE Systems Land Systems South Africa demonstrated its last guided tower to the IDEX 2013 international defense exhibition in the United Arab Emirates.
The OMT (Overhead Manned Turret) guided remote tower is the latest generation, low profile turret, designed for installation on light armored vehicles, such as LAV 8х8 armored personnel carrier, or MPV mine protected vehicles. OMT is managed by a single crew member and provides self-defense, ground fire support and offensive capabilities for the machine, ensuring an optimal balance between situational awareness, crew protection and cost.
This system has a modular design that is designed to meet various customer requirements. Parameters such as security level, interface
weapons
, the sighting system and targeting mechanism can be customized according to the specific application. OMT can be configured to integrate into it a wide list of weapons types, from 7,62-mm and 12,7-mm machine guns, to automatic 40mm caliber grenade launchers. Thanks to the ability to select the appropriate type of weapon, OMT can be effectively used against various enemy targets.
The basic version of this system is equipped with a manual tower drive and an optical bishop with a built-in aiming mark. The all-round view of the battlefield provides outstanding target detection, fast response times and good orientation in urban environments. Four smoke grenade launchers are installed as standard equipment.
The latest version of the OMT-ED (Overhead Manned Turret - Electrical Drive), an electrically operated controlled tower, is based on a basic system and is additionally equipped with an electric horizontal guidance drive, which allows the operator to direct the target quickly and effortlessly.
"At Land Systems South Africa, we constantly use our own research and development tools to improve our products to ensure our customers receive the latest technology they need to provide protection on the battlefield," said Johan Steyn , Managing Director, Land Systems South Africa.
In the version with the level of ballistic protection В7, the total mass of the tower is 550 kg without ammunition. Its maximum height is 590 mm above the roof of the car, while this low-profile solution provides good situational awareness and high target identification characteristics at a distance of more than a kilometer, both during the day and at night.
Manual vertical and horizontal guidance is provided by a standard interface for the turret drives and weapons. In the variant OMT-ED there is a stopper for blocking the drives in the traveling-around position during the rapid movement of the machine. The integrated brake system ensures operability while the car is braked on a slope with an inclination of 15 degrees. This additional functionality, combined with a high-quality television scope, makes this tower an affordable solution for light armored vehicles.