Zhongguo Hankong Bao Newspaper Cites Several Chinese Export Statistics
aviation
technology over the past 30 years. According to the publication, since 1979, that is, during the period of implementation of the economic reform policy in the PRC, China has exported about 1700 units of military aircraft. The term used in the article means military aircraft as a whole, as far as you can understand, we mean jet combat and training combat aircraft, and helicopters, and transport aircraft. This equipment was supplied to 31 countries in Asia, Africa, Oceania and Latin America. Most of the countries-buyers of Chinese aircraft are located in Africa - 13.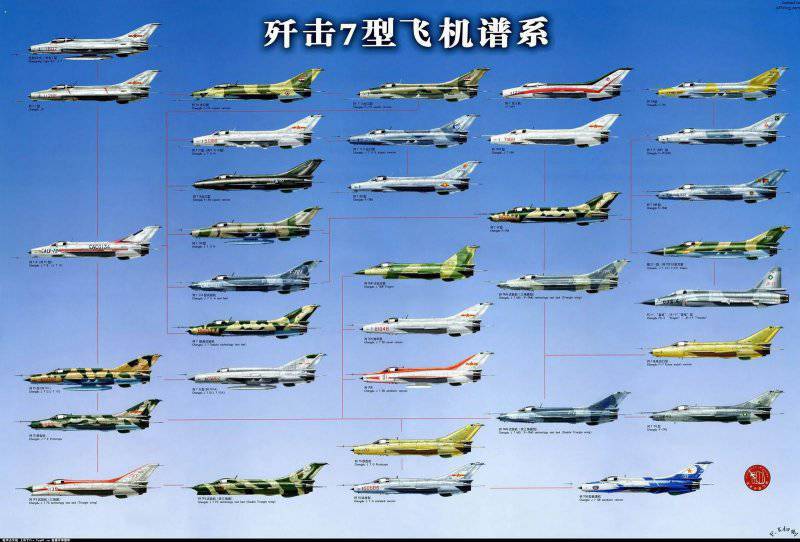 Modifications fighter J-7 (c) cnweapon.com
Of the total number of previously delivered aircraft, 719 units of aviation equipment are still in service. At present, China pays increasing attention to the provision of services for the repair and maintenance of this fleet of vehicles, as well as newly sold aircraft and helicopters (the article notes that revenues from these services can range from 10 to 30% of the cost of aircraft in production).
It is noted that the task of servicing export aircraft for China has specificity: the main buyers of Chinese products are the air forces of small and poor countries that acquire equipment in small batches, while their own capabilities of users of Chinese aircraft and helicopters for their quality service are small. The transition to the export of 4 generation fighter jets also imposes new service requirements.
To date, the Chinese state-owned aviation industry corporation AVIC and its export subsidiary CATIC, with the assistance of the military, have already created 28 service repair units around the world. In some cases, other Chinese private and state-owned companies, as well as foreign companies - CATIC partners, are involved in solving problems of repair and maintenance of equipment.
Among the trends in Chinese aviation exports, attention is drawn to a gradual increase in the share of helicopters, and a long-term trend towards a large-scale export of unmanned aerial vehicles is expected.