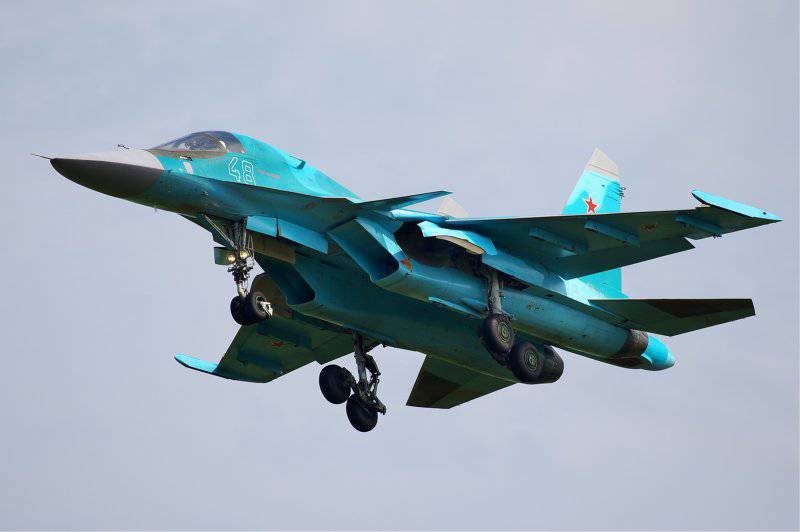 The 8 February forum portal club.mil.news.sina.com.cn posted a review of an article published in the recent American military magazine Defense Review, which says that China is working to create its own version of the Russian Su-34 front-line bomber.
China already has experience of successful development of the J-11B and J-16 fighters based on the Russian Su-27 and Su-30. It is reported that the stage of purging the model J-17 (Su-34) in a wind tunnel has been completed. Next come the assumptions that the Chinese version of the Su-34 should come to replace the H-6 bombers (Tu-16). Satellite photographs show that the number of bombers of this type has been significantly reduced, and its modernization reserves are "limited". On the other hand, the creation of a new heavy strategic bomber is "a very difficult task" because of the lack of powerful turbojet engines of its own design and such an aircraft cannot be created "in a short period". China is also working to create a "heavy version" of the J-19 fighter-bomber based on the J-11B.
The development of the J-17 has been going on since 1998, when a video of a model very reminiscent of the Russian Su-34 was shown at the Zhuhai exhibition. The Chinese version can carry a combat load of 8 tons, which is almost as good as the H-6 (9 tons) payload, and can be adapted for the use of long-range cruise missiles.
The article says that the Chinese version of the Su-34 can dramatically increase the strike potential of the PLA air force and withdraw the military
Aviation
countries to the "leading world level".