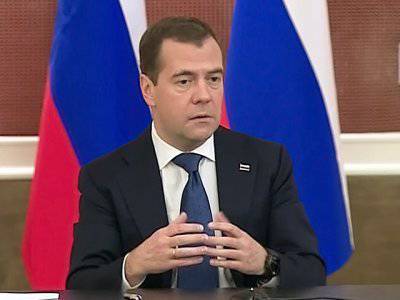 Russian Prime Minister Dmitry Medvedev arrived in Vietnam. Here he discusses the issue of restoring the base of the Russian ships in Cam Ranh. "We also discussed the creation of a base of Russian ships in Kamrani. This is a topic on the agenda, it continues to be coordinated," Medvedev admitted.
The Vietnamese side decides how to formalize relations with partners, ITAR-TASS reports.
The Soviet naval base Cam Ranh was located in the deep-water bay of the same name Cam Ranh in the Vietnamese province of Khanh Hoa. The bay is protected from typhoons of the South China Sea 30-kilometer-long peninsula. Due to the natural conditions, the Kamrani port is considered one of the best deep-water ports in the world.
During the Vietnam War, Cam Ranh was a large US base base. The Americans built an airfield and modern port in Cam Ranh. On the airfield based 12-e tactical fighter wing and transport wing of the US Air Force.
On May 2, 1979, the USSR and Vietnam signed an agreement on the use of the port of Camran as a logistics point for the Soviet Naval
fleet
for a period of 25 years.
Later on, the largest Soviet military base abroad was created with a total area of ​​100 square kilometers. In the era of the Cold War, the USSR base in Cam Ranh Bay was the largest military stronghold of the socialist bloc in the Asia-Pacific region, opposing the two US military bases in the Philippines - Subic Bay and Clark Field.
From 1989, against the background of the changed alignment of forces in the world, the contingent stationed at the base was significantly reduced, the warships were withdrawn.
Until January 2002, the Camrany was considered to be a point of material and technical supply of the fleet, but the Russian military ships practically did not enter the bay. The last time two naval ships of the Pacific Fleet visited the Cam Ranh base from 5 to 10 in March 2001.
In 1998, the Vietnamese side proposed to introduce a rent in the amount of 300 million dollars per year for renting the base. This proposal was contrary to the Soviet-Vietnamese treaty, the rental base for it was free.
October 17 2001 of the year Russian President Vladimir Putin decided to evacuate the base early of January with the 1 2002 of the year in order to save money and not to renew the agreement with Vietnam, although the agreement on gratuitous deployment of the base expired only in 2004.
The Russian Navy left Cam Ranh in mid-May 2002. At that time, Vietnam declared that Cam Ranh Bay would no longer be a foreign military target. A year later, the Vietnamese government decided to reorganize the base into an international airport. Cam Ranh International Airport on the territory of the former Soviet naval base was opened on December 12 2009 of the year.