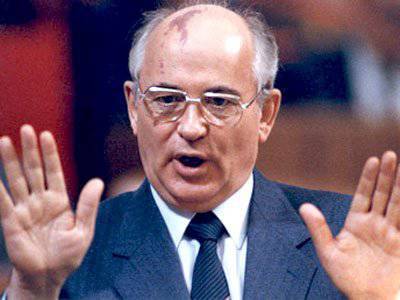 On this, with your permission, the analysis prompted me to read only comments on some articles posted on the "Military Review". And echoes can be found almost in every second.
What's the point? It's about criticism and evaluation
historical
events of the past. On the example of the article "A Millennium of the Fight Against the Evil of the" European Choice ", articles about Stalin, and a bunch of them.
It seems to me that so indiscriminately assess their past can not. Unfortunately, the seeds thrown by Gorbachev in the form of "publicity" and "restructuring" gave their abundant shoots. Publicity - it was generally something, everything was relatively good, then suddenly at one moment it became bad. And everyone on this wave rushed to expose everything and everyone. And everything became madly bad. Many here remember those times, spat themselves, to put it mildly, with ecstasy. Enjoying what a crap we are. However, let's look a little deeper.
The ancient Romans had the following legal term: "Qui bono?", That is, "Who benefits?". Who would benefit that we ourselves put ourselves sirohymi, beggars and squalid? Who would benefit from bowing to the so-called "humanitarian aid"? I was involved in work with this case, I saw what was coming from Europe and the States. And he was well aware that Russia was being held in the trash by everyone except the Germans. But for them at all a separate conversation.
Everyone in the world (well, with rare exceptions) is satisfied only by one Russia — humiliated, weak, repentant of all sins. From which it is possible to pump oil, gas, to transport wood, in which it is possible to bury radioactive waste on the cheap, the list is long. But a strong Russia, sending all the tries for the sake of its interests, and, moreover, it could threaten (as in Khrushchev's time, yes) - to no one.
An interesting moment is created: it seems that the leadership is keeping such a course - we will become strong, powerful, the 90's mess is going to be in the past, and so on. Urya, approve. But: generations have grown that have not seen the power and might of the USSR, but they have perfectly seen the ruin and robbery throughout the country. Who believe in the power of the West, which drive Western ideals. Internet, TV - all at the service, eat, do not wear your hair. Shoot? Plant? To send? NOT!!! You need to WORK with them !!!
Tear up what Gorbachev implanted with roots, fill in the informpola with napalm. Figuratively, of course, but here I come to the point.
It is necessary to fundamentally restructure the approach to historical assessment. Why, behind the scenes, is it customary to see only nasty and bad things in our past?
A quote from the comments to the "millennium": "Peter is an apostate from the Russian path. Although the first Russian emperor. Under Ivan Vasilyevich the Terrible, Russia did not copy the west, went its own way, although it also hired military advisers and so on in the west. Ivan claimed to marry the queen of a powerful country. Who did Peter marry? On Estonian slut! (we don't take the first wife at all because there wasn't a marriage, but a politician and not Peter, but his boyars). Did Peter curb the boyars? no, before him did the same Ivan IV. But Peter became famous as a true European - ranging from persecution of wide sections of his own population (for example, Old Believers) and ending with the murder of his own children. "
Drain the water? Or more?
"Petrusha didn't invent anything new, except for the most potent cathedral with Pope Zotov. Ivan 4, whom modern historians have called the Terrible, has established a regular army and artillery. Architects from Italy worked in Russia and in the Kremlin, in particular, when Petit was not even in the form of spermatazoid. In German, I'm not talking about Polish, clothes were dressed at home by his father Alexei. Yes, and the reforms of "Peter" began not Peter, but his elder brother Fedor, Sophia continued. But whoever reformed the church to the Aglitsky manir - exactly Petya, abolished the patriarchate and appointed himself the head of the church, the ministry began to deal with church matters, he also took communion in the Anglican church, a fact known since his European voyage. Yes, and drove the development of the country with a whip, so much so that even the associates of Peter considered it reasonably calm the evolutionary development of the country under his sister Sophia ".
That's the attitude. I will put a certain boundary, precisely on Gorbachev. If it is good to look at the articles, then all before him (and including it) were none. Oh, about Nicholas II, Lenin and Stalin keep silent so that no sound at all. In order not to cause another srach.
What am I for? But to what. If everyone was none, how did we end up here and now? Or maybe it is worth looking not only at the negative moments, but also at the positive ones? Why does the whole world see only positive moments in its past, and treats negative ones as "temporary excesses and mistakes," and we all have only these errors? Peter the Great didn't really do anything, the Romanovs almost all the parasites, Stalin didn't build the country, but just sat and thought about who else to plant / shoot ... Yes, of course we will raise conscious and patriotic generations at that rate. 100%. Peter 400 years ago, the Swedes bought land for gold on the coast - oh, reptile! And so he saw 400 years ago, he desperately needed this coast, maybe. Well I do not ask, when Khrushchev Crimea conveyed to the Ukrainian SSR, what did he need? And I do not ask what was necessary for the transfer to the Norwegian shelf of oil? They, too, had such a vision. But do not equalize 17 and 21 century, oh, not worth it.
Look at the States: any, I emphasize, any president is a hero and for America by the mountain. Well, who is not really a hero - that's what the bullet was, but it happens, it's so ... But the rule "On the dead is either good or nothing" is clearly observed. And we have the opposite, about the dead or nothing (good), or dirt. Moreover, no longer buckets. Tanks. Who benefits? WHOM ???
This is not so, dear ones. It is impossible. History is a very delicate matter, easy to rewrite. It is easy to drive into the minds of immature that for centuries Russians were blue-legged fools with balalaikas and bears. Knocking out is harder. Because the first one needs IM (and their name is legion), and the second we need. There are definitely less of us, but truly Russian hell when the number scared. And here I am counting on this.
You can't spit on your own story. Many are asking now, who, like to believe? They taught one, then another, now the fifth ... True, but this is the essence of the tool of history. Twirl all and sundry. Answering (if not they asked me, well, okay) personally from myself to such a question, I would say this: you need to believe those who say that Russia, the Russian Empire, the USSR, the Russian Federation were, are and will be great. And prove it with all their might. And everyone, especially those who come from there, to all these speculations and tales, should be given only one answer: "It's not your business!".
I will give an example from my life. She brought me on business to the small town of Dénia in Spain. At the weekend, we suffered a pure wander, monuments to see the fortress, again (well, there is a fortress in every self-respecting city, there is no fortress - not a city). We walk, we look at the monuments, we take pictures of them at Cervantes, we look - another man stands, the same times, judging by the clothes. Match - both on! Philip the Second ... Well, we reacted calmly to this with the translator, for we don't know much about him. But our third associate, he graduated from the Moscow State University faculty, wound up a little. Well, we through a translator turned to a local grandfather, sat nearby, puffed on a cigar. Well, Lech to his grandfather, why is there a monument to such a bloodsucker? Grandfather replies:
- Yes, this is King Philip, he ordered a fortress and a city to be founded here ...
- So he was a tyrant, how many people rot, how do you put him monuments?
- And we didn't put it ... It was set three hundred years ago, and it's worth it ... And where are you guys from?
- Yes, we are from Russia ...
Grandfather puffed his cigar, then asked:
- Listen, Alejandro, did he even touch one Russian with a finger?
- It seems not ... - Lech already confused.
- Well, what are you then? We'll figure it out by ourselves, who should put monuments, who should be filmed ... Well, the despot was, well, the tyrant ... but he was driving along the shore, he did not like what was empty on the line, ordered, where he spat, put the fortress ... That's worth it. You have it there, they take it off, then they put it, but here everything is quiet here ...
Wise was a Spanish grandfather, do not say anything. You will remove the monument today, and the day after tomorrow you will have to put it again. So let it stand, who hinders? We treated Grandfather Alonso to coffee (as it should be), chatted about anything else (he had a brother in the Blue Division, but God had mercy, returned home after being wounded) and went on.
Probably worth it and we become like. And do not moan on the topic, what was the tyrant Peter and what was the tyrant Joseph. And more often and louder to talk about what useful they have done for the country. That is patriotism. And spitting up their history in the guise of truthfulness is anything but love for one's country. This is an attempt to gain cheap authority in the style of Gorbachev. He won it himself, his vowel verbiage. Where? In Russia? Is he honored and respected here in his homeland? Hmm, it seems no. Rather the opposite. And, in the West ... Well, of course.
Our story obviously needs to be rewritten again. And not to please those who make money on it, but for the sake of those who will begin to study it (or pass, as they say in schools) in the near future. It is necessary for them to drive into their heads since childhood, that our country has always been great and powerful, that those who ruled for it, to the best of their ability and understanding, committed acts to the glory of Russia, to study precisely these acts. Then surely there will be no problems with patriotism. And when young Russians will not have a shadow of doubt about which country is the most-most, when it will be possible to shake faces with the word "rashka", then, probably, those who really love this country will be able to breathe easy.