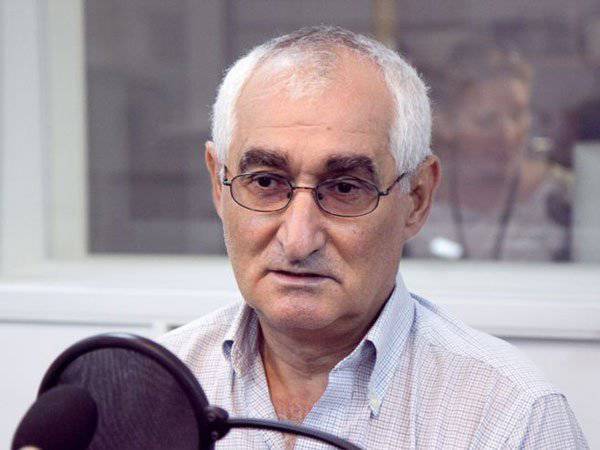 Enver Fridovich, I would like to start a conversation about Dagestan with recent events. As you know, the 14 February February checkpoint at the entrance to Khasavyurt was undermined by a suicide bomber. Five people died, another five were injured. Do you think we should link this incident and others, if they follow in the near future, with the resignation of the powers of the President of Dagestan, Magomedsalam Magomedwa, and the appointment of Ramazan Abdulatipov as acting head of the republic?
Well, yes, you can try to trace such a connection, to imagine that these were some kind of messages. But there is nothing special happened. The leadership in Dagestan is there, the leadership of the Ministry of Internal Affairs has not changed ... I think I should refrain, at least for now, from trying to trace such a connection between these events. The explosion, as far as I can tell, was accidental, another was being prepared. Therefore, it is too early to talk about whether there is a direct connection.
How do you even see the situation with the change of Magomedov to Abdulatipov?
I tried to analyze the essence of this change of figures, but, I confess, I did not understand what it means. I am inclined to suspect that behind this shift there is more likely some kind of conflict between oligarchic forces that have interests in the region. Some one force pushed another, and Magomedov replaced Abdulatipov. Some kind of struggle was, apparently, and someone in her prevailed. I tell you frankly, I do not understand the essence of this. Because there were no events out of the ordinary in Dagestan, the number of terrorist attacks in 2012 was about 15% less than in 2011. I also did not find any claims of the federal center, which allegedly were in the public sphere. Positive dynamics in the economy and other areas in the country was observed. Successes, however, also special were not. I do not know why and why this was done.
Ramazan Gadzhimuradovich - a public politician. This is a person who does not solve and never solved any administrative problems, he is far from the intricacies of the internal problems of the republic. Therefore, its appearance rather exacerbates the situation. At the same time, Magomedsalam Magomedovich was given a high post after his resignation, that is, it seemed like they apologized to him. This once again underlines that there were no public failures behind it. The only thing that can be said about this resignation and subsequent appointment is that it looked very, very strange.
But you can guess something?
Such a change of power is a very bad symptom for Russian politics in general. And unexpected. Look here. Vladimir Putin comes to power in Russia. The politician is known, predictable and very strong. And suddenly events happen that are completely different from how everything happened under Putin for many years. The way they changed power in Dagestan is more likely a style similar to Medvedev, with his unexpected decisions. For example, Medvedev signed an agreement on cooperation between Dagestan and Azerbaijan, which is completely disadvantageous for Russia. Then it was also not clear to me why we are doing this, simultaneously exacerbating the situation in the south of Dagestan. Once again, what really stands behind the change of the head of Dagestan - I do not know.
And what will the stability and duration of Abdulatipov's new post depend on today? How much will it depend on domestic policy?
All new
history
since the end of 80, the beginning of 90, Dagestan has existed relatively stable for one reason only. There began to emerge the so-called ethno-parties, what we call clans today. In reality, these are not exactly clans. Family ties play a big role there, but there is also a national factor, and much more. As a result, such groups have arisen there, each of which is doing its best to concentrate power and resources to the best of its ability. These groups interact with each other through conflicts and all sorts of compromises and agreements. But since there are many such groupings, and not one of them could even dream of absolute power over the region, the whole system worked as the most natural system of checks and balances. As a suspension bridge, the system of dynamic balance of power.
Posts in power were occupied by representatives of different nationalities. This system arose back in the USSR, then it was observed during the formation of the parliament. And all this was expressed in the political space legally. It was politically advantageous, which shows the period of the first and second Chechen campaigns - Dagestan was not involved in the war.
This system was almost destroyed in the 2006 year, when Mukhu Aliyev was actually appointed president. Then in the republic they tried to build such a pyramidal structure of power, when one person is at the top and everything else is built under it. But Muhu Aliyev was a man not corroded and ethno-political parties far from internal political battles. He was a technocrat, so to speak. And the system of ethno-parties has been preserved, having adapted a little and having restructured it remained. And, as a result, a balance has been maintained, in which neither a radical improvement nor a radical deterioration of the situation is possible.
In 2010, Aliyev was replaced by a representative of one of the most influential ethno-parties, hereditary, if I may say so, the head of the republic, Magomedsalam Magomedov. And the course of "unawareness" of the situation only strengthened.
And now, when Ramazan Abdulatipov came, the question is precisely how he will begin his policy. All his political rhetoric, prior to his appointment, was that all these clans are all outrageous and corruption, and all this must be eliminated. To rule, in his opinion, should be people competent, young, not corrupt, technocratic. If he starts to implement his statements, to implement his ideal, so to speak, there will be a catastrophe. I guarantee you.
If he, if he succumbed to the influence of external forces, following other factors, preserves the political tradition of Dagestan, then there will be no explosion-collapse. Just everything will remain as before, as it was until now.
And which way today seems more likely?
Well, if we take a look, we will see that Abdulatipov was already trying to do something, and something didn't work right on the move. He is trying to form a team now. He has already taken some of them, but with whom he failed. He was unable to dismiss the head of the Ministry of Internal Affairs of Dagestan (from 11 August 2010, this position is occupied by Abdurashid Magomedov - "Polit.ru"). There were many rumors that he also wanted to remove the head of Dagvino (the head of the Committee on Viticulture and Alcohol Market Regulation of the Republic of Dagestan, Dagvino Mukhtar Halalmagomedov - Polit.ru). It was rumored that he even removed him from his post, but then returned. Also, several other officials "were not given" to Abdulatipov, I don't want to mention their names here. And now it seems that the provisional head of the republic has nevertheless complied with the established order and will continue to continue the tradition of treaties and compromises.
This is evidenced by the fact that the new part of the government of the republic, which Ramazan Abdulatipov has already formed, is not younger than it was. The new government is the good old functionaries, either removed from office before the arrival of the new head, or raised with his arrival. These are the same people. New old team. Of the new appointments, only the new permanent representative of the republic in Moscow (Alexander Yermoshkin, before the appointment was the head of the Organizing Committee of the Central Council of United Russia political party supporters - Polit.ru), which has nothing to do with Dagestan. But it was in Moscow, in the region, that Abdulatipov did not allow himself such appointments.
All this signals that nothing drastically will change in Dagestan. It will not be worse, but not better.
But how then to do better?
I have said many times and I repeat once again that if you want serious changes in Dagestan, then these changes are necessary first in Russia. In another Russia there may be another Dagestan.
But apart from politics, what could be done today for people who did not come sideways into the elites of Dagestan, and because of which the standard of living is, to put it mildly, low? Is there a way today, in other words, to make the life of ordinary people in Dagestan better?
I'll tell you what can be done. You can improve life, if in the North Caucasus, not only in Dagestan, to carry out a democratic land reform. That is, to give land to people as well as to give it to people in ancient Greece on the reform of Lycurgus and Solon. Simply put, as was the privatization of housing in Russia. If we give land in the North Caucasus to those who really work on it, we would have the most prosperous regions of the country there as soon as possible.
But after all, such a reform would have stirred up Caucasian society in a way that even direct democratic elections of the heads of regions could not have stirred it up?
Yes, there would immediately begin a new redistribution of property, which would require careful monitoring. Large landowners would immediately appear there, but even the latter could at least pay people for the land that they would buy from them. But people would become owners, they themselves would decide whether they need the land they own or need to sell it.
Now we have a situation in the Caucasus when the land is simply being plundered by these "new Russians" or whatever you want to call them. They are doing what they want on the actually stolen land with the permission of the authorities, and there is no owner who would say - "I also have the right to do business here." The same situation throughout Russia, but in other regions of the world a lot, and it can not stir up society. And in the North Caucasus there is little land, it's there - the pride and soul of the nations.
The land there is extremely valuable. But it was actually socialized under the Soviet regime, and after the collapse of the USSR this issue was not settled and now it is, I repeat, being stolen. Just because no one can say: "This land is mine."
People there, of course, are still fighting for their land, creating committees, national associations, and so on. But for some reason we blame them for religious extremism. This is a "beautiful" idea, I will tell you. Everybody believes in it. But this is not in the Caucasus. There is no religious extremism in Dagestan. All this is an absolute lie! It is very beneficial for someone to spread these rumors. But the problem is simpler there, it is connected with the fact that people are simply not allowed to live. To live in their own land. Engage your farm. This is a land problem. And the Caucasus itself cannot solve this problem. They do not have their own Lycurgus or Solon. And if it appears, it will simply be shot. As the rector of the Kabardino-Balkarian University was shot (Boris Zherukov, the rector of KBPAU, was shot dead in his office in Nalchik on December 25 - "Polit.ru"). This rector was just one of those who seriously and publicly discussed the issues of the Caucasian land.
You know, this question is so patient that I don't even want to engage in political science because of him. Because it is not political science already, but a continuous criminal chronicle.
But maybe there is a hope that such reforms will be somehow initiated, for example, in the same Dagestan by the same Abdulatipov?
I do not think it's worth hoping for. Ramazan Gadzhimuradovich will not solve this problem. He is not strong enough for this, I think. Moreover, he gives alarming signals, stating that the land in Dagestan has no nationality. These statements are already alarming inside the republic and in me, because they say, "we will not take into account the interests of the people who live on this earth."
So maybe the selective abolition of gubernatorial elections, which will soon be adopted in the State Duma, allegedly because of the explosiveness of some multinational republics - is not the right decision? Perhaps, it would be more correct to conduct direct elections of the heads of the regions in the Caucasus?
Elections in a number of republics of the North Caucasus and, in particular, in Dagestan, are an unequivocal aggravation of domestic political problems. After all, there are even Kumyks and Avars inside themselves competing, not only national groups. But now the process of the ethno-party movement has gone so deep that, who knows, maybe they could solve this issue peacefully among themselves. In this case, I have no doubt that the most worthy one would be chosen.
Personally, I think that the draft law arose for other reasons, and the elections will eventually be canceled not only in the territories of the North Caucasus. I think the federal government wants to have a lever of regulation in case of a sharp aggravation of political life. I do not think that this is a concern for Dagestan. I think this is a fear of the people who independently choose their representatives. After all, such a chosen one can always come to the Kremlin and say - "I can not, because you want, I made a promise to my people." Moscow is much more satisfied with the functionary, who stands at attention and receives instructions. For other options, our government is not ready yet.