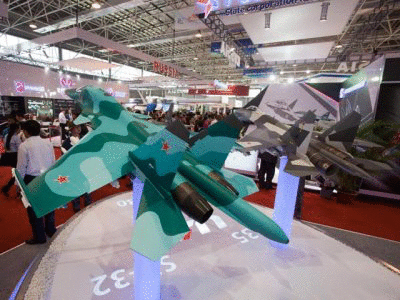 The Stockholm International Peace Research Institute SIPRI has compiled a list of the hundred largest arms manufacturers for 2011 a year (due to the peculiarities of the research work, the institute publishes reports one year behind). The rating includes eight Russian enterprises, according to the organization's website. At the same time, the total sales of global manufacturers for 2011 year compared with the previous year decreased by 5%.
United Aircraft Corporation (18-place), Almaz-Antey (22-place), United Aircraft Building Corporation "Sukhoi" (38-place), "Helicopters of Russia" (40-e place) , "United Engine Corporation" (61-e place), "United NPK" Uralvagonzavod them. Dzerzhinsky "(64-place)," NPK "Irkut" (68-e place) and "Radio Engineering and Information Systems" (69-e place).
The list was headed by two American and one British company - Lockheed Martin, Boeing and BAE Systems. The first is engaged in the manufacture of aircraft, electronics, rockets, as well as Boeing. Lockheed Martin rescued from the sale
weapons
more than 36 billions of dollars, Boeing - a little more than 31 billions of dollars, the British BAE Systems - 29 billions of dollars. Russian companies have earned a total of almost 19 billions of dollars, cites RBC figures.
44's sales of US-based arms manufacturers totaled 60% of the total sales of listed companies 100, counts RIA "
News
"The share of sales of 30 manufacturers based in Western Europe was 29%. The total sales of all 100 manufacturers are estimated at 410 billion dollars, which is 5% less than in 2010 year.
The fall in arms sales could have been affected by the situation in conflict areas, such as a reduction in activity in Iraq and Afghanistan, as well as sanctions on arms supplies to Libya, the report says. In order to remain competitive, companies have to cut staff and production, open branches in Latin America, Asia and the Middle East. Such an industry as the production of cyber security technologies is gaining popularity, SIPRI expert Susan Jackson said.
SIPRI ranks the largest weapon manufacturers since 1990 of the year. According to the footnote to the report, Russian companies are counted in it since 2001. However, due to lack of information, far from all existing enterprises of the Russian defense industry are taken into account. Also, due to the "lack of sufficiently accurate information", China was completely excluded from the list.
Thus, the figures for 2011 for Russia turned out to be slightly worse than in 2010. Then more than 10 Russian enterprises entered the rating. The Russian Air Defense Concern Almaz-Antey occupied the 20 line.