In pursuit of the effectiveness of large-caliber rifles, many manufacturers forget that
weapons
people will have to shoot, and the human body is rather fragile and can bear far from all the load. Nevertheless, real monsters appear among the CWS quite often, which are already difficult to call a rifle. So, quite recently I was pleased with Azerbaijan by presenting a real "manual" cannon with a millimeter 23 caliber to everyone.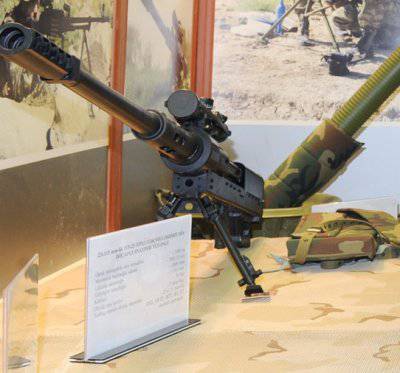 While the weapon has not yet entered mass production, I cannot share accurate information, but in general some points are known. The basis for the new rifle served as a CWS caliber 14,5 millimeters Istiglal, which was also presented relatively recently, namely in the 2008 year. Apparently, the weapon seemed thin, and in the first half of this year it is planned to expand a large-scale production of the new model. True, for me personally, it is completely incomprehensible for what exactly the large-scale production of such specific weapons, apparently, it will be not only about meeting their own needs, but also about exporting weapons, which, taking into account an interesting caliber, may even bring considerable profit. Still, there are a lot of people who think that the more the better.
The appearance of the rifle is such that you involuntarily think about the complexes of the designers who worked on the weapon, however, in this case both the weight and the dimensions are more than justified, since the cartridge is really powerful this time. It seems strange that the weapon is not installed on the machine, the same South African large-caliber Truvelo sniper rifles with a caliber of 20 millimeters are suitable for use only from the machine, this same monster has a bipod. Naturally, with such a patron has not been without a set of measures to reduce the recoil of the weapon when fired, it really very much kicks. While it is possible to speak with confidence about a rather massive muzzle brake-recoil compensator and a butt, in the construction of which there is a spring. The quickest thing is that it didn't stop there, which is clearly seen from the photo of this sample, but the details will be a little later.

If we talk about how accurate this rifle is, then it is better not to speak at all. Even without getting acquainted with this weapon it is clear that there can be no question of any accuracy without a machine tool. On the other hand, in such a caliber as that of this apparatus, the tasks of the weapon are somewhat different, which usually face the CWS. The main objectives of the rifle is light armored vehicles, auto transport, radar, demining, that is, those tasks that either allow for several shots slowly, or it is very difficult to miss. True, here I have a question, where to search for this weapon of snipers, since I strongly doubt that someone will agree to shoot a weapon more than once.

The ammunition that is used in weapons is most likely a cartridge of 23x152 mm, which was used previously in
aviation
VY gun and anti-aircraft mounts 2A7 and 2A14. However, it should be borne in mind that so far there is little information on weapons, so this cartridge can be completely new, although it was unlikely that they began to invent a bicycle and, if they worked on ammunition, then on the basis of this cartridge.
The rifle is most likely non-autoloading, although there is information on the opposite, but I personally find it difficult to believe in the self-loading of this monster, given the use of bipods, and not a full-fledged machine.
In general, please do not treat this article as a full review, it's rather
news
that the release of the CWS with the 23 caliber of a millimeter and no more, and what happens as a result, will be seen in the near future.
PS Perhaps the rifle uses an 23x115 cartridge, which is more close to reality. Thank you for the tip
Bigriver
.