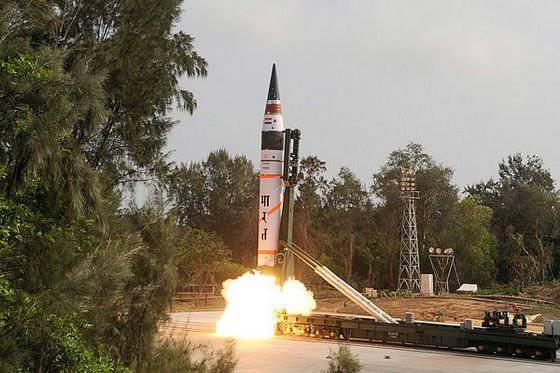 India is developing a long-range Agni-6 long-range ballistic missile with a split head with nuclear warheads for individual targeting.
As reported by the Press Trust of India agency during the Aero India-2013 exhibition, the head of the Defense Research and Development Organization (DRDO) of the Indian Defense Ministry Vijay Kumar Saraswat, Agni-5 BR is currently the main strategic defense system of India. In the future, DRDO intends to create a ballistic missile "Agni-6", with enhanced combat effectiveness and range.
Refusing to disclose the range of the new missile, V.K.Sarasvat informed that the combat capabilities will be expanded to include the use of a split head with combat units of individual guidance (MIRV).
The Agni 2012, tested in April of the 5 of the year, will be able to hit targets at ranges up to 5500 km. It is assumed that the Agni-6 will exceed this indicator in range and will be able to hit several targets at a distance of about 100 km from each other.
According to V.K. Sarasvat, the work within the framework of this program is already underway, the design has been completed and the hardware creation stage is being implemented. The development of Agni-6 will allow India to enter the elite club of states with intercontinental ballistic missiles.
Like the Agni-5, the Agni-6 will be a three-stage solid-fuel rocket. The length of the MBR will be about 20 m, diameter - about 2 m, and weight - 65-70 t. Presumably, the rocket will be able to carry 4-6 warheads (depending on their weight).
The head of DRDO also said that the organization is working to create an air defense / missile defense system that will provide effective protection against low-flying cruise missiles and enemy aircraft.