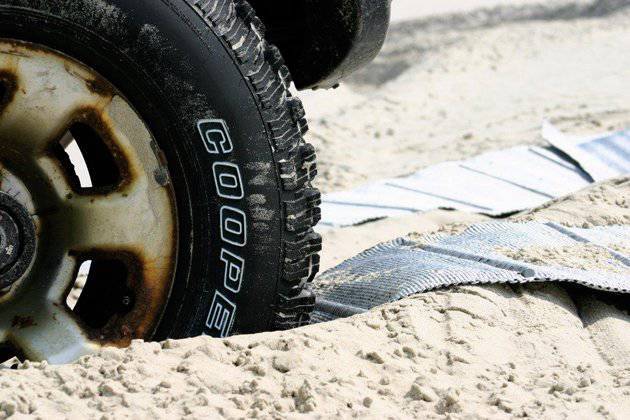 Faun Trackway introduced a new lightweight vehicle mats (Light Weight Vehicle Recovery Mat, LVRM) that increase ground maneuverability. A new lightweight mat designed for self-pulling stuck cars weighing up to 10 tons.
The company has developed a new rug using durable fabric inserts and reinforced epoxy transverse rods to ensure even load distribution of the wheels of military and civilian vehicles with pneumatic tires.
The LVRM system weighs 4 kg and is suitable for use in very soft dirt or snow, as well as on sands and other loose soils. According to the company, the mat can be quickly deployed manually to minimize the time the vehicle is out of traffic. The non-slip material of the pad is resistant to degradation of its qualities when exposed to chemical and biological factors and can be easily cleaned and packaged for further use. The standard size of the mat is 1.4 m², however there is the possibility of ordering other sizes that can meet the specific requirements of customers.
Michael Holdcraft, vice president of business development for Faun Trackway, said: "Expeditionary forces using small cars show great interest in reliable, easy means of self-pulling, such as those supplied by us LVRM. The new system systematically complements the existing list our products, improving off-road performance with a much lower weight. We are confident that this product will be popular with a number of military organizations. "