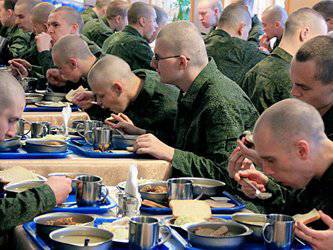 Many Russians have already managed to form a stereotype that in the army they feed badly. Indeed, there have been times when the defenders of our Fatherland, even in peacetime, were forced to eat what could hardly be called food. Today the situation has changed dramatically. In many military units in the menu of servicemen serving on conscription, a variety of dishes are included, which quickly allow you to recuperate and stock up on energy. In the diet began to include
salads, recipes
which include numerous ingredients, which earlier soldiers could only dream of.
In this article we will talk about how soldiers feed in military units of Russia today. We don't have to talk about all the parts without exception, so we'll consider a variant of the famous Taman Division (two brigades with its components).
The first thing that immediately catches the eye in the dining room is a large monitor on which the soldier can see the menu for today. In this case, the menu indicates not only what dishes the soldiers will feed, but also the name of the cook who was directly involved in the preparation. Here is the menu of a typical day in the canteens of Taman brigades.
We begin, naturally, with breakfast.
Soldiers are offered for breakfast pasta boiled with green peas, sauce and sausages. The total mass of the dish is 456 grams. In addition to the main course, natural ground coffee with whole condensed milk, cheese, white bread and butter is offered.
Lunch looks impressive and quite in a restaurant.
Soldiers are offered an ear with salmon or borsch with potatoes from fresh cabbage (optional). As a side dish, soldiers have the right to choose either meatballs with a sauce with millet porridge or braised pork in gravy with buckwheat cereal. In addition, brigade chefs offer a salad of carrots and cabbage, dried fruit compote, garlic (for the prevention of SARS) and two types of bread.
For dinner, soldiers in the dining room expect dishes such as stewed potatoes with canned fish, a loaf with butter, bread, tea with sugar.
As you can see, with such a grocery set for poor nutrition, a modern soldier complains about sin. If one of the current recruits thinks that they are "being fed poorly," then they should talk with their older comrades or relatives who have served in the military before. The comparison will be quite deafening.