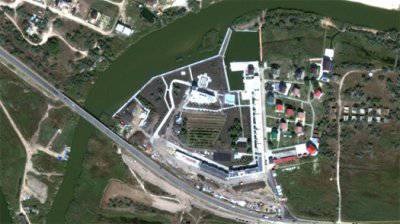 The scandal in the Ministry of Defense continues to manifest itself in connection with fraud on an especially large scale. It is this time that instead of the construction of the radar station announced in 2009 by the main military department in the village of Bolshoi Utrish, an impressive summer cottage, called the "cottage of ex-minister Serdyukov," has grown in place of this radar station. According to the newspaper Izvestia, the cottage appeared after the land, donated to the military department by the authorities of Anapa, suddenly appeared in the hands of a private company. Moreover, the Ministry of Defense got the land near the sea absolutely free, but then after privatization on its sale someone clearly warmed their hands to shell companies. At the same time, local lawmakers today insist that the deputy minister came to meet with them, who did not leave his post today, and stated that the country's defense capability depends on the decision of the deputies. The deputy minister insisted that the deputies transfer 93 acres of land for the construction of a radar station for the needs of the Black Sea
fleet
Of Russia. Subsequently, it turned out that the earth went for completely different purposes. A large cottage was built on it, beaches were broken and a marina was built. Persons having
best statuses
"In the Ministry of Defense since the leadership of this department, Anatoly Serdyukov, arrived at the elite dacha near Anapa to enjoy the rest in amazingly beautiful places.
Today this information is thoroughly checked by the investigating authorities. The main military prosecutor's office on its website even published a document, according to the letter of which, in the near future, specific individuals may become defendants in the new case on fraud by the Ministry of Defense. At the same time, information is being exaggerated in the media that this time the ex-minister himself may become the main figure, who personally signed the letter with the "request" to transfer the land by the sea from the municipal property of the resort city of Anapa to the protectorate of the Ministry of Defense.
It is reported that the investigation this time will not be able to confine a criminal case not against specific individuals, but only "in fact" of the crime. This time the investigators received a kind of message from the MAG that it was time to take decisive action. It is not clear regarding whom these actions will be implemented.