2 February 1943 of the year the victory of the Red Army successfully ended the greatest battle of the Second World War - the Battle of Stalingrad. According to the assessment of the Supreme Commander I.V. Stalin: "Stalingrad was the sunset of the fascist German army. After the Battle of Stalingrad, as is known, the Germans could not recover. "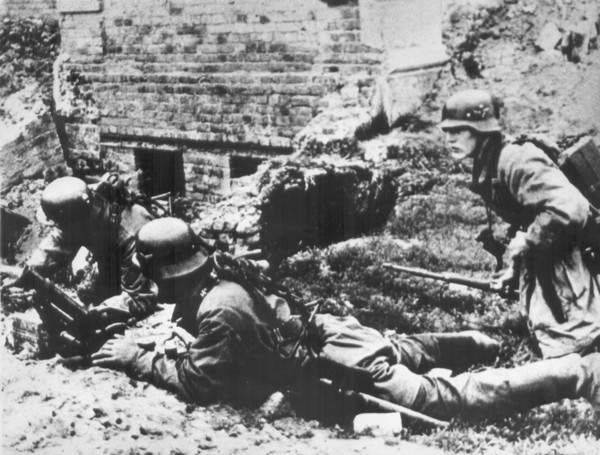 Directly, the battles for Stalingrad began on August 23, 1942 with a terrible raid by the German
aviation
lasting until August 29, a raid in which more than 1000 German aircraft participated. The city, in which there were no army formations, but hundreds of thousands of civilians, including those evacuated from western areas already occupied by Germans, was practically burned and destroyed, and many tens of thousands of civilians, including women and children, were killed.
By the evening of August 23, the strike force of the 6 of the German army advanced to the Volga River north-west of Stalingrad. The city bypass was defended by the 10 Infantry Division of the NKVD - the main force of the Stalingrad garrison at that time. Soon the 62-I army of General V.I. came to the defense of the northern and central parts of the city. Chuikov, and the southern - 64-I army of General MS Shumilova. These two armies were the main defense forces of Stalingrad.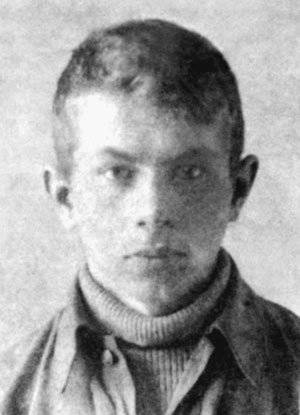 In this article I am not going to expound
history
Stalingrad battle. I would like to convey our feelings and the spirit of the defenders of Stalingrad on the example of the letters of my elder brother Marx Alferov, while 18-year-old young man who fought as a platoon commander, and then a company of machine gunners in the southern part of Stalingrad from October 26 1942 to victory and capture Field Marshal F. Paulus in the central square of the city 31 January 1943 of the year.
Marx was born in Polotsk, Belarus, 1 in January 1924 and was named by my parents in honor of Karl Marx, I was born six years later in Vitebsk and received my name in honor of Jean Jaures, the fiery tribune, the founder of the French Socialist Party and the newspaper Jumanite ".
Our parents, Ivan Karpovich and Anna Vladimirovna, were born and raised in Belarus. A father of seventeen years old boys in 1912 came to St. Petersburg in search of work. He worked as a loader in the port, laborer in St. Petersburg factories. In the First World War, he was a brave hussar, a non-commissioned officer of the 4-th Mariupol Hussars, and in September of the 1917-th joined the Bolshevik party and kept faith in communist ideals until the end of his life.
Marx graduated from 21 school on June 1941 of the year and decided to volunteer for the Red Army, starting work at a defense plant as a turner apprentice. Marxik, as he was called at home, enjoyed great prestige among the youth (he was elected secretary of the plant's Komsomol committee) and among the older generation.
In February, Marx Ivanovich Alferov, a student of the Sverdlovsk Infantry School, who had trained platoon commanders of the socialist army for six months, was already in February.
The study began with quarantine and the formation of educational groups. In the first letters one feels how difficult it is for a young man to break away from home and how much he misses him.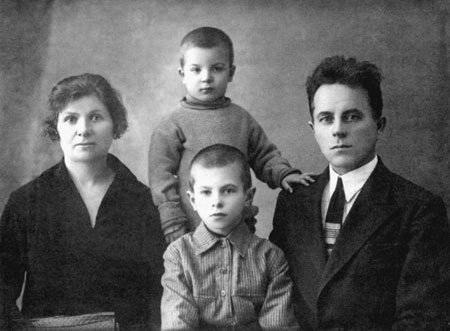 From a letter from 03.03.42
I wrote you a letter of rather pessimistic content this morning, it is night now, I am a platoon officer on duty and therefore I do not sleep. During the day I got a little settled down, found out something. First, I passed the 2 exam - in Russian and Maths - and there will be no more. The tests are not very difficult, perhaps, they would have passed the George. (So ​​he called me. - Approx. Ed.)
The composition of future cadets is heterogeneous, there are with 5 classes and there are with higher education ...
Since I got on the train, I haven't taken a cotton bag: it's documents, it's a shame that you, mother, tried to sew it for me, and someone else would wear it. We will study for six months, and after that we will be sent to the unit, so that we will get to the front, mother, for at least months through 9 – 10. (This is to comfort even a little mom.)
It's fortunate that I got to Sverdlovsk, you will occasionally run into, well, of course, it would be even better to get into an arbital school in Irbit ...
This is an excerpt from the first letter. Irbit is a city between Turinsk, where we lived, and Sverdlovsk, is widely known for its motorcycle factory: it made very popular, the most powerful Soviet motorcycles M-72.
And how he already wants to be in an artillery school, where his knowledge and abilities would be much more necessary!
From a letter from 06.03.42
... front-line soldiers say that the Germans are beating great, that now the fire of the German has fallen by 50. They say the Germans are very afraid of our Katyusha gun. You, Jaures, learn German. Among the Germans, many people know Russian and therefore are often faked under our ...
There are a lot of married men in our company, they remember wives, but I don't need anyone except you ...
From a letter from 20.04.42
... Well, about the loan subscription, I already wrote that we immediately signed up for 1000, no less, some for 2300 rubles. But someone figured out and decided that we would not pay this amount, as required in equal installments, and then the grandmother wrote on the water with a pitchfork if we were going to be lieutenants. And we all corresponded. I am now on 300 p ...
You signed up for a loan well. Dad for a month and a half, and mom (how much do you, mom, now get?). If 350 p., Then, then, my mother signed up for a month and a half salary.
Well, Zhores is just great, I signed up for 50 rubles and, most importantly, organized a subscription in the classroom ...
You, papa, write to me so that I would learn to beat the enemy. Be calm, just let me finish, and I will not be ashamed of Alferov ...
I know that war is a difficult thing. But I know what I'm going to fight for.
I will go for my people, for their happiness, honor. I will go for you, my relatives. To free Belarus, where we were all born, and where our relatives, my grandmothers, there are the graves of my ancestors, there their houses were burned down. I will go to destroy the invaders near Leningrad. I will be among many to rescue Leningraders from the trouble, to help out my uncle with the family.
I WILL FIGHT MY FATHER WAS A FREE HUMAN, MOTHER A FREE CHILDREN OF HUMANITY, BROTHER - A FUTURE MAN AND A HUMAN BEING WITH A LARGE FUTURE. I will fight for myself. For your and your right to a free life.
You, Jaures, well done, that you do exercises. It will greatly strengthen you. Well, about the loan you are very well done. You, you wrote to me, a big salary for librarianship, etc., so you contribute money earned by your work ...
For your package, I am eternally grateful to you, especially for carrots. Can you imagine with what pleasure I ate! Well, of course, this delicacy is almost inaccessible for you ...
Re-reading these letters, I think that Marx would have felt today if he had been alive, reading our press, watching television. What would he have thought about when he heard that "they would lose the war and drink Bavarian beer today," and from the front-line writer, V. Astafyev, that "Leningrad had to be surrendered". What kind of moral emptiness you need to go down to become apologists of betrayal, who can buy someone for a bottle of vodka, and someone for a round bank account. And this is a great Russian people, this is still quite recently the Soviet people, who swore allegiance to the communist ideals, some are recent members of the Politburo of the Central Committee of the CPSU, now sending curses to the great humanistic ideas of communism!
Letters from the school are the letters of a young man who first left his home, a family. He is terrified by much, almost in all letters a few words about his state of health, and between the lines you can clearly see how the young cadet wants to eat all the time.
The release took place at the end of August, and failed to come to Turinsk, he was immediately sent to the unit, to a small town in the Molotovskaya (now Perm) region - Teplaya Gora.
Here, the 96th separate Stalinist brigade was formed and trained specifically for the fighting in Stalingrad. The rank and file of the brigade consisted of cadets, border guards and Pacific sailors
fleet
, junior officers - graduates of schools. But starting with the company commanders, these were already military officers who participated in the battles, many after wounds and cures in hospitals.
From a letter from 13.09.42
(One of the first letters from the warm mountains)
... I found the apartment wonderful. Bed with feather bed. I agreed with the hostess that she would pour me half a liter of milk every day ... In the 5 apartment, kids, the eldest goes to school ... The food in the dining room is excellent: front-line ration.
From a letter from 20.09.42
... now the second day I commanded a platoon of automatchers ... The work, you know, is new and interesting.
With the head of the whole family, with my dad, I congratulate on assigning the GKO to the Red Banner Plant. When I walked down the street and read about it, I was smiling full of joy, and the passersby looked at me with surprise.
From a letter from 29.09.42
Today I am leaving for the front to defend the conquests of social services. revolution from Hitlerism.
Wherever I go, everywhere native places. Stalingrad. West, Leningrad, so I'm going to my homeland ...
Long live life and victory in its name, rest assured in me, I will be steadfast and courageous in the struggle against fascism, I swear to you and I will not be ashamed of our last name.
The Germans attacked us, well, let them hold on, we will prove to them our right to life, liberty and happiness.
Well, dear, all the best to you, your loving son and brother Marx Alferov.
From a letter from 26.10.42
... Now I am at the front ... Places where I stand, acquaintances, here I studied in the 5, 6 class, however, it was a long time ago ...
Marx was on the Stalingrad front as part of the 64 Army, commanded by General MS Shumilov, and he had to fight in those very places: the southern suburbs of Stalingrad, Beketovka, where we lived in 1935 – 1937. So he literally defended his house!
* * *
In the book of the commander of the Stalingrad front, Marshal of the Soviet Union A. I. Eremenko "Stalingrad" there are such lines:
"By this time, there is another important counter-attack by our troops, which aimed, firstly, to alleviate the situation of the 62 Army and, secondly, this is the main thing - to divert the enemy's attention from the direction of the upcoming counterattack. Well organized, this counter-strike was inflicted on the right flank of General Shumilov's 64 Army in the Kuporosnoe area ...
Long fierce fighting broke out on the site, which lasted from October 25 to November 1. The 96 th infantry brigade of Colonel Fyodor Pavlovich Berezhnoy was especially distinguished in them ... Although the advance of our units was only 3 – 4 km, but the enemy was forced to hold considerable forces here and even throw their last reserves here. In these critical days of struggle, the possibility of maneuver for the enemy was almost completely excluded. The results of the counterattack immediately affected: for several days the enemy suspended the fighting in the factory part of Stalingrad. The enemy suffered great losses, which naturally also led to the weakening of its strike forces. " (AI Eremenko. Stalingrad. M .: Voenizdat, 1961. C. 236 – 237.)
From a letter from 09.12.42
For forty days now I have sent you the first letter from the front.
Honey, I left home "non-smoking and non-drinking - just an angel, not a son." I now smoke at night, I smoke during the day, and when there is vodka, I will not refuse to drink. The first day at the front, I will tell you honestly, it was scary, and now nothing, everything is in order, as if it should be so ... Do it, dad, first-class products and more. It takes a lot of gunpowder ...
In a break between these two letters (from 26.10.42 and 09.12.42), the country sighed with relief. At the end of October, we all knew that the fate of the war was being decided in Stalingrad, and although we all believed in victory, we understood how winding and hard the road to it would be.
And so it happened: Paulus' army is surrounded, Manstein's attempt to unlock it is repelled. We knew that the heaviest share fell to the fighters of the 62 and 64 of the armies of the generals V.I. Chuikova and M.S. Shumilova, who fought in Stalingrad. In one of them the son of my parents, my elder brother Marx, fought.
From a letter from 17.12.42
Today is a significant day in my life: today I am accepted as a candidate of the All-Union Communist Party (Bolsheviks). Well, papa, now I'm a candidate for the party in which you are already 26-th year ...
From a letter from 18.12.42
Brother, you are asking to describe the battle with the German occupiers. This is a long story, better to tell than to describe. Well, you know yourself: artillery preparation, and you creep forward, closer to the Germans, artillery preparation is over - they beat our machine guns, crawled up, jumped up to 30 meters, threw a grenade, opened fire from a submachine gun, burst into the trench, bunker, the Germans run away, the front edge broken, you really do not think that all this is as simple as I wrote ...
In one of the letters I asked if he had killed the Germans, and if so, how many he had killed. Marxik, in his letter, said that only on the day of receiving my letter, he crawled out to "hunt" and killed five fascists, and the whole — this letter was in January forty-three — destroyed at least thirty Nazis.
From a letter from 01.01.43
Happy New Year, although the letter will come a month after this date, yes, I turned 19 years old today. It is a pity that I did not receive your parcel for the New Year, well, nothing, we celebrated the New Year and my birthday well.
There was wine and a snack, so for two days, 31, with 12 hours and before 1, 12 hours, we walked, of course, not forgetting about the enemy ...
The year 43 will be the year of the defeat of Hitlerism.
Your son and brother Marx Alferov.
From a letter from 04.01.43
Yesterday, Mom, received a letter from 16.12.42 from you. Thank you for congratulations on the New Year and on your birthday ... You congratulate me on your baptism, yes, 2 of the month and 1 the first time I went on the offensive, and since then I haven't from the front.
Are you asking me:
1. Is it scary. First, there is a little, and after a damn, you don't think about fear. 2. Food is regular. 3. I have to sleep. Mom, because the front is the same life, and if you do not sleep, do not eat and tremble with fear, then you can be bent ...
* * *
The decisive, last battles to eliminate the surrounded army of Paulus came.
From a letter from 08.01.43
Hello dear, dear mom, dad and zhorinka.
Today I expect your letters, if I receive, today I will write the answer.
Deep snow fell, but the weather is wet, the day is some gray. Deep snow is bad: it is bad to rise in the attack. "God will give", a thick fog is cast over the earth today at night, this is in the hands of the attacker. I have now cleaned out the machine gun, now it is failsafe and in attack it will not let me down. Until this letter arrives, you will read in the newspapers about the defeat of a large German group a long time ago, your son and your brother, Zhora will participate in this operation ...
... Dad, I am very worried that my mother cries a lot and her eyesight deteriorates. You somehow calm it down, take something with it, and you, Zhorik, also. If you, mother, did not cry, I would send you letters in a day or two, but you are crying over them.
Congratulations again, Dad, on the order, I am proud of you all, but Mom is an assistant, and therefore she should be especially proud of the order, there is your wife's work in it.
Probably one of the most interesting for us assessments of the battles in Stalingrad at this time was given by the conservative British newspaper The Daily Telegraph, publishing a 18 in January 1943 of a report of its correspondent from Stalingrad: "Here, on the very outskirts of Europe, where Asian deserts already begin, several remarkable Guards divisions and local militia units, which became a powerful, bleeding heart of all of Russia, saved European culture and thus, perhaps, our England. "
From a letter from 10.01.43
Hello dear papa, mom and zhorinka.
Yesterday I received letters from you 4, from my mother 3, from my father 1, I did not get from Zhorinka alone. Many thanks for the letters. Yesterday I received a package from you from 27 / XI-42.
Thank you for us from a huge and from the entire automaton company. The cigarettes that many have tried remind us of a lot. Although I love my mom's cookies crazy, I ate him not alone, but with the commanders of my company, and all my mother's talents were snatched.
My army is now smashing a large German group, so much so that only smoke comes from it. Dad, you say, the plant is working for a big one, let's get more ammunition, keep up the pace, and our Red Army, without slowing down the pace, smashes the enemy. Mom, are you thinking about mistakes in my upbringing, have I really come out so useless? I assure you, mother, that you were and are the most affectionate, beloved and fair mother in the world. In general, my mom and dad are such that I will not allow anyone to say a bad word about them, I assure you, you are the best in the world.
From a letter from 03.02.43
Hello, dear, dear mom, dad and zhorinka.
I haven't written to you for a long time, but for good reasons: I finished the German grouping in district C. I didn't even write you a thank you for the package that I received 26 / I-43 in already at the time of the offensive.
31-th with my fighters, I already marched through the center of the city and kicked the Germans out of the basements and sent hundreds to the rear. They, bastards, still declare that they did not shoot at the Russians, but, by the way, they were all the most notorious SS men, they resisted while they could. The trophies that we captured, of course, you know from the newspapers.
You know, Dad, as you rush into the German headquarters, there are cigars, and cigarettes, and canned goods, and soap, perfume, etc. Well, now we have finished with the nemchura, oh, and beat them here: apparently invisible.
Now let's take a little rest, and on the new front, smash the Hitler's evil spirits.
Well, happily, I wish you happiness and health.
Your son and brother Marx Alferov.
On this day, the commander and chief of staff signed the award list:
Tov. Alferov in battle 3 November 1942 of the year showed courage and courage, bravely led his platoon to attack the vitriol gang. Being wounded in this battle, did not leave the battlefield. While on the defensive, he destroyed 5 Fritz. On the offensive 24 – 31.01.43, Comrade. Alferov with a group of fighters moved all the time ahead of the unit, skillfully leading the fighters to assault the enemy. Where it was difficult, Comrade. Alferov encouraged the fighters, and they followed him, carrying out a combat mission. So it was during the crossing of the Tsaritsa River, the storming of the height of the nameless and white houses.
Worthy of government awards - medals "For Courage."
Battalion Commander L. Fedorov
Chief of staff. Signature.
3 February 1943 city
Conclusion of the superior:
I award a government award - the medal "For Courage"
Commander 96-th Separate Rifle Brigade
Major Chetvertukhin
5 February 1943 city
* * *
Today, when our mass media are trying to present the Red Army with involuntary units who fought barrage units of the NKVD at the gunpoint, it is interesting that the foreign press of the Western allies spoke about our army at that time. October 10 1942, when the outcome of the battle of Stalingrad was not yet clear to them, the British Economist, by no means a left organ, wrote in his front line: "The Russians believe that they want to create a new and better system ... Hope lives deep in their hearts that all their sacrifices and sufferings are only the inevitable evil of the transition period, only the birth pangs of the new society. This is the key to the secret of the Russian morale, so striking Hitler and his satellites. What inspired the defenders of Sevastopol and Stalingrad is doubly hope: the struggle for social progress and for the salvation of the fatherland. "
So I don't want to admit to the current grave-diggers of the Soviet Union that in the Great Patriotic War our Red Army and the entire Soviet people defended not just their homeland, but their Soviet Socialist Fatherland. Our army fought under the Red Banner. And under the tricolor flag of today's Russia, we fled, clutching automatic rifles to our stomachs, Vlasovites - ROA, the so-called "Russian Liberation Army"
.
As Marxic said, "they were worse for us than the SS men, and we did not take them into captivity".
From a letter from 06.02.43
For several days now, not a single shot has been heard, even somehow surprisingly. Now I am (crossed out by censorship). Zhorik, probably, does not remember, and mom and dad should remember the square, which has always been a demonstration in Stalingrad. On this square, we, the soldiers of Stalingrad, were thanked by Nikita Khrushchev. The beautiful city of Stalingrad, the Nazis destroyed. There is not a single whole house. The whole city is littered with the corpses of Hitler's locust, who did not want to surrender. But, of course, prisoners to hell, you would see these Aryans, how they are humiliated. They now do not believe in their business. They are asked: how good is the Russian soldier? They are smiling obsequiously: "Oh, the Russian soldier is good, and Hitler is kaput."
From a letter from 21.02.43
Bratushka, you write that, probably, until the letter arrives, the enemy in my district may not be defeated, but he has long been defeated. On January 31, its main forces were defeated, and I was already (crossed out by censorship), unfortunately, I was advancing a little to the right, where the Field Marshal himself was sitting, otherwise I would have looked at this German general with his hands up.
Now I have a light heart, I have interrupted these Fritz so much that our whole family has several Fritz, and even prisoners to hell.
* * *
After Stalingrad was the Kursk Bulge, where Marx was badly wounded in the head. And after the hospital again to the front - "the second Stalingrad" - the Korsun-Shevchenko battle, where 15 February 1944 of the year was killed in a battle in his 20 Guards junior lieutenant Marks Ivanovich Alferov - my elder brother, forever remaining for me to be twenty years old.
In October, Marx spent 1943 with us in Sverdlovsk for three days, when after the hospital I went to the front again. I remember all these three days, his front stories, his passionate youthful faith in the power of science and engineering.
From his stories and letters, I think it is obvious that one of the main results of Stalingrad is the mass confidence of our soldiers and commanders that they have become stronger than our enemy and will be able to successfully beat him in the future.
We have very few photographs of Marx left, and the latter are a photograph taken after he finished school, and a small photograph from his factory pass. We wanted to take a picture in those three October days of the forty-third year in Sverdlovsk, but Marx refused, saying: "I will not go. I will die and you will look at her? No, take a photo after the victory. " And, parting, he added: "My chest on my left is protected by medals and medals, on the right, by a guards badge."
Mom, he once said: "Without a hand, without a leg, but only to return alive."
In the late eighties, at my request, the Leningrad artist Shapiro painted his portrait from a photograph taken after he graduated from Marx school, but in uniform and with awards, against the background of destroyed Stalingrad. Our family did not like shoulder straps, so the artist painted a portrait of Marx in the old form of the commander of the Red Army with field buttonholes - with green "cubes".
Now in my office at the dacha, where we live much more than in a city apartment, when I work, write, like in those moments, look through books in closets, he looks at me seriously and very thoughtfully. It seems to me that he wants to ask:
- How could it happen that after we defeated the fascists and defended the world's first created state of working people, a country whose aim was social justice, you gave it all to destroy?
- How could it happen that the goal of Hitler - to destroy the Soviet Union, dividing it into separate new states - was fulfilled?
- How could it happen that public ownership of tools and means of production was destroyed; a country, just recently an outpost of peace and socialism on the planet, today has become a country of thieves and bourgeois who exploit people of labor, science and education?
- How could it happen that today our country can again be addressed by the poet's lines:
"Farewell, unwashed Russia,
The country of slaves, the land of lords,
And you, blue uniforms,
And you, a faithful people. "
And what can I say to him in return? The collapse of the Soviet Union took place unexpectedly quickly for many, but it was preparing for a long time. Russia is one of the richest countries in the world in natural resources, and it simply has no equal in wealth per capita. Hitler wanted to seize these riches, and it is surprising how one of the most cultural nations of Europe went to rob other countries and peoples in unison, not being embarrassed by the most gangster forms of this robbery. We defended our country in open battle, brought liberation from the brown plague to the peoples of Europe and Germany in the first place. Now the goal was the same - to seize our wealth, but other methods were chosen. Hitler also created the "fifth column" in the camp of opponents. In our case, this method has become both basic and very sophisticated. In the end, our modern quislings are stupid or have deliberately betrayed a great country. People came to the helm of power, for whom the only god to whom they pray is money. So great and mighty power was on the sidelines of world history.
Today all of us, especially the older generation, have no forgiveness that we allowed it. We, the country, need the words "Stalingrad" and "Kursk" victories for its revival.
Reflecting on this, I think that for us the new "Stalingrad" can only be the union of the great Slavic triumvirate: Russia, Ukraine and Belarus. And in this, by and large, even the current leadership of these countries should be interested. Unfortunately, only my native Belarus demonstrates this, which, thanks to its president Alexander Lukashenko, has preserved much more of the national economy and socialist principles. Only after such a union can we become a truly independent power on our planet.