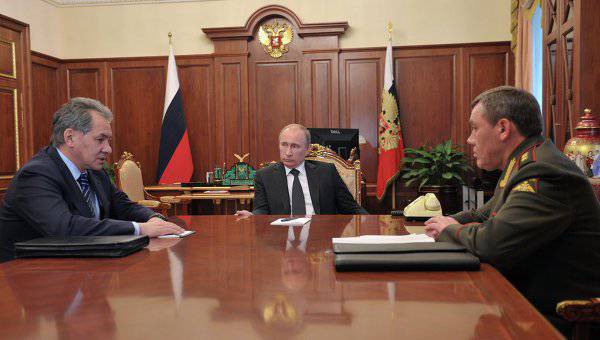 The Russian Ministry of Defense submitted for approval to President Vladimir Putin a new scheme for the repair and maintenance of military equipment, providing for the transition to full-cycle contracts and the removal of manufacturers from the units of the Ministry of Defense.
"Today we would like to offer you a new system for the maintenance of weapons and military equipment. This is due primarily to the fact that we would like to switch to, first, through contracts for life-cycle contracts: from manufacturing to recycling ", - said Defense Minister Sergei Shoigu at a meeting with Putin, which was also attended by the head of the General Staff of the Armed Forces Valery Gerasimov.
"And the second part - perhaps it's the main part - we want to transfer capital and medium repairs to manufacturers, withdrawing them, including from divisions of the Ministry of Defense. Thus, naturally, freeing the number of additional," said the Minister.
The most important thing is that the technician should be repaired by the one who manufactures it, he stressed.
"Plus, we are already completing the negotiating part with Russian Technologies, KamAZ enterprises, construction companies for servicing weapons, military equipment, ships, airplanes, ground vehicles, armored vehicles. And today we would like to offer you for approval this new system We have finalized it, discussed it with the heads of companies, state-owned companies, and we believe that this will allow us to more efficiently use the enormous funds allocated by the country to ensure defense capability. country "Asha - Shoigu said.
"Okay. Now let's talk about all these issues," Putin said.