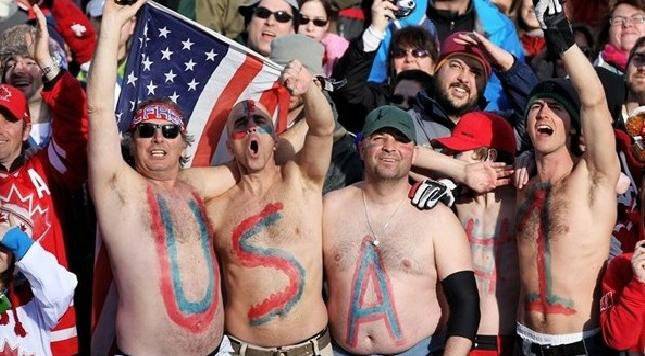 Once I saw the answer of a Russian girl to the question "what do Americans think about Russians".
"I lived in America for half a year, in a Russian-American family, I talked with an American mistress, met many Americans. Conclusions:
1. They usually do not think about us!
That is, they simply do not even remember what we are. They think about Americans living in the United States, about their TV programs, about their car, about rent. Sometimes - about Colombia and Chile, Brazil, which are also Americans, but labor is cheaper there, so they buy cheap vegetables and fruits there.
2. You come to America - Russian. They get to know each other and find out what PROFIT they can get from you. If no, you are an empty place for them, why think about you.
3. If you can damage them, they think about you ... Worrying for themselves.
4. Most Americans are never even outside their state, so a Texan seems like a stranger to a Georgia resident, I was faced with this.
5. Russian people or Russian-speaking residents live there in groups, in Washington, Boston, Orlando, Miami, the Americans think of them: "Immigrants!" Everything!
6. For six months, I met only one person who at least read something and heard about Russia. "
Interesting answer. He reminded me of the thoughts of a professor of mathematics, even when I was a student. He said: "Americans live without any interest in what is happening around. No, they know their neighbors, they know the results of sports matches, they know what the weather will be like tomorrow. But that's where their knowledge practically ends. Americans live for an even larger iron curtain than when Soviet people. Only this curtain is in their heads. But, oddly enough, it is the most stable system in the world. It is almost impossible to shake it. Hiding in its own little world, limited by the boundaries of its quarter, its street or its small town in three hundred Lei, the Americans do not perceive any razrazhiteley. No, they react to the fall of the aircraft in their backyard, or deluge, but a month later, most forget about it. It can be said that such a system very quickly returns to a state of indifference. "
Of course, not all Americans are like that. Among them, too, there are brilliant people. As Zadornov once said: "Their man is eighteen." The remaining majority falls into the category of "my hut on the edge, I know nothing." Having reviewed in the evenings many American TV shows, so-called. sitcoms, I came to an unexpected conclusion - my professor was absolutely right. Of course, a bit exaggerated and parody, but there is no smoke without fire. All movie characters go to work, sit at home, watch TV with friends or sit in a bar. Sometimes attend sporting events. But if someone is going to go to the theater or to the museum, it is immediately mocked. Going to church is a solid joke. You read the book - they will expose an idiot. You read a magazine in a sartire - this is normal, everyone does this. You are interested
history
- they look at you as if they were sick. Talk only about personal issues, about sex and about the upcoming holidays. Hollywood, without knowing it, showed the whole world the reality of American life. America is a big mound, where the blind-Americans, obeying the installations in them, work for the benefit of the ruling elite.
Yes, they have a good education, whatever we say. But it is not accessible to everyone, and those who received it are still not interested in what is happening in the world. They seem to rest their forehead against the wall of complacency and complete security. The maximum of their interests ends with the release of American
News
. It's time to think about the causes of hysteria about the manipulation of public consciousness using TV. At us (I mean Russian-speaking countries), everything is not so bad. People know and understand much more than they are presented with blue screens. They still read serious books, debate and climb into the encyclopedia for arguments. While most Americans have only read Harry Potter and the Star Wars comics for a long time, they argue about who will defeat whom - Spider-Man or Batman, and remember encyclopedias only when they dust them. Maybe the proverb "you know less - sleep better" is true, but I don't like it. I do not want Russian-speaking people to be blinded to the state of termites. Although, there is a simple explanation for all this. Inquiring, erudite people are the main danger to American democracy.