In addition to outdated 320-millimeter coastal guns, Schneider mounted transporters designed for 274-millimeter guns and modern 305-millimeter long-range marine guns. The 305-mm 1893 / 96 M gun, developed at the beginning of the 1890-s for linear ships of the class "Lena", was among the first to be installed on the transporter. Like most naval guns, the gun had a large barrel length (41,9 caliber) and was distinguished by a fairly high initial velocity of the projectile - 795 m / s. 348-kilogram high-explosive shells were fired at enemy concentration sites and enemy fortifications, while the firing range was 27,5 km.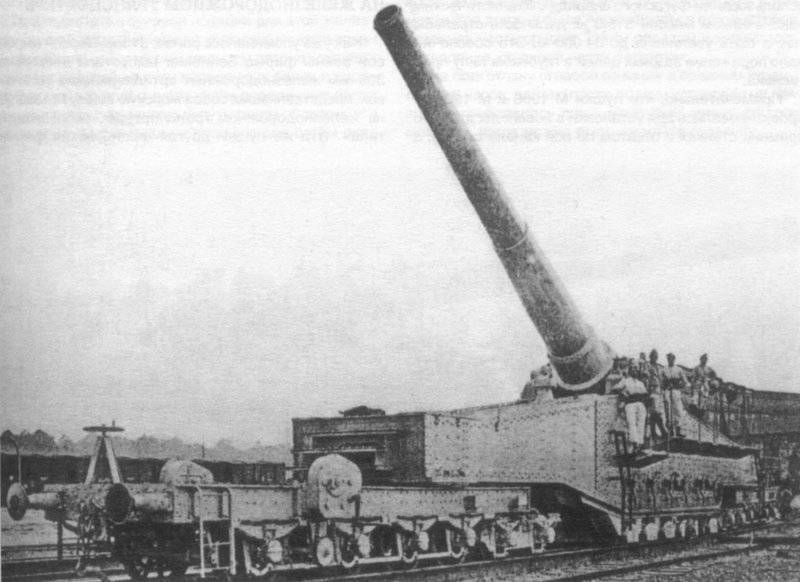 When using ballistic-tipped shells, the firing range reached 30,9 km. Since the loads arising from the order of fire were much greater than those of 274-millimeter cannons, the main conveyor beam was strengthened, and the five-axle railway carts were replaced with six-axle ones. The rest of the construction of the conveyor remained unchanged.
The tests carried out confirmed the suitability of the conveyor upgraded in this way for the installation of high power tools. This made it possible for Schneider to design railway artillery installations with 305 mm M 1906 and M 1906/10 naval guns, with a barrel length of 46,5 calibers. The M 1906 gun was developed at the beginning of the 1906th century for the last French battleship of the Danton class, and the M 10/1893 gun for the lean Bart dreadnought. For firing, the same shells were used as for the M 96/859 gun, however, the initial speed was 30,8 m / s, the firing range was 315 km. When using a 34-kilogram high-explosive projectile with a ballistic tip, the firing range increased to XNUMX km. This made it possible to hit important targets even deep behind enemy lines.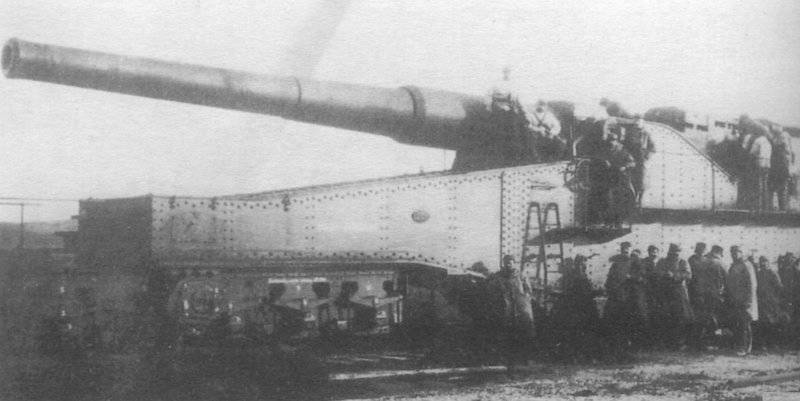 It is noteworthy that the 1906 М and 1906 / 10 М were developed for installation in the newest machines having rollback along the axis of the bore, but they had to be used on rather primitive carriages-conveyors, in which the recoil energy was extinguished after the recoil of the entire artillery installation. It should also be noted that a large mass of guns (about 54 tons) led to a significant increase in the mass of artillery rail installations (up to 208 tons), and the increased dimensions of the gun caused the maximum elevation angle to be limited to + 35 degrees.
Performance characteristics of guns M 1893 / 96 and M 1906:
Caliber - 305 mm
Barrel length - 41,9 gauges / 46,5 gauges;
The largest angle of elevation is 39,5 degrees / 38,0 degrees;
Angle of horizontal fire - 0 hail .;
Weight in the fighting position - 208000 kg;
The mass of the high-explosive projectile - 348,0 kg;
The initial velocity of the projectile - 795 m / s / 859 m / s;
The greatest range of shooting - 27500 m / 30800 m.
Based on: http: //milday.ru