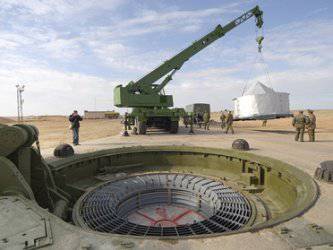 13 opened criminal cases against five commanders of missile divisions
The size of the embezzlement of funds in the Strategic Missile Forces, which became known yesterday, exceeds 90 million rubles. The commanders of five missile divisions are accused of the crime, the General Prosecutor's Office reported.
"It has been established that work on 16 contracts (on reclamation of combat starting positions in the Strategic Missile Forces) concluded with various commercial structures was not fully implemented and with inadequate quality. As a result, the state suffered damage in excess of 90 million rubles," message.
Thus, as the specialists of the Accounts Chamber, Rosfinmonitoring and Financial Inspectorate of the Ministry of Defense found out, they carried out the inspection and stole a fifth of the 500 million rubles, allocated for the restoration of land where the abandoned mine installations were located.
Reporting documentation, as noted by the Prosecutor General's Office, was signed by the commanders of military units and approved by the command of the Strategic Missile Forces without proper acceptance of the work performed.
"According to the materials of the military prosecutors sent to the military investigating authorities in accordance with Article 37 of the Code of Criminal Procedure, 13 initiated criminal cases, including against five commanders of rocket divisions, under clause" in 3 part of Article 286 of the RF Criminal Code ("Excess of official powers with causing serious consequences ")", - reported in the supervisory authority.
In addition, criminal cases of fraud on a large scale and commercial bribery were instituted against the two managers of PromspetsStroy LLC, which carried out the work. More than 10 million rubles have already been returned to the treasury.
Recall of the millions of embezzlements in the Strategic Missile Forces became known yesterday. According to investigators, in 2008, the state allocated 500 million rubles. for the reclamation of combat positions after the dismantling of mine launchers, but some of the funds were used for other purposes. According to the Ministry of Internal Affairs of the Russian Federation, employees of the Ministry of Defense and representatives of a number of commercial firms are suspected in the case.
The criminal case of embezzlement in the Missile Forces was another in a series of scandals in the Ministry of Defense, which broke out at the end of last year. The damage caused to the state, according to preliminary data, exceeded 3 billion rubles. The scandal cost the post of head of the military department of Anatoly Serdyukov.
In cases of embezzlement, several former high-ranking officials of the Ministry of Defense, close to Serdyukov, including the former head of the department of property relations of the Ministry, Yevgeny Vasilyeva, are undergoing. During a search of her apartment, several million rubles, jewelry and antiques were seized. Vasilyeva is currently serving a house arrest in the 13-room apartment, but has the right to go shopping, use the Internet and meet with friends. A week ago, the ex-official extended the term of house arrest until March 23.