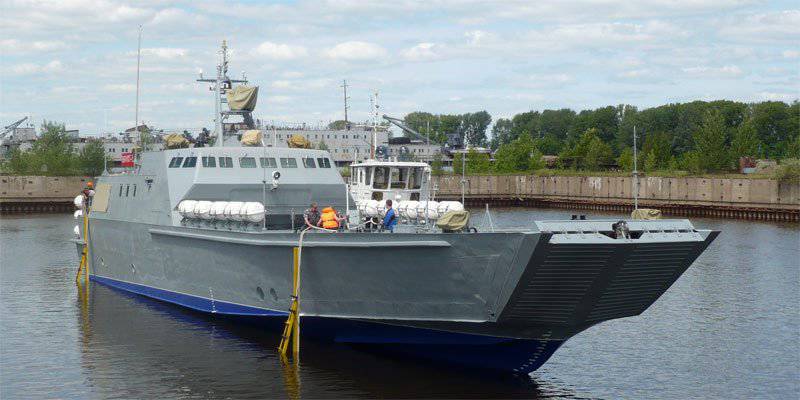 RIA
News
. The Russian Navy (Navy) will receive three amphibious assault boats of the Dugong type in 2013-2014 years, a representative of the Russian Navy told reporters on Wednesday.
The project of the landing craft of the 21820 project (code of the Dugong project) was developed by the "R. Ye. Alekseev Central Hydrofoil Design Bureau" (Nizhny Novgorod).
"In the 2013-2014 years, the Russian Navy will receive a series of three amphibious boats on the 21820 project's air cavern," the officer said.
According to him, the boats are being built at the Yaroslavl Shipyard and are named after Denis Davydov, Lieutenant Rimsky-Korsakov, and Michman Lermontov.
He added that all three boats represent a new generation of landing boats, which will significantly increase the capabilities of landing craft and expand the range of their application, in particular, to solve such tasks as countering terrorism and preventing drug trafficking in coastal waters.
"The high mobility of these boats meets the requirements of a fast-paced modern sea battle," said the representative of the Navy.
The total displacement of Dugong type boats is 280 tons, length - 45 meters, width - 8,6 meters, full speed - 35 knots. The ship of this project is equipped with two diesel engines of type M507A-2D with a capacity of 9 thousand horsepower each. The carrying capacity of the boat is 140 tons, the crew is six people. The carrying capacity of this type of boat allows you to place three
tank
and up to five armored personnel carriers.
"The launch of the head boat" Denis Davydov "is scheduled for June-July 2013 of the year. It is planned that after the tests, which will end this fall, it will be handed over to the Russian Navy. The second boat, the Rimsky-Korsakov, is planned to be launched September-October 2013 of the year. The construction of the third in the series of the boat "Michman Lermontov" is scheduled for the 2014 year, "the officer finished.