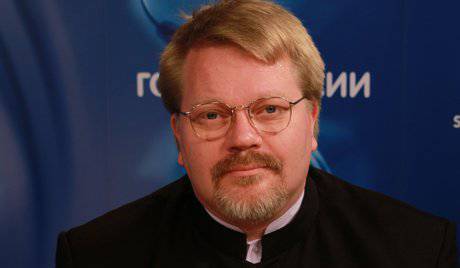 Finnish authorities robbed Russian women of Svetlana Karelina of two children who arrived on a tourist visa to their father living in Finland. The situation to the Voice of Russia was commented on by Pavel Astakhov, the Commissioner under the President of the Russian Federation for child rights, Finnish human rights activist Johan Beckman and Russian friend Anastasia Vainik
The Finnish authorities have taken away Artem and Sonya Karelins 6-year-old twins from a pediatrician from Petrozavodsk Svetlana Karelina when they were visiting their father in Finland, Beckman told Golos Rossii.
- While their whereabouts are unknown. Despite the fact that children have only Russian citizenship and they are officially, according to the decision of the court of the city of Petrozavodsk, after the parents divorce, they live with their mother in Russia, the mother still does not know anything about her children. Svetlana can not contact or meet with children.
We have information that the Finnish juvenile justice system once again decided to isolate children from Russian mother and then de-Russify them, that is, to isolate children from Russia, the Russian language, Russian culture, and Russian mother.
I believe that the likely reason for this behavior of the authorities is that the father of the children, the Ingermanlander Sergey Timonen, agreed to de-Russify his children and isolate them from Russia. It is not uncommon for Ingrian immigrants in Finland to become real Russophobes. In addition, the former husband of Svetlana Karelina does not work anywhere, she lives on benefits. He has a residence permit in Finland and he wants to live in this country. These benefits to him and can guarantee the authorities in exchange for the rejection of Russia and the de-Russification of children.
- than this
история
may end?
- It is necessary, of course, to urgently return the children of Karelina to their homeland, to Russia, to the city of Petrozavodsk, where they live by the decision of the court of Petrozavodsk with their mother. To realize the interests of the child in this situation, it is necessary, of course, through the courts, through the Ministry of Justice. And then the Russian authorities, of course, must take decisive measures in order to free the children.
In Finland, there is a quiet undeclared war against Russian children and mothers. According to the Russian Mothers international public movement, Artyom and Sonya have already become 52 and 53 children taken away from their parents.
At the same time, the Finnish authorities categorically reject any dialogue with the Russian side on the rights of children and the family, on the creation of a bilateral body to solve problems.
The UN Committee on the Rights of the Child has been criticizing Finland for years for systematic violation of the rights of the child, but it does not respond at all.
Russian friend Anastasia Vainik told the Voice of Russia about the situation with Svetlana Karelina's children:
"Children are now with their father. Mom cannot talk to them. When she arrived in Finland last Thursday, January 17 - and before that she hadn't seen children for two months - her father called the police. She was detained, spent an hour in the police station and they didn't let her go to the children anymore.
Parents divorced. There is a court decision on divorce. Resolution in absentia, as the pope did not appear in court. On November 23, a trial was to take place, which was initiated by the father in Russia, since, in his opinion, the mother impedes him in communicating with the children. He promised to return 23, but did not return, and told her that you can forget about the children.
Svetlana did everything she could do. We have a decision of the Petrozavodsk City Court that children should live in Russia with their mother. On Friday the Supreme Court of the Republic of Karelia will be held. I think that the decision is unlikely to be changed, because everything is in order. But we cannot take them from the territory of Finland. We are told: "Wait." Because papa has filed his petitions there, he wants to issue sole custody of the children.
There is no chance to agree with the father. Mom is not deprived of parental rights. She has the same rights to these children as her dad, if he shows off with equal rights. However, arriving on the territory of another country, it actually loses these rights. "
Pavel Astakhov, Commissioner under the President of the Russian Federation, commented on the situation to the Voice of Russia.
- The situation looks extremely strange. Previously, it was about mixed marriages. And now the Finnish authorities are taking certain actions against the citizens of Russia.
- The situation is really strange and terrible. The question arises whether Finland is going to listen to our statements at all or whether it wants to leave the European Union, which already criticizes it. The UN Committee criticizes Finland for such actions. Instead of working with Russian families and protecting them from unwarranted harassment in Finland, everything is done the other way around.
It is necessary to create normal international legal mechanisms. An agreement between Russia and Finland on legal assistance existed from 1972, up to the disappearance of the Soviet Union. After that, the Finns flatly refuse to sign such an agreement. Instead of going towards us and creating a commission, at least an intergovernmental one, to consider these disputes, to depoliticize the situation, reduce tension, help these families and still get away from political accusations, everything is done the other way around.
Now not only children from mixed families are withdrawing children, but simply children, citizens of Russia, who arrived on a tourist visa to Finland. This means that a precedent has been created. Therefore, now we urgently need to take action against Finland. And I think that all sorts of methods are good here. Both economic and political. As for the Ministry of Foreign Affairs, of course, I appeal to the Foreign Ministry. Consular officers are obliged, by virtue of their authority, to protect the rights of Russian citizens in the territory of another country, they are obliged to intervene now, to find these children, to find out if everything is in order with them, where they are, if they are not subjected to ill-treatment. Because finding children in a shelter, as practice shows with Anastasia Zavgorodnya, is simply dangerous for children.
- It turns out, if the citizens of Russia came to Finland, can the local authorities select the children and leave them in the country for a while?
- Maybe forever, you know, I already have all sorts of thoughts on this now creep in. The fact is that Finland quite recently faced a serious demographic threat in general, because it is a very small nation, a small country and a very small population. And it is clear that this is why they adopted a law on the welfare of children in 2008, but this law introduces an extrajudicial procedure for the removal of children and deprivation of parental rights. And this happens in absentia. Already more than 20 thousands of children have been withdrawn, including more than 60 cases, which only we know for sure, exemptions from Russian-speaking families.
And look what kind of chain is built. The Russian woman Rimma Salonen stole a child - they just took out the seven-year-old Anton in the trunk of a car. Three children were seized from Zavgorodnya, including a ten-day baby, and seized at the request of an older girl, who said that she seemed to be paped. Now both of them are deprived of parental rights, the children live in a shelter. Albina Kasatkina was seized of children simply by a denunciation, after a call from her ex-husband's new cohabitant. Here two kids arrived, citizens of Russia, on a tourist trip, and they were simply taken away. Therefore, a precedent has been created. It just becomes a dangerous country for traveling Russian tourists and living there.
- You wrote on Twitter today that the Finnish social services do not stop looking for any pretexts for the seizure of Russian children. And, apparently, for the time being, the resolution of all these situations, more than 50 of Russian mothers affected by the actions of the Finnish guardianship agencies, is waiting for an explanation from the Finnish government. And while such explanations, as I understand it, do not act.
- No explanations are received and will not be received, because the social security agencies, guardianship agencies are municipal bodies, these are very low-level officials. I met with them in the case of Inga Rantala and Robert Rantala when we managed to create a precedent, and Roberta was returned under our pressure. But I was impressed by the meeting with these workers: the 4 worker who met with me, not seeing the child, the mother, not talking to them, not studying the living conditions, simply signed in absentia the act of withdrawing the child and deprivation of parental rights. For me, as a lawyer, this is crazy. How can you write that the child is not created proper conditions for life when they were not even in the family, in the apartment? I was there and saw his conditions: he has a separate room and so on. How can Anastasia Zavgorodnaya be deprived of her parental rights, indicating as a reason that the mother is tired and does not cope with four children and does not trust the guardianship authorities? Is this a reason for withdrawal? So you can generally 90 percent of Finnish mothers deprive of parental rights. But this is complete madness.