The successful experience of installing the 155 mm M 1877 cannon on a railway conveyor made it possible to create a series of railway artillery installations in which 164 mm caliber naval guns were used. Already in 1915, Schneider manufactured 5 railway artillery installations with 164-millimeter M 1893 guns, which were made in the mid-1890s for the so-called "protected" cruiser, which was never created. On the
navy
the gun was assigned the designation L 45 ("45" is the length of the threaded part in calibers). The barrel weight was 7000 kg. The ammunition included high-explosive fragmentation (weight - 50,5 kg, firing range - 18000 m, initial velocity - 775 m / s) and armor-piercing shells (weight - 52,6 kg, firing range - 15400 m, initial velocity - 770 m /from).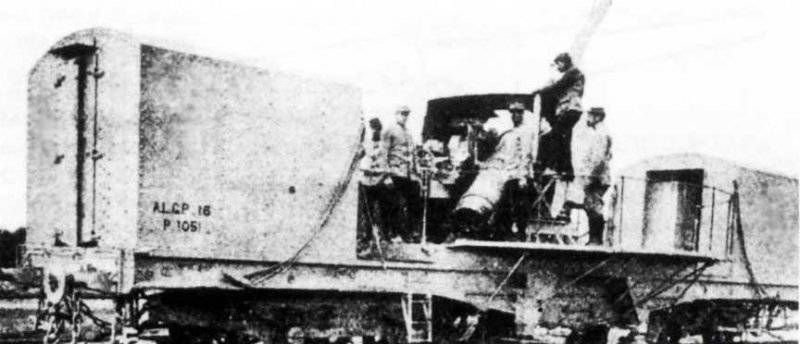 In general, the design of the railway conveyors used for the installation of the gun was similar to that of a railway conveyor for a millimeter 155 caliber gun. At the same time, two platforms were mounted on both sides of the platform, which were reclined upward in the stowed position, and in the combat position were flush with the flooring of the railway platform. Thanks to this innovation, the calculation of the gun on the platform could serve the gun in any direction of fire. Another innovation was the device armored cellars for charges and shells at both ends of the conveyor.
Ammunition was supplied to the cannon by two payroll numbers using a trolley. This slightly increased the rate of fire, however, limited the angle of fire along the axis of the railway conveyor: the gun did not fall lower than + 10 degrees. The machine gun, which was also previously intended for the "protected" cruiser, allowed to fire with a maximum angle of elevation + 40 degrees. To protect the calculation on the machine was mounted shield shield.
Additional measures were also taken to increase the stability of the gun when firing. With the help of two screw jacks on rails, two steel beams were lowered from each end of the conveyor, which were fixed on the rails by means of special collet grips. As in the 155-millimeter rail installation, outrigger supports with base plates and screw jacks were used.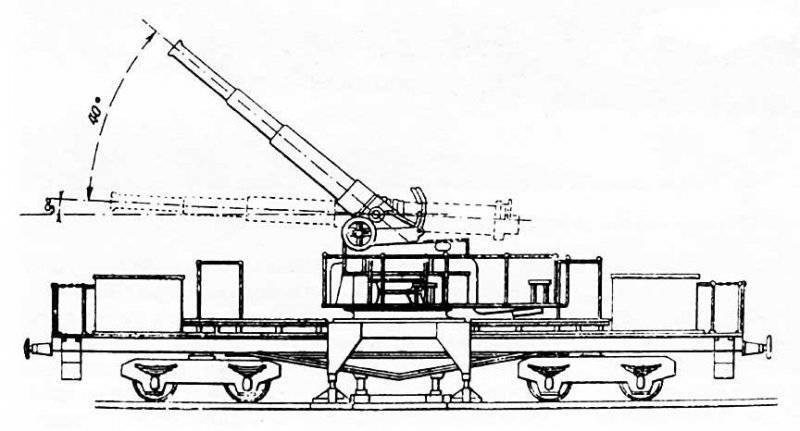 Performance characteristics:
Caliber - 164,7 mm;
Barrel length - 47 calibers;
The largest elevation angle is + 40 degrees;
Angle of horizontal fire - 360 degrees;
Weight in traveling position - 60000 kg;
The mass of the high-explosive projectile - 50,5 kg;
The initial velocity of the projectile - 775 m / s;
The longest firing range - 18000 m.
According to the site http://milday.ru