Not so long ago, last year, Japanese scientists announced a rather unusual project to deliver various cargoes into orbit without the use of rockets. However, few people know that even more than 50 years ago, such ideas were advanced by an engineer from Leningrad, Yuri Artsutanov. For these purposes, he proposed to use a special, so-called "space elevator". This idea was clearly ahead of its time and then it was successfully picked up only by science-fiction writers. However, the more years that pass from the moment any bold scientific assumption is made, the more real it becomes. Nowadays, the theme of the space elevator gets a new sound.
At the same time, the Leningrad elevator played for Yury Nikolaevich Artsutanov, who is known to few today, a rather important role. Half a century ago, he wrote an article "In Space by an Electric Locomotive", proposing that a special construction lift be used to deliver cargo to orbit. Yury Artsutanov said that Tsiolkovsky had the idea that if he could build a tower with a height of 40 000 km., Then it would be possible to launch satellites manually. At the same time, everyone understood that it would be impossible to create such a tower.
According to the idea of ​​Yuri Artsutanov, it was necessary to stretch a kind of "cable" into the atmosphere from the earth's equator, having strengthened some load on its other end. The length of such a structure was supposed to be about 60 thousands of kilometers. With the help of such a "cable car" it was supposed to send into orbit not only the necessary cargoes, but also passengers. After 15 years after the appearance of this idea, English science fiction writer Arthur Clark used this idea of ​​a space elevator in his novel Fountains of Paradise. At the same time, the writer never hid Artsutanov's championship and even personally came to that in Leningrad for consultations. This time was the time of romantics from the sciences and the flowering of science fiction.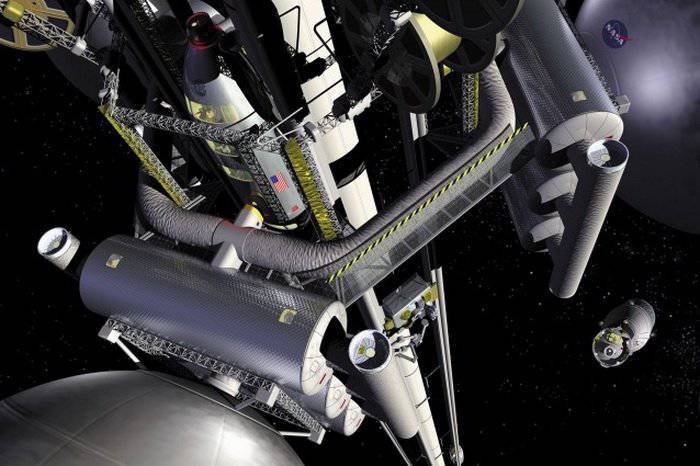 Nowadays, many of the things that once seemed fantastic, acquires very real outlines, and the space elevator is no exception. Only now he must connect the Moon and the Earth. Currently, there are already quite a lot of similar projects and programs, and who knows, maybe they will really find a real embodiment and the whole lunar program will be able to acquire completely new features and capabilities.
In 2012, the Japanese company announced that it would be able to realize an absolutely incredible project by 2050 - to create a train into space that can travel ¼ of the distance to the moon. Obayashi Corp, a construction company from Japan, says that it will be able to build an elevator for traveling into space in 40 years - a lift to an altitude of 96 thousands of kilometers. Japanese engineers are planning to implement this ambitious project with carbon nanotubes. These membrane compounds have truly unique properties, for example, they are 20 times stronger than steel.
The elevator, designed by Japanese designers, will be able to transport up to 30 passengers at a time, moving at speeds up to 200 km / h. On the way of the elevator, it is planned to organize one stop at an altitude of approximately 36 thousands of kilometers - ordinary space tourists will be able to reach it within a week, and specialists and scientific researchers will be able to continue their way further and rise to Earth almost 100 thousands of kilometers above Earth. Project Manager Satomi Katsuyama says people adore high-rise buildings. And instead of building them on earth, we will try to create them in space. In "Oboiashi" they assure that their project is realizable, but at the present time there are no approximate estimates of its cost, or opportunities, and that the main thing is ideas, where exactly to build this unique structure.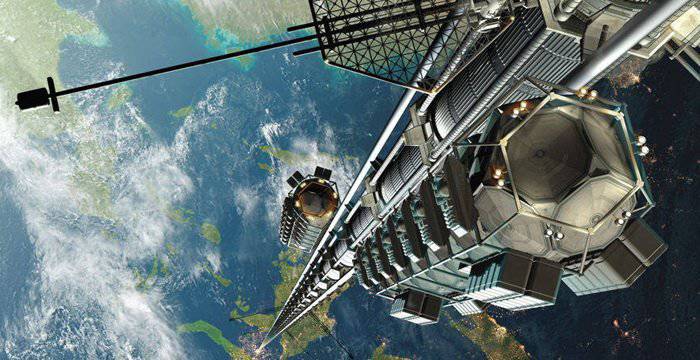 The construction of the Japanese space elevator was inspired by the completion of the construction of the most high-rise building in Japan - the Tokyo Sky Tree height of 634 meters. The skyscraper in which the offices will be located, as well as viewing platforms, restaurants and cafes is actually a television tower and was commissioned in May 2012. Inspired by the construction of Sky Tree in Oboiasi, it was decided to involve experts in various areas in the creation of the project of a space elevator, the company believes that this project will be able to be implemented. In addition to the fantastic plans, the Japanese are carrying and quite earthly, the company is developing power plants, bridges, high-rise office buildings. Among the projects already implemented are the Universal Studios building in Osaka, the Dubai Metro, the Sydney Olympic Stadium.
In turn, the American entrepreneur Michael Lane believes that it is possible to implement the project of a space elevator without using nanotubes. He is proposing to create an elevator that would not connect the surface of the Earth with an orbit, but an orbit with the surface of the Moon. This has its own logic, since the attraction of a natural satellite is about 6 times lower than on Earth, which significantly reduces the requirements for lightness and strength of the cable material. According to Michael Lane, in this case, carbon nanotubes can be successfully replaced by a polymer called Zylon. The tensile strength of this material is 10 times higher than that of steel, the millimeter thread of such material will withstand up to 450 kg. cargo and is able to maintain its physical properties when heated to 650 degrees Celsius. Lighter can be performed and other components of this elevator. Physically, all the necessary elements can be sent into space with the help of ordinary Atlas or Delta launch vehicles, says Lane, while there is no need to develop any special giants like Saturn V.
According to the entrepreneur, the already existing materials and technologies will allow to realize this mega-project in a relatively short time - just 10 years. However, such a lunar elevator today also has its technological difficulties. For example, it will be necessary to obtain approximately 6 cubic meters of Zylon, which is currently very expensive and has never been produced in similar volumes anywhere. And in general, in reality, the construction of space elevators so far no one has worked on and all the questions that will be associated with such construction, nobody knows yet what to say about the answers to these questions.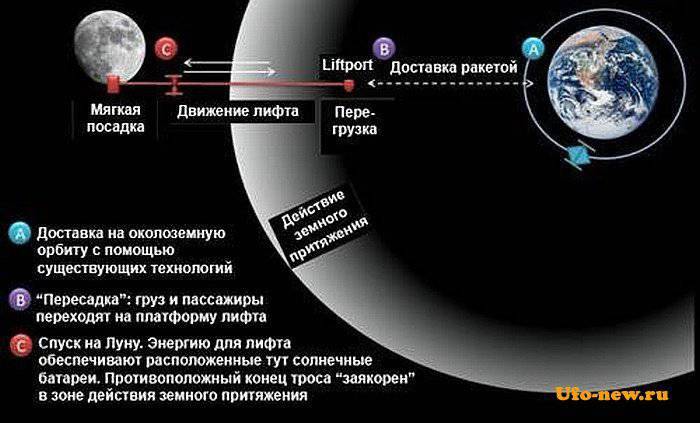 At the same time, Michael Lane does not lose hope of success, especially since the benefit from the implementation of this project will be considerable, and the cost of its implementation will be lower than the construction of a conventional space elevator, which would be built from the surface of our planet. There are a large number of similar projects. For example, one of them requires about 100 thousands of kilometers of cable, one end of which will be fixed on Earth, and the other on a counterweight, for example, a heavy space platform located in geosynchronous orbit. The combined effect of gravity and centrifugal forces will keep the cable from falling and the "mobile" cabin can move loads along this cable much cheaper than with conventional space launches using rockets.
The project of the "lunar" elevator will require about 50 thousands of kilometers of cable, one end of which can be placed on the visible surface of the moon, and the second using a special platform to keep in the area of ​​earth gravity, in the so-called libration point L1 of the Earth-Moon system. Cargo to this site will be delivered using conventional launch vehicles, and from the site to the moon will be sent to the space elevator. As planned by Michael Lane, the entire structure will be significantly lighter than the projects of elevators to orbit. According to him, he does not plan to mix hundreds of tons of cargo per week, his system is relatively small and designed to transport 200-250 kg. It is worth considering that for the current tasks of the development and study of the natural satellite of the Earth, this indicator is more than enough. In the future, if we implement this project now, it will be comparable in cost to the usual mission of collecting and sending lunar soil samples to Earth. At the same time, this project will be "reusable" and will have the prospect of increasing opportunities by adding new platforms and cables.
It is worth remembering that the dream is the engine of progress. This thesis is confirmed by the whole human
history
. Perhaps, exactly what today seems wonderful and fantastic for us will be able to take our civilization to a new technological turn of development from the present to the near and distant future.
Information sources:
-http: //www.vesti.ru/doc.html? id = 1009329
-http: //vzglyadzagran.ru/news/yaponcy-sobirayutsya-postroit-lift-na-lunu.html
-http: //www.popmech.ru/article/7485-lunnyiy-lift/page/3