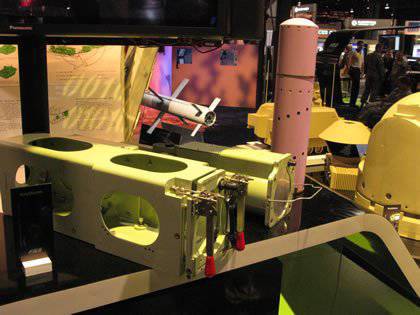 The United States Army is preparing to conduct formal tests to evaluate the Quick Kill ™ SAZ, a system for protecting BMs from hand-held anti-tank grenades launched from a pipe and from the shoulder. This protection system is manufactured by Raytheon. In the SAZ test series, Quick Kill again demonstrated its accuracy and maturity.
SAZ Quick Kill during tests conducted in December last year, demonstrated its protective ability, confronting an expanded set of threats, including one of the most deadly - a hand-held anti-tank grenade launcher - by destroying them in flight. All tests were conducted as part of the preparation of a formal government assessment at the start of 2013, in order to demonstrate the unique capabilities of the Quick Kill SAZ to defeat an RPG.
"The Raytheon active defense system is based on the same radar technology used in sensors used for warning on active operational forward bases. The sensors were extremely successful in timely warning of mortar and rocket attacks," said Jeff Miller, vice president for touch and combat systems at Network Centric Systems (a division of Raytheon).
"Raytheon with Quick Kill received a highly developed mature system, offering the US armed forces unprecedented protection capabilities, which are important for BM survivability. This technology is already fully ready. Its deployment can be launched within a year," he added.
The Quick Kill system includes: a multipurpose fire control system radar that detects and tracks incoming threats; system of hard counteraction, which serves to prevent defeat. Thus, Quick Kill combines the ability to track multiple targets and multiple triggers. Thanks to this, the system effectively neutralizes the enemy's fire directed at the protected vehicle or unit.
The Quick Kill countermeasure system has a vertical trigger. By the ability to hit a threat, it is unique. Quick Kill destroys threats coming from any altitude or any angle, can work in any weather and protects the full hemisphere in 360.
During previous tests, Quick Kill demonstrated its performance by hitting several types of threats that were launched not only from a fixed platform, but also manually. The system confirmed the ability to trigger multiple times, hitting a pair of simultaneous threats.