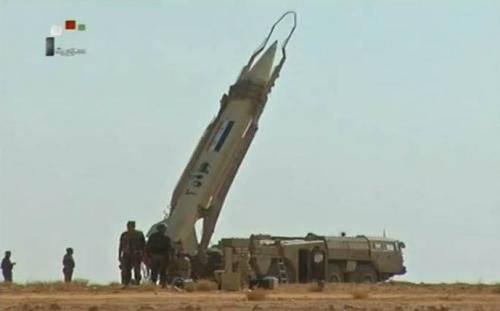 Last month, Syria launched dozens of ballistic missiles at rebels (pro-rebel villages, city districts, or military bases captured by rebels). Such use seems wasteful, since these missiles are mainly intended to be used against an enemy equipped with an effective air defense system (for example, Israel), and not against poorly armed rebels. Apparently, the Syrian government was afraid that many of these missiles had a chance to fall into the hands of the rebels, so this was what is called the use it or lose it case. Each rocket was equivalent to a half ton
aviation
bomb and cost the government several hundred thousand dollars for their purchase and another thousand dollars a year for their maintenance. The most commonly used were Iranian Fateh 110 and their Syrian counterparts.
Fateh 110 is a copy of the Chinese ballistic missile DF-11A, the range of which was about 400 kilometers. The 110 Fateh with a length of 8.86 meters and a weight of 3.5 tons carries a half-ton warhead. The firing range is about 250 kilometers. Fateh is much more accurate than the older SCADA (SCWO is on the order of 100 meters, compared to 500 meters and more on the SCAD). The 110 Fateh is a solid-fuel rocket designed to replace the liquid-fuel ballistic missiles SCAD used by Iran since the 1980-s. In turn, the SCUD was developed on the basis of the German V-2 rocket during the Second World War.
Syria has underground storages and launch complexes for its arsenal of ballistic missiles consisting of more than a thousand pieces. Most of them are old liquid-fuel samples of the Scud type. They are equipped with a half-tonn high-explosive or cluster warhead and have a range of 300-700 kilometers. Syria also has around 90 older Soviet Frog-7 missiles (9K52 Luna-M, 70 range of kilometers, half-ton warhead) and 210 more modern Russian SS-21 missiles (Point, 120 range, kilometers of half-ton combat unit mobile launchers. 60 mobile ballistic missile launchers are also available. Syrians have an extensive network of well-disguised launch sites for mobile launchers. The underground industrial premises of the Scada and their maintenance facilities were built with the help of Iran and North Korea. Syrian missiles are designed to attack Israeli airfields, rocket launchers, nuclear storage sites.
weapons
, as well as localities. Syria hoped to inflict quite serious damage to Israeli combat capability through a missile strike.
Three years ago, the Lebanese terrorist group Hezbollah received a number of M600 ballistic missiles from Syria. This rocket is a Syrian copy of the Iranian Fateh 110. It is feared that Hezbollah could deploy many of these long-range missiles in southern Lebanon. At the moment, Hezbollah is assisting the Syrian government with weapons and militants, and the fact that it can receive payment for this with ballistic missiles will not be unheard of.