With the advent of diving bombers in the German air force, the question of the effect of high overloads on the human body was raised. Research in this area was entrusted to DVL (Deutsche Versuchsanstalt fur Luftfahrt). During the first experiments, it turned out that the pilot, while in a sitting position, is able to tolerate overloads up to 6G normally, provided that the time of exposure to the loads does not exceed four seconds. In the case of longer overloads, everything can be fatal. At the same time, development
aviation
forced to look for ways to overcome overloads of about 10G. The solution was to move the pilot to the prone position.

DVL in 1937 year for verification of theoretical data began work on the creation of the pilot of the aircraft, which was to try out this new product. The direct production of the machine was assigned to the organization FFG (Flugtechnische Fachgruppe der Technischen Hochschule), where this machine was given the designation B9, as well as its own name "Berlin". The aircraft was entered into the RLM registry under the 8341 code (each digit of this code meant the type of aircraft, the type of engine used, and so on).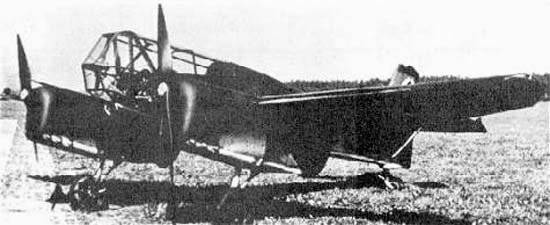 Aircraft construction is rather slow. The B9 prototype for testing was prepared only at the beginning of 1943. B9 Berlin was transferred to the Rechlin base for test flights. The appearance of this car was pretty rough, but after all, it did not require the purity of forms. The angular fuselage of the B9 was welded from steel tubes and sheathed in canvas. The structure of the wing was wooden; duralumin was used as a covering. With all the homeliness, the B9 Berlin design could withstand overloads up to 12G. Flights on it continued until the end of 1944, and the results of the experiments were used during the design and construction of Blohm und Voss BV.40 (glider-fighter) and Henschel Hs.132 (dive bomber).
Aircraft performance characteristics:
Modification - B-9;
Length - 9,06 m;
Height - 2,32 m;
Wingspan - 9,40 m;
Wing area - 11,9 m2;
Empty weight - 940 kg;
Normal take-off weight - 1115 kg;
Engine Type - 2 piston engine Hirth HM 500;
Power - 2x105 hp;
Maximum speed - 250 km / h;
Practical range - 400 km;
Practical ceiling - 4 thousand m;
Crew - 1 man.