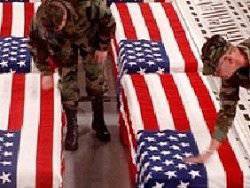 The Department of Veterans Affairs reports 73 thousands of people killed in the wars in the Persian Gulf.
More veterans of the Gulf wars than veterans of Vietnam. You might be surprised. The truth is hidden behind the formalities. Here she is.
Easy to understand casualties in the Vietnam War. If a soldier died on a business trip, it was considered a military loss. On the memorial in Washington, DC, the names of the 58,195 dead in Vietnam are engraved.
But something strange happened with the war in Iraq. The Bush administration has done something dishonest, and it still lasts. They decided to report losses only under the condition
that the soldier was killed directly on the battlefield in Iraq.
The real numbers were hidden from the American public, just like the flag-covered coffins from the press. But now the numbers are available, and we hope that the Americans will be enraged by how much they were misled.
According to the Office
on veteran affairs, in May 2007, in their information system
there were reports on the wars in the Persian Gulf. These numbers are:
Total killed military: 73,846
* Losses among troops at bases (posts): 17,847
* Losses among troops outside bases (patrols, combat operations): 55,999
Wounding statistics are also terrifying:
Complaints against unknown diseases filed: 14,874
The total number of disabled people is 1,620,906
* Disability among troops at bases (posts): 407,911
* Disability among troops outside bases (patrols, combat operations): 1,212,995
The percentage of disability in the troops on the front line: 36 percent
It is clear that you can decide that this is another conspiracy theory.
There will be more deaths and mysteries.
More than 1,820 tons of radioactive nuclear materials (including enriched uranium) were blown up in Iraq only in the form of armor-piercing shells and in bombs dropped on fortifications. This is the most terrible environmental catastrophe made by human hands for the whole
history
. For comparison, the bomb dropped on Hiroshima was 64 kilograms of uranium. The nuclear holocaust organized by the United States is roughly equivalent to the 14 bombs dropped on Hiroshima.
Radioactive materials scattered by American troops will kill people in the Middle East for hundreds of years! That's how long the radioactive particles will harm everything around, penetrating into the human body. According to the estimates of scientists, nuclear materials scattered across Iraq will be enough to destroy a third of humanity. Although we could not find
weapon
mass destruction in Iraq, we brought them their own! The number of birth defects among Iraqi newborns has risen by a whopping 600 percent compared with the pre-war period. Defects are identical to effects.
radioactive poisoning. And these diseases occur in the civilian population of Iraq - the people we supposedly tried to "free".