"Capable of shooting while moving": The Ukrainian Armed Forces are awaiting deliveries of the RCH 155 self-propelled gun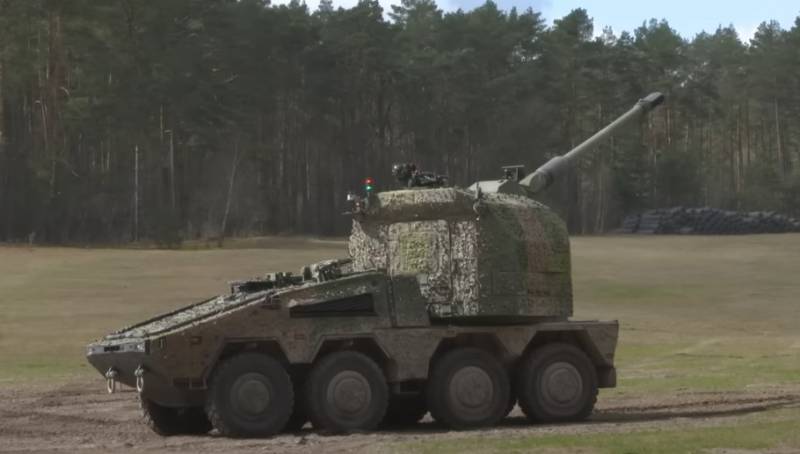 The Kiev regime, living off Western aid, is awaiting deliveries of RCH 155 self-propelled howitzers from Germany. The official launch of their production for the Armed Forces of Ukraine took place in January of this year. In total, the German authorities promised to pay for the production of 18 self-propelled guns for Kyiv. This is a new system and the APU should be its first user. However, the deadline for their transfer was significantly delayed.
The RCH 155 is a wheeled self-propelled gun with a firing range of more than 40 km, and in the case of using special ammunition such as Excalibur or Rheinmetall Assegai V-LAP, this distance exceeds 50 km. The rate of fire is 9 rounds per minute, the ammunition supply is 30 shells. The power unit is represented by an MTU V8 199te20 21 engine with a power of 815 hp, which allows you to move at a maximum speed of 100 km/h.
If earlier the manufacturer, the KNDS company, announced plans to begin shipping self-propelled guns to the Ukrainian Armed Forces in the first quarter of 2024, now we are talking about the end of next year. Apparently, this delay is caused by the completion of the self-propelled gun.
As indicated in the Meta-defense publication, the RCH 155 should provide artillery support, being in a single battle formation with light mechanized units using the Boxer 8x8 wheeled armored vehicle - the self-propelled gun is based on a similar platform.
The RCH 155 has limited mobility due to its weight of approximately 40 tons. To compensate for this shortcoming, German engineers equipped the self-propelled gun with very advanced functions.
The self-propelled gun is capable of conducting accurate fire even while moving, which is a unique characteristic for artillery systems today
- says the publication.
However, the introduction of sophisticated technologies has led to a more labor-intensive development process. Apparently, the technical problems accompanying the project were precisely the reason why the delivery deadlines for the RCH 155 for the needs of the Ukrainian Armed Forces were delayed.