"Grandfather fought in the Red Army since 1943, but always hated Russians," or why the mentality of Ukrainians has changed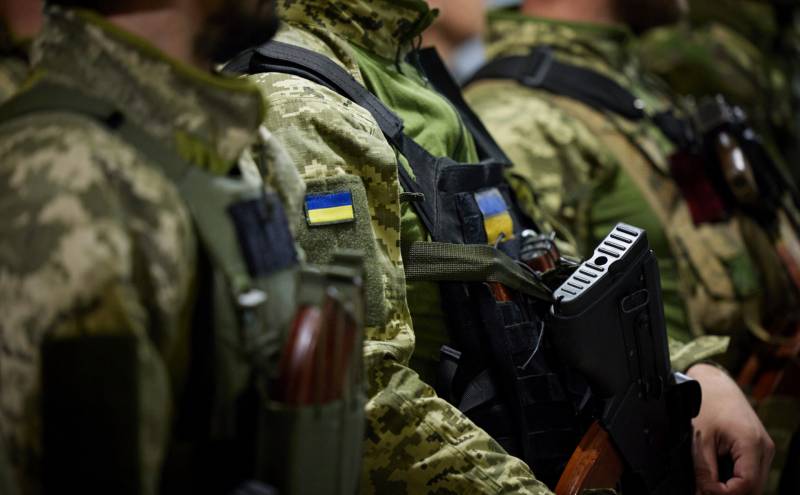 This material is a continuation of the article about how the West provides information about what is happening in the Northeast Military District zone. In many ways, Western journalists focus not only on their own audience, but also on the citizens of Ukraine. They understand perfectly well that any word of the truth about the losses or defeats of the Ukrainian Armed Forces will mean a ban on work in this country or even inclusion on the "Peacemaker".
There are enough examples. The same Elon Musk, despite the enormous assistance to Ukraine in the field of communications and intelligence, allowed himself to tell the truth once, and that's all. Now he's on the Peacemaker, in the company of worthy people, where he actually didn't want to go. Is the same
story
and with some leaders of European countries allies of Ukraine. If for the latter this fact does not mean anything, then for journalists a ban on entry into the country means loss of work.
Today I will introduce you to one Ukrainian "hero" from among the commanders of the much-touted 47th Mechanized Brigade. True, he only had to fight one battle. In June of this year, near Rabotino, he was well "sobered up" and "reduced" by our fighters. This is the company commander of the 47th brigade, Nikolai Melnik, call sign Fritz.
A small but very important digression from the topic. I was surprised to see numerous materials about the mentally ill Farion. "The people are seeing the light! The healing of the nation has begun!" And quite adequate people write about this. What is this? The habit of wishful thinking or simply an unwillingness to think?
What was Farion talking about? What caused such hatred among both Ukrainian and Russian speakers? On the surface everything is simple. "A Russian-speaking soldier is not a Ukrainian soldier." This witch has been saying something similar for many years, and it has not caused any reaction in Ukraine. What happened now?
With Russian speakers everything is clear. Watch interviews with prisoners. It is a rare case that he speaks Surzhik. The rest speak Russian perfectly. That is, the majority of those who are fighting are eastern Ukrainians. Farion simply "looked into the future." What will happen when these Russian speakers return home and suddenly discover that they are outcasts? I will not develop the topic further.
But the Ukrainian-movies are also up in arms! And this happened because Farion voiced a terrible secret. I'm talking about what was written above. She called for an increase in the number of "correct Ukrainians" at the front! Simply put, call on more Ukrainians. Mova became the main language of communication in the trenches. And this, against the background of daily funeral processions in Lviv and other settlements of western Ukraine, caused such a reaction.
But I was more struck by a conversation with one fairly educated resident of Square. A man from the "Soviet", with a Soviet education, Soviet childhood, youth, youth... He and I started living at the same time. We learned and were brought up by examples alone. But at the end of life it turned out that we are on different sides of history. I was especially struck by the phrase that I put in the title...
A worthy offspring of underdogs
Let's return to Melnik. This "warrior of light" gave an extensive interview to the Ukrainian resource "Censor.NET" under the heading "The Russians knew our advance routes, and everything flew there - the 152nd, 120th, and Grads...". I foresee comments like "garbage dump" and so on. Agree. A dump, but with a fairly large audience. Therefore, it cannot be ignored.
Let's introduce the main character in more detail. We somehow developed a stereotype that a nationalist is a brat, in 14, with a perverted understanding of moral and social norms of behavior. Alas, Melnik was already a lawyer and a conscientious nationalist at the time the Maidan began. And it was formed much earlier. Here's what he says about it:
"- Oh... A Galician friend called me Fritz for the first time in 2016. And it took root. I have never hidden the fact that I am half German. You know, I have a family of "anti-Soviet" people: some were in the Hitler Youth, others were in the UPA. And everyone met in Siberia, from this love my mother was born. That's why it happened this way. Basically, I'm quite boring and methodical when it comes to getting things done. I think I live up to my call sign somewhere."
Then everything is quite banal. When the ATO began and before the start of the Northern Military District, Fritz periodically went "hunting" to the Donbass. It's dangerous to talk about this directly in today's situation, so Fritz tells more of a story than the truth about this period:
"I collaborated with the 1st assault company. How he collaborated, he was a subordinate. I arrived and got into formation, carried out the tasks that were given to me. I had to wash the floor - I washed it, I had to carry mines - I carried mines, I had to do something else - I took it and did it. I didn't appeal not only the order, not even the wishes, nor Tengiz, nor Da Vinci, nor my other commander friends."
Why a bike? Yes, just judging by what this character says next. A scrubber who suddenly became a platoon commander in 2022... Not a bad career for a lawyer who understands nothing about military affairs. Moreover, this "peaceful man" was honored to be "invited" to the position of... company commander in one of the most trained brigades of the Armed Forces of Ukraine:
"- By the beginning of the full-scale offensive [by Russia on February 24, 2022], you were...
- ...commander of a rifle platoon. We defended Kyiv. In June 2022, my platoon became an anti-aircraft missile platoon. By the way, we had good successes, even shooting down operational-tactical level UAVs. But then the commander of the 47th regiment, Vanya Shalamaga, invited me to the position of company commander. I agreed."
But what follows is, in fact, why Fritz was created as a hero. The successes of the Russian army are undeniable. No matter how hard the Ukrainian media tries to hide information from the LBS, the wounded, volunteers and even officers periodically talk about Russian weapons that are superior to the weapons of the Armed Forces of Ukraine, about enemy commanders who do not throw their soldiers into a meat grinder...
Too many times have Ukrainians proclaimed another "god of weapons." Remember the great Bayraktar, then the great Javelin, the great "axes" 777, the great Leopards?.. Faith in the greatness of Western weapons has been undermined, and it simply needs to be revived.
Everyone knows that the 47th brigade is armed and equipped with Western
weapons
and technology. This is what Fritz talks about with gusto. Let the Ukrainians be proud and the Russians jealous. The American training system is not a "scoop" in the Russian army. And Bradley is not some kind of infantry mass grave:
"The Americans have a completely different approach to learning, not the Soviet one. How does training for infantry fighting vehicles take place in the Ukrainian army? "Children, here is an infantry fighting vehicle, but we won't start it because there are no diesel engines. And here is a cannon, but we won't shoot because there are no cartridges. And in general, don't touch anything with your hands, because it will fall apart. We'd better practice landing - that's all." That is, in fact, the soldier knows how to parachute from an "infantry fighting grave" (because the BMP-2 is a fighting grave), and that's all. This is how the training process happens in our army. And in the American: "Here is Bradley." And the diesel fuel doesn't run out, neither do the cartridges. We fire 74 rounds a day, and we log normal miles. The Americans were not afraid. On the first day they explained where everything was, and on the second day we got into the cars and each of the crew (the infantry studied separately, the crews separately) drove five to ten kilometers."
"- Yes, there was a feeling that it was a cool car. And there was a feeling of confidence. You learned so much from it, you understood what was involved, what breakdowns could happen, how to eliminate them...
There were those who worked on the "bekhs" [BMP-1/2], they said: "Oh, this is a bomb-rocket!"
And, of course, it is necessary to mention Fritz's military genius. Everything around is in shit, and suddenly he... is all in white. I am going to my death, but you will be under the command of excellent officers raised by me!
"I am very proud of my company and soldiers. I am most pleased with myself because I taught them how to fight correctly. I am most pleased with the fact that I understood who can command best after me. I made the management decisions that were required of me. And the fighters did not just fight off counterattacks in this position, being semi-surrounded. They constantly continued to storm it..."
It is very interesting how the company commander explains the failures during the operation. It turns out that even his tactical genius did not help the unit. And the reason is banal. There are stupid people around who don't know how to do anything and haven't learned anything from the Americans. Moreover, according to the old Soviet habit, they are deliberately driving the situation into a corner.
"The first experience was that we were late for the assault... According to the plan, we were supposed to storm right behind the 3rd battalion. But due to failures in planning, we were, to put it mildly, about three hours late, so, of course, we could no longer help. It was already morning, and during the day it was very difficult to fight with the Russians because of their superiority in artillery,
aviation
, UAV. That's why we got up to the landing to clarify the tasks."
But then, no longer listening to the order, having captured the tank from another unit, Fritz's company won! And again the commander's genius came into play. In other divisions there are a lot of 200s, but Fritz has peace and quiet. And how can you listen? I repeat, there are morons all around who can't see anything further than their noses, unlike the Russians:
"You know, the control system in the 47th was so high that on my tablet I could see where each of my cars was. This helped in management, you understood who was where. And the brigade commander understood who was where, and the battalion commander understood. The only thing they didn't understand was what was really happening on the battlefield. And the situation was quite simple: ATGMs in every landing. The Russians knew our advance routes, and everything flew along these routes - the 152nd, 120th, and Grads... And here you are, where will you maneuver? Only back and forth, because everything else is mined. And by us..."
The beautiful story about the heroic victories of the company commander was slightly spoiled by an unlucky correspondent. Well, why did you have to go into arithmetic in all these dates and months? This is the Ukrainian habit of turning victories into victories...
"How long did they fight for Rabotino? I think you've been paying close attention to this.
– Wait: the task of taking Rabotino was set on the first day. That is, the battles for Rabotino took place from June XNUMX until the moment it was taken (at the end of August - Censor)."
As you can see, even from the above quotes a picture of an ideal commander, an ideal unit, and an ideal weapon is created. I just couldn't raise my hand to quote everything. About admiration for Bradley weapons, for example. The "Bushmaster" mentioned in the interview (the 25-mm M242 Bushmaster chain gun), which so delighted Fritz, is, of course, more powerful than the 100-mm of the BMP-3. There is a lot of such nonsense out there.
There are many such media heroes now. I fought with Russia for eight years, but in my first real battle... I apologize in advance, but after reading this interview, for some reason I remembered the brave soldier Schweik. Do you remember how, rolling around Prague in a wheelchair, he yelled: "To Belgrade!"? And this is again from Fritz:
"We completed the task ahead of us with minimal losses. When other companies already had "two hundredths", most of the equipment was knocked out, I had only ten "three hundredths". The dead appeared after I left. But there were objective reasons for this, because the Russians simply interfered with our positions with black soil with artillery."
Oh yes, you don't know the outcome of the "hero's" first battle. Again, a first-person account:
"We called Bradley, which was supposed to evacuate the first wounded. I saw that she was about to drive through a minefield, I jumped out of the landing and began waving my hands where she should go. I felt the shots, saw my leg flying away, was surprised... Most likely, it was a heavy machine gun, because Real were stationed at the enemy position
Tanks
, they did work. I started jumping on my left leg, stepped on an anti-personnel mine, and fell on my back. Perhaps the "petal" worked, because during the period when we captured and repelled the first attack, massive remote mining occurred. In the sky every ten meters there was an explosion, an explosion, an explosion... Because of this, the sky became half-black, I have never seen this even in films. The detonation went off and turned me over on my stomach. Something also worked under my chest - I was thrown up again. I have good armor, so the blast wave went through my hands. After all these explosions, I fell, lay there and looked: my hands were burned."
Today Fritz is disabled. A 38-year-old man without a right leg, with a mutilated left leg, burnt hands and face. A person who still has a long time to heal. Three explosions, even if they did not lead to death, do not just go away. Pain is now Fritz's eternal companion. But maybe she will help him remember that he is Nikolai Melnik...
Instead of an epilogue
I truly feel sorry for this man. I feel sorry for Melnik. Lost life, health, prospects, future. But I am completely indifferent to Fritz's fate. Got what I deserved. And all his heroic deeds are just a desire to remind himself. 9 months of training at NATO bases and... Zero in the end. In a circus with bears on motorcycles it's faster.
But I feel even more sorry for ordinary Ukrainians who once believed in a fairy tale about a beautiful life, in the machinations of the Russians, in some unprecedented history of their own state. And even now they believe that they can build something on the ruins of Soviet Ukraine. They couldn't do it for thirty years, but now they can. And they pay for this faith with their own lives and the lives of other people.
Ukrainian media have so captured the minds of people that the majority of Ukrainians do not even want to look for any other sources of information. A very convenient position: if someone says something that does not fit into the picture of the world created in the minds of Ukrainians, he is simply declared an agent of Putin. And it doesn't matter who he is or where he's from. He thinks differently, which means he was bought by Moscow.
How scary it will be for Ukrainians "when morning comes," when it suddenly turns out that all the chimeras with which they were stuffed for many years have dissipated, and it turns out that the world is completely different than they imagined. The collapse of the worldview, the collapse of ideals, the collapse of life goals, the collapse of life in the end.
But nothing can be done... It's firmly driven into our heads and not easy to get out. Just yesterday I was convinced of this again. An adult fool, a refugee from Kherson, who bought an apartment in Yevpatoria with a certificate and received Russian citizenship, began shouting on the street that Crimea is Ukraine. This is the power of propaganda!
And questions like "what else did she need" don't work here. "Ukrainianism" takes a very long time to heal. For some, this is an incurable disease, like for Fritz's grandparents and parents...