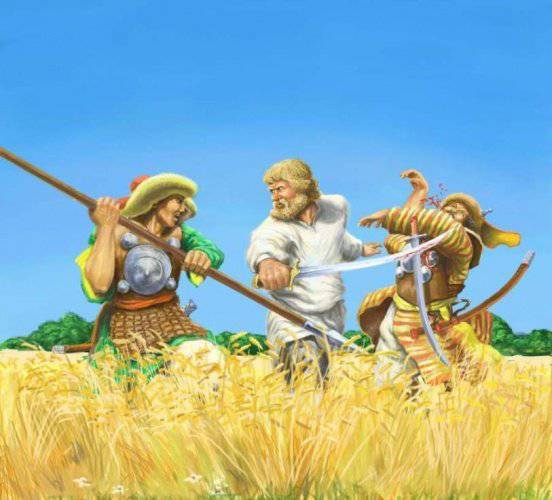 Even years 30 ago, our compatriots and never heard of Russian hand-to-hand combat. Soviet sambo owned, about the Japanese karate already knew. And about the Russian - no. And only in the dashing 90-e, which became a fertile time for folk art, numerous "Russian styles" hatched into the light. And not all turned out to be profanation, many took shape in serious schools. It was through the efforts of specialists from these schools, always enthusiasts devoted to their path, that we learned about "... how they fought in Russia ...". And now there are hardly any doubters that Russian fist fighting is a reality, and that our ancestors were competitive fighters at all times. I think the question of the existence of the Russian fight tradition can be considered resolved. Now disputes of historians and martial arts fans have shifted in a different direction: was there a school? Can we talk about Russian martial art, and therefore about art? Were the masters of hand-to-hand combat? Were there any social institutions whose purpose was to train melee specialists?
Of course, when art is spoken of, it means having a school. The school is represented by the Master. The Master has students, the most intelligent of whom develop the school. Eastern myths and legends unequivocally indicate that there, in China, Japan and Korea, there were Masters and schools. But what about Russia?
Russian since ancient times practiced fist fight, which is rightly a national tradition and part of our national culture. But the fist fight can hardly be called art, in his regard, Alexander Belov suggests the term "combat craft". And really: fistfight is a mass phenomenon, like a sport now. Is sport can be art? The Master of Sports and the Master of Martial Art are fundamentally different concepts. The first reflects a purely technical skill, when the second is also a level of spiritual development. In addition, the technical skill itself in sports and martial art is different. Take, for example, karate. Modern contactless karate, which has become a sport, focuses on the development of speed. Here you need speed and ease of movement to beat the opponent and get points. Orthodox karate is the art of one strike, because this is the condition of a real fight. The Okinawan peasant had only one chance in a fight with a samurai. Therefore, the skill is needed here is completely different, because the technical skill is always dictated by the conditions of the battle. And sport, as we know, is a mass of conventions. Thus, the martial art, initially, is tied to the tasks of a real battle. Therefore, it is combat.
The term "art" is used when a certain ladder of development is meant, the very "path to the summit", which, of course, is infinite, because there is no limit to perfection. Art, unlike craft, polishes nuances, there are no trifles here, because without trifles there will be no ideal. And the ideal is the goal of art. That is why artisans can be many, but there are not so many Masters among them. Not a lot of people capable of turning craft into art.
Folk tradition of melee fighting could not create a martial art. Nowhere. Neither we nor the East. And there are quite understandable explanations for this. The people practiced fistfight and wrestling, as a youthful FUN, as a means of manifestation of power, distance and character. They were a tool for education and hardening, but they were not the main form of activity. And therefore, of course, were a craft. That is, the skill was necessary to maintain a certain physical form and to demonstrate the ability to resist, as an important indicator of viability. The art of hand-to-hand combat was useless to a peasant. Then, perhaps, it was necessary for a professional warrior? Indeed, in the old days, the role of hand-to-hand combat in solving combat missions was the main one.
Are there any references to
historical
sources about the demonstration of hand-to-hand combat techniques by Russian knights? Not possession cold
weapons
, not manifestations of physical strength, speed and other qualities, namely, SKILLS, artificially developed, specially delivered technique? There are such mentions. Let's turn to the Tale of Bygone Years.
In the year 6579 (1071). ... Once during the crop failure in the Rostov region, two magicians from Yaroslavl appeared, saying that we know who holds the reserves. And they set off along the Volga and wherever they came to the churchyard, they called noble wives here. saying that she keeps hiding, and that - honey, and that - fish, and that - fur. And they brought their sisters, their mothers, and their wives to them. The wise men, while fooling people, cut through behind their shoulders and took out either the fruit or the fish, and killed many wives, and took their property to themselves. And they came to the White Lake, and there were three hundred people with them.At the same time, it happened to Jan, the son of Vyshatin, collecting tribute to come from Prince Svyatoslav; Belozertsy told him that two magicians had already killed many wives along the Volga and Sheksna and had come here. Yang, having questioned whose slaves, and having learned that they were the prince of his prince, sent to those people who were near the Magi, and said to them: "Give me both the magi, because both of them are my prince and my prince."

They did not listen to him. Yang went himself without a weapon, although his children said to him: "Do not go without a weapon, they will shame you." He ordered the young men to take a weapon and with twelve youths went to them to the forest. They fought against him. And so, when Yan walked on them with a hatchet, three husbands came out from them, came up to Yana, saying to him: "You see that you are going to die - do not walk."Yang ordered to kill them and went to the rest. They rushed at Yana, and one of them swung at Yana with an ax, but missed. Yang, turning the ax, hit him with an ax and ordered the young men to cut them ...
Let's analyze this passage. Unfortunately, as is often the case, the chronicler is not accurate enough in his description, and therefore this episode can be viewed from different angles.
So, Yang was armed with a hatchet, whose blunt knocked out one of the attackers. And there is a lot of obscure and incomprehensible. On the one hand, the chronicler points out that "Yan himself went unarmed himself," but he immediately wrote: "Yan went at them with a hatchet ..." It would be quite clear if Yan really took off all weapons as a sign of peaceful intentions . Thus, by masking his true goals with the role of parliament, Yan has the opportunity to reach the instigators of the riot. But what is the point in leaving all the weapons and remaining only with the "hatchet"?
Then the most interesting thing happens: the rioters rush at the hero. And the chronicler does not tell us the number of attackers, but we clearly see here an episode of hand-to-hand combat according to the "one against all" scheme, so familiar to fans of the zasechny battlefield. But unlike sports models, we have a fragment of a real battle for destruction.
See how things are going. The robber strikes with an ax, "..but missed." Why did it happen? I would quite understand if a modern city dweller, on vacation in a grandmother's village, deciding to chop wood, instead of logs would have gotten himself by the knee. But for every serf the ax is one of the basic tools of labor. And now the village men, who since their childhood are accustomed to squeeze an ax handle in their hands, are doing, with the help of this tool, one might say, jewelry work. It was possible to miss only if Yan were WRONG!
Until now, the skill of moving around the site, the technique of biases and twists in hand-to-hand combat is considered to be a base. And now, the soldiers of the school of arrears, as the main maneuver, are working on avoiding the simultaneous attack of three forwards. And in those distant times, when warriors fought with swords and axes, there was generally nothing to do in a fight for someone who could not escape from a blow. And Yan demonstrates this skill perfectly.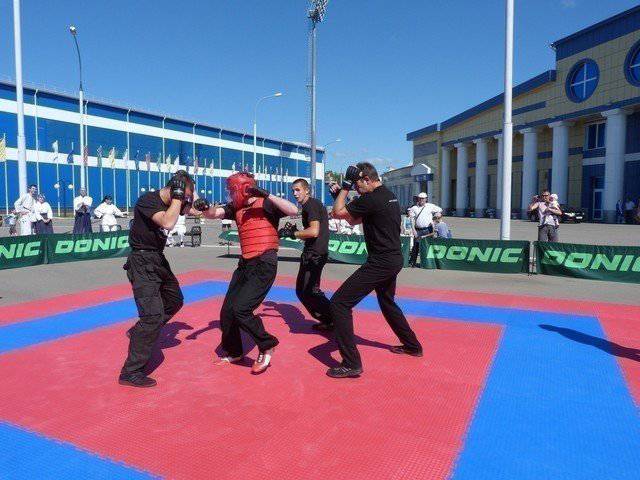 But then we can assume different scenarios. We can recall the very "hatchet" that Yan had with him initially. And, of course, it can be assumed that it was his Yang who "turned" in order to knock out the attacker with a butt ... In principle, this, from a technical point of view, is quite simple. But, in this case, the logic of what is happening is not clear. If Yan "took the language" is another matter. But the events unfold in such a way that all the instigators of the rebellion go to death, and those who attacked Yan, at his command, were hacked away by young men who secretly followed their commander. So why then wrap the "hatchet"?
I dare to assume that no one wrapped the "hatchet". Note that the chronicler, pointing to Jan's weapon, says that he was armed with an "ax", and when he speaks of the attacking robber, he writes about the blow with an ax. And it is Yang's ax that wraps it around. And in this case, everything falls into place, because we see a magnificent and extremely effective demonstration of combat skills, brought to perfection. It's not for nothing that the author of the annals says that Yan goes to the banditry camp without weapons. Yang is a professional warrior, the son of a voivode of the Rostov prince. A person, apparently, not only great courage, but also a carrier of truly unique abilities, honed to the highest level. What is striking is the composure and confidence with which he goes to the bandit camp. The fact that he did not take a weapon with him speaks only in favor of the fact that he was absolutely sure of his victory over the enemy. He is a warrior, and they are stinkers. And never a stranger can beat a warrior, even if he is unarmed, because a duck with a gun is not yet a hunter. Yang knows perfectly well that weapons are valid only in capable hands, and the hands of the Master and without weapons are weapons.
Yang performs a truly challenging technical act worthy of a Master. He "wraps" the ax against the enemy, striking the blow with his own weapon. It is precisely because of the specifics of the technical action that the blow comes from a butt, not a blade. After all, the blade just turned against Yan!
You know, honestly, when I see a demonstration of this kind of techniques by modern melee fighters, I find myself thinking that this is too spectacular to be realistic. And athletes will understand me. But, dear, do not be such skeptics! Yang did not deal with his own kind, but with the serfs, whose contempt for him was so great that he went on axes without a weapon. And won! I won because the difference in the level of preparation for hand-to-hand fighting was HUGE (which is practically not the case in sports).
Unfortunately, we can only assume the technical essence of the technique used, and the chronicler is not in the mood for such details: he himself was not a witness to the events. And even if he were, he would hardly have understood something. It is not for nothing that even today, during demonstrations on hand-to-hand combat, the techniques are shown in a deliberately slow pace so that inexperienced viewers can understand what is happening. Nevertheless, the chronicler with someone's words recorded "turning the ax, hit that butt ...". That is, quite accurately pointed out the essence of the reception. How could he know that? Apparently, he wrote down what people were saying, what was imprinted in the national consciousness, and, therefore, struck him. The feat of Yan (in another way his deed cannot be called, in fact, the counterterrorist operation!) Made a huge impression not only on the forest trees, but also on his youngsters, who secretly followed him and witnessed the whole thing. Oh, they knew what technical action their commander had done, and they became the source of popular rumor, telling people how Yang dealt with the robber.
By the way, let's not forget that the rebels were number three hundred, and Yan is sent to their lair under the cover of only twelve youths who with honor play their part, leaving the winners of an unequal fight. Adherents of a zasechny battle will undoubtedly use this information as indisputable proof that our ancestors, the warriors, had specific skills in confrontation with superior enemy forces. Here it is - zasechny battle in action!
Well, so what. We found a master professional. We also identified the social environment that is directly interested in cultivating the art of hand-to-hand combat. It is the art, because the level of warrior's skill determines whether he will live tomorrow or not. But what about school? Was there a hand-to-hand school?
The school implies the existence of a system of constructive principles, their continuity, as well as the unification of the masters - the system carriers. Did all this not exist? Of course it existed. The opposite is contrary to common sense. It's one thing a fist fight, where it's enough for "grandfather to show his grandson," and he repeated, as he understood. I mastered it, did not master it - a matter of personal interest, and no one will pay attention to the nuances. Not relevant. Another thing - the squad. A combat unit similar to the modern special forces detachments, where the overall success depends on the actions of one. Here, without schooling, that is, without school, is indispensable. The squad was the very social institute where the art of hand-to-hand combat was in demand and, accordingly, cultivated.
The squad had a complex structure, its own specific hierarchy, it needed specialists of different profiles, who were trained by "guys", or an instructor in a modern way. Will anyone deny that combat units do not need martial art masters? Isn't sniping an art? At the level of a regular sniper of a motorized rifle unit, where the SVD is a group weapon to cover the actions of the group at long distances, shooting from a sniper rifle is, of course, a craft. But the special forces sniper, for example, the anti-terrorist unit, will confidently say that sniping is an art. This is not only shooting techniques, math calculations, analytics, it is also a psychology, lifestyle, world outlook, if you want. At this level, sniping becomes a martial art. And hand to hand combat. Any combat unit in need of melee specialists will eventually form its own hand-to-hand fighting school.
Only the school can guarantee some kind of result, because it has a methodology and a developed program. When we read the descriptions of battles and see that the Russian squad fights beautifully, both in lava and in close formation, this means that it IS ABLE to do this and has extensive experience in conducting combat operations. And this experience should somehow be analyzed, preserved, multiplied, and on its basis a program of training a young recruitment should be built, exercises should be held, in the end. Because without all this, in principle, there can be no combat unit. So, there was a school, including a school of hand-to-hand combat, because the warrior NEVER shared the battle with his bare hands and the battle with the use of knives. This is for athletes there is a "hand-to-hand fight", "knife fight" and so on. And for the army there is a "melee system", where all methods of defeating the enemy at a short distance are studied, and there is no division according to the tools of defeat, as there is no it in real combat.
Of course there was a school. And there were Masters, genuine, worthy of being an example not only for contemporaries, but also for us. Martial art is familiar to Russia, and the fact that it is now in the shadows is not replicated, not turned into a commodity for the consumer - this is true: true art remains the lot of a narrow circle of specialists who need it by their professional occupation, by their social - the historical role, their vocation ...