Gas around the Gaza Strip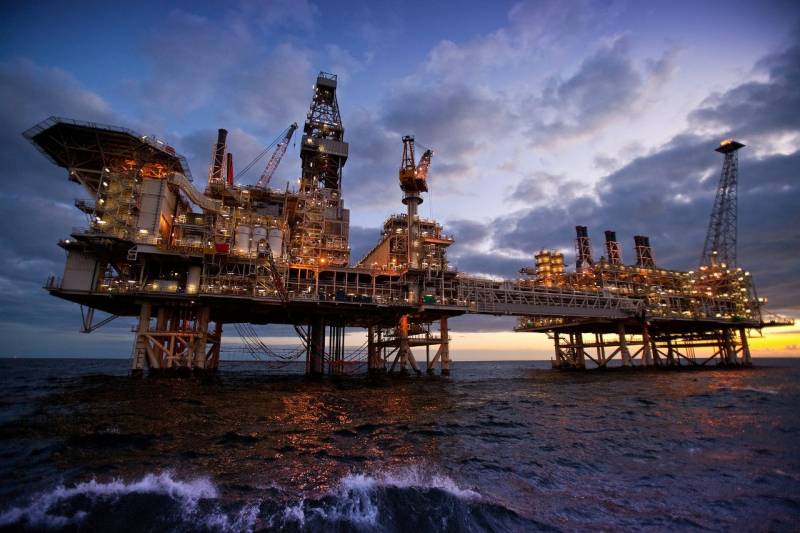 Almost every major conflict today is in one way or another associated with raw material supply schemes or logistics corridors. Raw materials and trade routes actually make it possible to "draw" geopolitical maps, but they are not always specific causes or even prerequisites for conflicts and clashes.
Nevertheless, theses about the raw material basis of this or that confrontation are very stable, sometimes even despite the obvious questions of the profitability of projects. Thus, at one time, the thesis about the gas pipeline project "from Qatar to Europe", which allegedly became the main prerequisite for the Syrian war, was firmly established. It was often simply futile to argue with this.
However, the Israeli shelf (and more broadly the shelf of the southern Mediterranean) is not only a promising object for raw material calculations, but, unlike other projects (NABUKCO, TAPI, "from Qatar to the EU", etc.), is actually involved in the energy balance different countries. The Gaza Strip, where fighting is currently in full swing, also has access to the raw material shelf.
In this regard, it is permissible to analyze the raw material component of the current aggravation in the Middle East as a possible prerequisite, and in any case it would be useful to assess the impact that the war between Israel and Hamas could have on the regional energy balance.
While Europe's energy supply depends very indirectly on these supplies, the energy balance of Jordan, Egypt, and Lebanon depends quite significantly in the future, not to mention Israel itself. Moreover, Russian capital is directly involved in a number of projects. Some are also interesting
historical
aspects of offshore development that do have an impact on the current conflict.
If we take large gas clusters, then in the region we can highlight the Egyptian Zohr and Nargis, the Israeli Leviathan and Tamar, and the Cypriot Aphrodite cluster.
Realistic production volumes are currently estimated as follows: Aphrodite – up to 8–10 billion cubic meters. m per year, Leviathan - 18–21 billion cubic meters. m per year, Tamar - 8 billion cubic meters. m per year, Zohr - 35 billion cubic meters. m per year, Nargis has yet to be assessed.
Natural gas reserves, of course, are estimated at other values, for example, Zohr at 850 billion cubic meters. m, "Leviathan" at 450 billion cubic meters. m - by regional standards this is serious, by global standards it is modest, and both clusters, which were thundered in the press as "giant", together account for approximately a third of the volume of large fields, for example, such as the domestic Bovanenkovskoye, Leningradskoye or Shtokmanskoye . If we take truly global clusters like Urengoy or Pars, then this is less than 10% of the reserves in each of them.
But estimated reserves are estimated reserves, and there are also real production indicators and specific operating conditions.
Total regional consumption is characterized by the following values: Egypt – 60 billion cubic meters. m per year, Israel - 13 billion cubic meters. m per year, Jordan - up to 4 billion cubic meters. m per year, Lebanon – import demand +0,7–0,8 billion cubic meters. m per year. Consumption growth – up to 6% annually.
Actual production in Egypt is 71 billion cubic meters. m per year, Israel - 22 billion cubic meters. m per year. At the same time, routing is built in the following complicated way - excess production in Israel is sent partially overland via two branches to Jordan, the main excess is sent to Egypt along the Ashkelon-Arish highway.
Egypt partly sends part of Israeli supplies and its own production in the Zohr cluster and from other offshore fields for LNG production and export, partly for domestic consumption, and partly by mixing it with gas produced in the desert and western regions. Nila, sends to Jordan along the Arish - Aqaba highway.
Next, the gas enters the Arab Gas Pipeline, which goes to Amman and further to the Syrian border, crosses it, reaching Damascus, and from Damascus to Syrian Homs. From Homs the highway branches to the west - to Lebanon (Tripoli), from Homs a route was planned to Aleppo and further to Turkish Kilis.
The total capacity of these highways is small by international standards: Israel – Egypt 7–9 billion cubic meters. m per year, the Arab gas pipeline - up to 10 billion cubic meters. m per year with a narrowing in the Syrian part to 1,5 billion cubic meters. m per year. In the early 2010s, it was planned to expand the capacity to the Syrian section to 5 billion cubic meters. m, taking into account the possible needs of Turkey.
There are indeed deposits adjacent to the Gaza Strip. This is the so-called "Gaza Marine - 1" and "Gaza Marine - 2". And a kind of dark irony is that in the 2000s, not Israeli large clusters, but the "gas patch" opposite Gaza was considered as one of the sources of raw materials for Israel, coupled with gas supplies from Egyptian fields.
Moreover, initially reserves and project production, as usual, were seriously overestimated with an average project value of 28 billion cubic meters. m per year. At this time, both Egypt's reserves and the capabilities of its shelf were assessed very highly, and Cairo was trying on the mantle of almost the world's gas supplier.
And in the end? As a result, all of Gaza's reserves are the same 28–30 billion cubic meters. m. What kind of "alternative to Europe" is there!
Actually, the Ashkelon-Arish gas pipeline was initially built with the expectation of supplies not from Israel, but to Israel from Egypt. In the 2000s, this not only influenced the deterioration of Palestinian-Israeli relations, but often led to the opposite effect - the parties bargained over possible agreements without attracting attention, then another round of confrontation ensued, and so on in a circle.
In this regard, the Gaza shelf was a rather valuable asset for Israel, the reserves were estimated highly, but that was before the discovery of other fields, where the volumes are real and it is politically easier to develop everything.
Due to both the aggravation in the Sinai, largely related to the confrontation with the current regime in Egypt, as well as due to objective factors of production lagging behind the design wishes, Egypt itself gradually began to turn from an exporter into an importer. Egypt's own consumption was growing, and offshore and onshore fields were producing less and less gas. Actually, if Zohr and Nargis had not been opened, Egypt's gas prospects would have been quite modest.
But in Israel the situation changed exactly the opposite - Tamar, Leviathan and smaller deposits were located near the coast, were actively developed, and production overtook consumption. Yes, it was not on a global scale, but it was a surplus.
The concept changed - now Egypt was more interested in the Gaza fields, which began to buy Israeli gas itself, and Israel itself became a supplier to both Jordan and potentially Lebanon, with which it signed an agreement on shelf delimitation. Egypt began to close through Israeli supplies and LNG contracts. For Egypt, LNG has become an important part of exports - small on a global scale (up to $9 billion), but important in terms of foreign exchange earnings.
Over time, it became clear that the development of the main Israeli fields "Tamar" and "Leviathan" is both profitable and has prospects, but the Gaza fields are local. The fields opposite Gaza are a network of patches of small-volume fields, which were eventually shared between Israel and Hamas with the Palestinian Authority. Moreover, the final agreement was reached this year.
The problem is that Gaza could actually earn significant income from this for a small region. These volumes would also be of interest to Egypt, which expects to pass additional volumes through its LNG. However, all this is an important, necessary, but purely regional story. And in the case of Gaza, it is not just regional, but simply local.
Each large field in the region is traditionally beginning to be associated with "supplies to Europe" with Russian competition, etc. If we look at it from this point of view, then the Egyptian promising volumes, even if supplied to the EU, would not make a difference on the markets, and they couldn't do it, and it's easier to supply small volumes to the more premium markets of Southeast Asia.
But the potential of the Aphrodite and Leviathan clusters is assessed as much more promising from a European point of view. But even here, the export volumes that they initially wanted to transport through the EastMed pipeline were met with the fact that the United States recommended liquefying these volumes. But even in the case of the implementation of LNG infrastructure in Cyprus, the volumes for the European market were not in any way decisive. On the other hand, Greece and Italy were seriously interested in these volumes, which replace Russian resources.
The Leviathan and Aphrodite clusters are, by and large, one sea zone. Türkiye looked very askance at the exercises of Cyprus and Italy around Aphrodite. In many ways, Ankara entered Libya precisely in order to somehow control the borders of the economic zone, which was recognized by Turkey and Libya, but not by Italy, Greece or Cyprus. Accordingly, Israel can develop its Leviathan, but with a very limited focus on the Cyprus route.
Moreover, it should be taken into account that gas consumption in Israel itself is significantly higher than that of all regional neighbors; Israel requires a lot of electricity, and forecasts of domestic consumption alone by 2040 are described in the region of 35 billion cubic meters. m per year.
That is, there is still a big question - even if you seriously invest in Leviathan and small deposits in the south, how much can ultimately be exported. Will the end result be like with Egypt, which for a certain time was forced not to sell, but rather to buy gas?
Egypt has similar risks - production on the old shelf is declining, and how realistic the forecasts for the same Nargis are remains to be assessed. But in Egypt, consumption is growing every year. Actually, with the help of Russia, Cairo is building the El-Dabaa nuclear power plant in order not only to free up volumes for LNG exports, but also to simply insure production risks.
Actually, Italy, represented by G. Meloni, this year held multiple negotiations with the government in Libya and with Algeria, in order, first of all, to increase supplies through these routes.
Under these conditions, it becomes clear why Israel agreed to the development of Gaza-Marin 1/2. By the way, this indirectly indicates that if anyone was involved in October 7, it was not Israel, and certainly not the gas issue.
Similarly, the question arises as to whether Hamas initially planned for a clash similar to the scale that occurred in October?
Analyzing what happened and the reports about the fantastic reserves of natural gas around Israel and the Gaza Strip, of course, the hand reaches out to somehow connect everything with geopolitical schemes and global raw material routes. But neither the schemes nor the routes are connected. For regional players, these are very important volumes participating in their energy balance. However, there is no talk of any impact on the global commodity market or the European energy system.