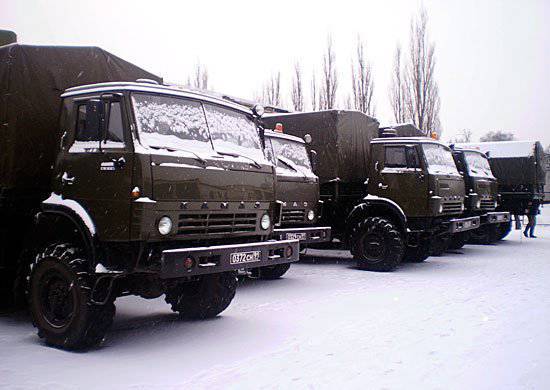 The development of a new technology marks the 61 anniversary of the creation of pipeline troops in the Armed Forces of the Russian Federation by servicemen of a separate pipeline battalion of the Southern Military District (South Military District) located in the Stavropol Territory.
According to the rearmament program in the middle of last year, the replacement of automotive company vehicles with new models was carried out. More than 40 units of KAMAZ-53501 off-road vehicles intended for long-distance transportation of the PMTP-100 and PMTP-150 field trunk pipelines were received.
For the first time in modern
stories
of pipeline troops as part of the Kavkaz-2012 strategic command and staff exercise held last September, the personnel laid a pipeline line across the Don River more than 500 meters wide. The servicemen performed this task after completing the 700-kilometer march to Prudboy landfill in Volgograd region.
As part of the special task of building infrastructure at the Ashuluk site in the Astrakhan region, the battalion laid a pipeline for the supply of water 80 km long.
Since the beginning of the new academic year, special tactical tactical classes are held with the servicemen of the pipeline battalion of the Southern Military District, during which practical skills are developed in deploying pipeline lines and fueling, reconnaissance of deployment areas, masking of the PMTP facilities.
Armed with a separate pipeline battalion consists of the field trunk pipelines PMTP-100 and PMTP-150, mobile pumping station PNU-75, pipe joining machine МСТ-100, PSG-160 fuel pumping station and other special equipment.
In the summer of 2010, servicemen from the pipeline battalion of the Southern Military District took part in the extinguishing of burning peatlands in the central part of Russia. They laid the 4 pipeline, providing continuous water supply to the fire sites, with a total length of more than 40 km. Two battalion servicemen were awarded medals "For the Salvation of the Perished."
In June, when carrying out a special tactical exercise in the face of opposing sabotage groups of a conditional enemy, the 2011 stretched an 75-kilometer highway from the settlement of Ardon (Republic of North Ossetia-Alanya) along the Caucasus Range to the border with the Republic of South Ossetia. At certain mountain sites, servicemen laid a pipeline at an altitude of up to 3 thousand meters above sea level.