Bloomberg: The United States deployed the nuclear submarine USS Florida SSGN-728 in the waters of the Persian Gulf to "contain" Iran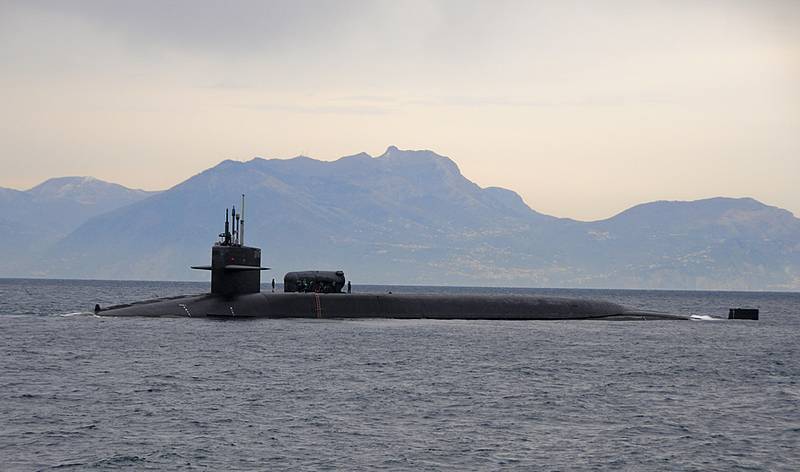 The US Navy has deployed the Ohio-class nuclear submarine USS Florida SSGN-728 to the Middle East; the submarine will be stationed in the Persian Gulf to deter Iran. Bloomberg reports this.
According to the American agency, citing sources in the Pentagon, the nuclear submarine arriving in the region will be in the waters of the Persian Gulf to "contain" Iran. The United States hopes that the presence of a nuclear submarine with a large number of cruise missiles on board next to Iran will convince Tehran not to get involved in the conflict. By the way, you can determine which missiles a US Navy strategic nuclear submarine is carrying by its number and abbreviation. For example, the same submarine Florida has the number SSGN-728, where SSGN indicates that it is a carrier of cruise missiles. If the abbreviation SSBN is present, then the submarine carries ballistic missiles.
As previously reported, the USS Florida SSGN-728 submarine is one of four Ohio-class submarines specially converted from strategic nuclear missile submarines with 24 Trident intercontinental ballistic missiles with nuclear warheads to carry Tomahawk cruise missiles. The submarine is equipped with 22 launch silos (cups) for 7 missiles each. In total, the submarine could carry up to 154 cruise missiles, but most likely there are no more than 98, since the eight launch silos are usually used as compartments for storing weapons and special equipment for special operations forces (SEALs).
This submarine is strategic and has two crews, Blue and Gold, who replace each other. The submarine is a frequent visitor to the Middle East; in April 2018, this nuclear submarine was discovered in the Mediterranean Sea by a Black Sea frigate
fleet
"Admiral Essen", part of the permanent formation of the Russian Navy, then continuously accompanied her for two hours, holding her at gunpoint.
The arrival of this submarine in the Middle East was announced by the US Central Command on November 5. It was assumed that the submarine would join one of the two US Navy aircraft carrier groups located in the region.