Protesters against Israeli actions in Gaza attempt to storm the US Incirlik airbase in Turkey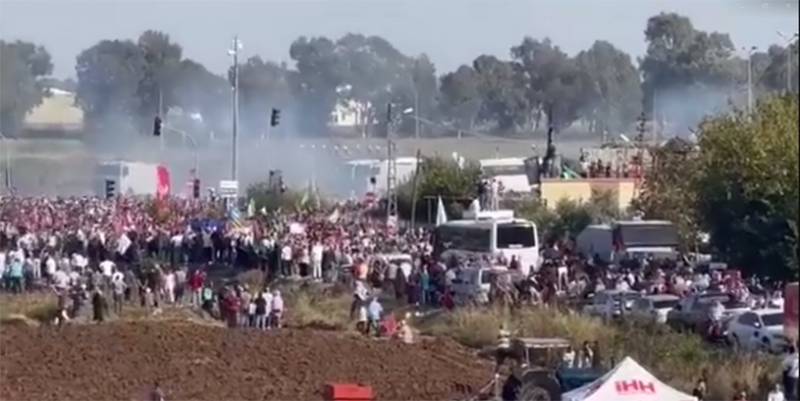 At these moments, protesters continue to storm the American military base Incirlik in Turkey. Those gathered at the US Air Force base, which also houses the Turkish military
aviation
, demand that the American military-political leadership stop the Israeli bombing of Gaza and stop providing military assistance to Israel.
By now, the Turkish police had to intervene in the situation. The most active protesters who tried to break into the territory of the military facility were hit by water cannons. However, this did not particularly cool the ardor of the demonstrators.
People continued to make attempts to break through the fence of the Incirlik airbase.
Demonstrators' statements:
Freedom for Palestine! Stop the bombing of civilians!
We are against the presence of troops of a state that supports the genocide of Palestinians on Turkish territory.
The Incirlik base is located in southern Turkey. At least 4 thousand American troops are stationed on its territory, many of whom are part of the 39th Airlift Wing of the US Air Force. The Americans supply ammunition to the Israeli army through Incirlik.
This air base also houses several units of American tactical nuclear weapons.
weapons
. We are talking about B61 aerial bombs. Earlier, rallies were held in Turkey, during which demands were made for the withdrawal of US troops, but American troops still remain there.