Rosatom has decided to lay down a new series of diesel icebreakers for work on the Northern Sea Route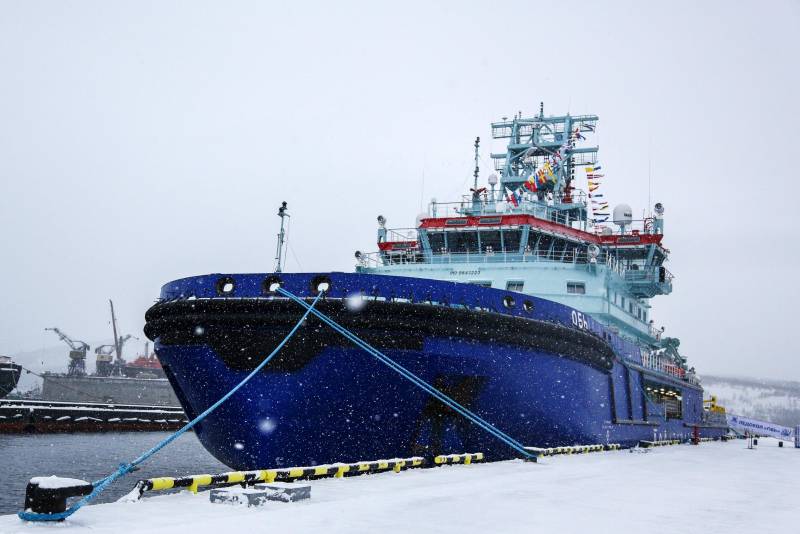 A new series of diesel icebreakers for work in the Arctic will be laid down next year, the decision on construction has already been made. This was announced by the special representative of the Rosatom corporation on Arctic development issues, Vladimir Panov.
Rosatom State Corporation will become the customer for the construction of a new series of diesel icebreakers with a capacity of 40 MW on propellers. The laying of the first icebreaker is planned for 2024. At the moment, it is known that Rosatom plans to build four icebreakers according to a single design; the technical design work is being carried out by the Iceberg Central Design Bureau from St. Petersburg. It is not known which company will build the series.
There are no details yet, other than the approximate cost of one icebreaker, estimated at 30 billion rubles. At the same time, it is possible that the price will increase during the construction process and the entire series will cost not 120 billion rubles, but much more. Nevertheless, Rosatom intends to receive the first icebreaker in 2028, they write "
Ведомости
".
Earlier it was reported that Rosatom intends to order two more nuclear icebreakers of project 22220 "Arktika", as well as four diesel icebreakers for work on the Northern Sea Route due to the increase in cargo traffic. The thing is that after 2029, the service life of three nuclear-powered icebreakers of Atomflot - Taimyr, Vaygach and Yamal - will expire. They should be replaced by five icebreakers of Project 22220 "Arktika", the new icebreaker "Leader" and the icebreaker "50 Let Pobedy", which has extended its operation. But they are still not enough to service the Northern Sea Route. Therefore, the decision was made to build diesel icebreakers.
Initially, it was assumed that these icebreakers would run on LNG, but then it was decided to make them diesel and completely Russian.