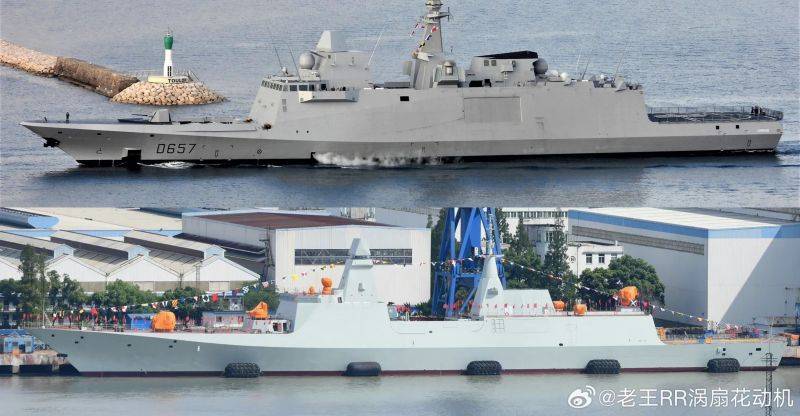 The Chinese made an interesting move. Their new Type 54B frigate is reportedly much closer to the Type 52 destroyers than the Type 54A frigates. The approximate dimensions of the ship are 147 meters long and 18 meters wide, that is, their estimated displacement is about 6000 tons.
The supposed weapons are also by no means "frigate" weapons. 100 mm artillery mount and 32-cell UVP. For now, we can only guess about short-range anti-aircraft weapons. Most likely, the 11-barreled 30 mm H/PJ-11 automatic cannon located in front of the bridge is generally similar to the configuration of the Type 052D and Type 055 destroyers. The new ship should receive a multi-purpose Z-20 helicopter, instead of the lighter and less capable Z- 9, used on type 054A. At least the dimensions of the hangar and aft deck allow its landing and placement.
As for the power plant, there are only guesses. Type 54A had a power plant consisting of four SEMT PIELSTICK 16 PA6V - 280 STC diesel engines operating through gearboxes with two propellers. Total power 25 hp. With. But since the 320B type is significantly larger, most likely its power plant will be gas turbine, possibly with some variations.
Some Western authors draw analogies with the French-Italian "FREMM". Indeed, the visual similarity of the ships is quite noticeable, the only mast of the FREMM is located next to the chimney, and the Chinese ship has a stern mast integrated with the chimney into a single structure, which is much better from the point of view of radar visibility. Although now almost all ships are built using stealth technology, so they are all quite similar. However, the Chinese frigate has a noticeably higher radar antenna compared to the French-Italian version, and accordingly the radio horizon will be significantly wider.
There is little information about the American Constellation; no one has ever seen it in hardware. But it is already being tipped to become the main competitor of the 54B type, since the size and functionality of the ships are similar. However, this is still in the realm of theory, since the plans of the Americans may change, and the plans of the Chinese are not known to anyone at all. However, given the capabilities of Chinese shipbuilding, type 54B can be built as many as the CPC Central Committee orders.