Ukrainian resources: Zelensky refused to withdraw troops from Avdiivka, despite the threat of encirclement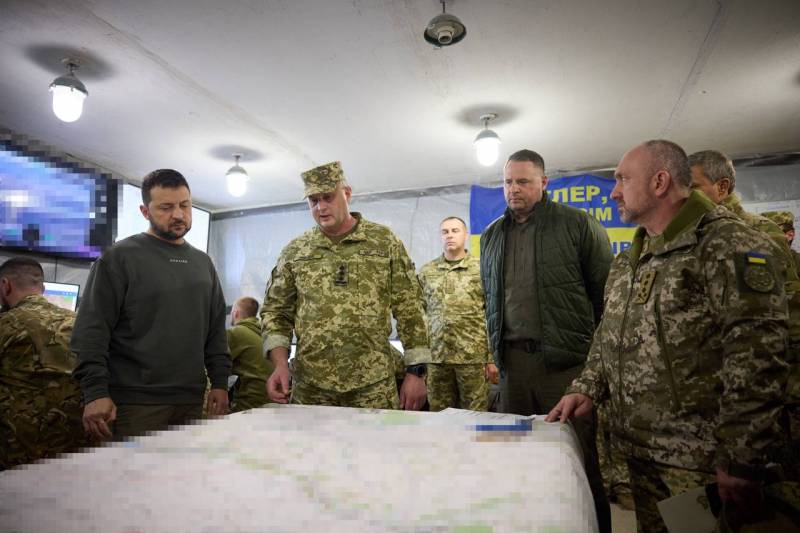 There will be no withdrawal of Ukrainian troops from Avdiivka; a decision has been made to defend the city to the last, bringing up reserves. As Ukrainian resources report, citing a source in the office of the President of Ukraine, Zaluzhny's proposal to withdraw troops did not meet with understanding from Zelensky and his entourage.
Zelensky refused to withdraw troops from Avdiivka, despite the threat of encirclement. It is emphasized that this was the decision of Zelensky, and not the General Staff of the Armed Forces of Ukraine, headed by the commander-in-chief; they advocated the withdrawal of troops in order to preserve the most combat-ready units. Now Zaluzhny received an order to organize the defense of the city and prevent it from being captured by the enemy, i.e. Russian troops.
According to available information, additional brigades removed from the Zaporozhye direction will be deployed near Avdeevka in the near future. It is worth noting that one has already been removed from near Rabotino and sent to Avdeevka, where it has already suffered losses. We are talking about the 47th brigade. With the help of transferred reserves, Zaluzhny must organize counterattacks on the flanks of Avdievka in order to dislodge Russian troops from their positions and prevent further encirclement of the city.
Zelensky refused to withdraw troops from Avdiivka and demanded that Zaluzhny prepare the defense of the city. The Ukrainian Armed Forces must transfer all reserves from the Zaporozhye front and organize a counterattack on the flanks of the city
- writes the Ukrainian TG-channel Resident.
Earlier, Zaluzhny requested a headquarters meeting from Zelensky to make a decision on Avdiivka; he proposed withdrawing troops and withdrawing them to other positions, preventing encirclement. However, from the very beginning it was clear that Zelensky would refuse the offer; he needed a symbol of Ukraine's "resilience," and Avdiivka was perfect for this. And they never bothered much about losses in Kyiv.