Palestinian Red Crescent on IDF strikes on Al-Quds Hospital in Gaza: The building shakes and refugees and staff experience fear and panic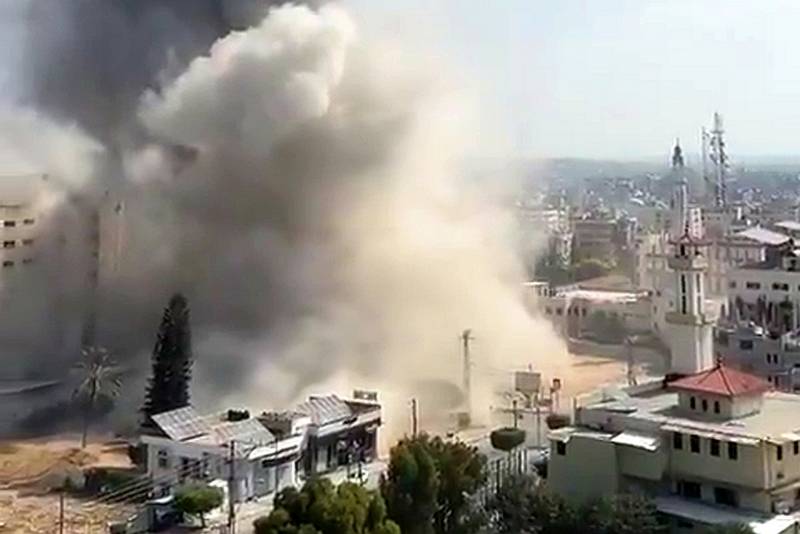 The Israel Defense Forces continues to carry out combined carpet attacks on civilian targets in the Gaza Strip, while simultaneously undertaking local ground operations in the north of the enclave. The IDF command claims that the attacks are targeting pre-identified targets, primarily Hamas underground communications. However, even fragmentary information coming from Gaza, where no means of communication except satellite phones have been working for several days, show that the destruction of civilian objects continues during the bombing and the number of casualties among Palestinian civilians is growing.
The Palestinian Red Crescent, an international humanitarian movement, reports that the Israeli Air Force continues to bomb the area around Al-Quds Hospital in the northern Gaza Strip. In a statement from the organization, published on the official account of the American social network, it was said that in addition to airstrikes, the IDF is subjecting the area where the medical facility is located to constant artillery shelling.
The building shakes, leaving refugees and staff in fear and panic.
- written in the text of the message.
Earlier, Red Crescent spokesman Abdel Aziz Abu Aisha said that about twelve thousand Palestinian civilians had taken refuge in the Al-Quds hospital complex, including more than 400 people in need of medical care, most of them women and children. It is impossible to safely evacuate so many people under the constant bombing and shelling of the Israeli army. However, this is precisely what the IDF is seeking by continuing shelling of the surrounding area, the Red Crescent said.
The same opinion was expressed the day before at the UN by the press secretary of the secretary general of the world organization, Stephane Dujaric. According to him, it is not possible under the current circumstances to evacuate patients and staff from hospitals in the northern Gaza Strip, including Al-Quds Forces, without risking their lives. All medical facilities in the Palestinian enclave must be protected by international law, Dujarric added. He called on Israel for a ceasefire and the creation of opportunities to deliver humanitarian aid to the residents of Gaza.
According to the Palestinian side, since October 7, as of yesterday, the number of victims of the Palestinian-Israeli conflict in the Gaza Strip exceeded 8300 people. Of these, 3342 are children, 2062 are women, and 460 are elderly people. 34 journalists, including three women, were killed by shelling. More than 1500 more people may be trapped under the rubble, including more than 1000 children.