An FPV drone for chemical and radiation reconnaissance has been developed in Russia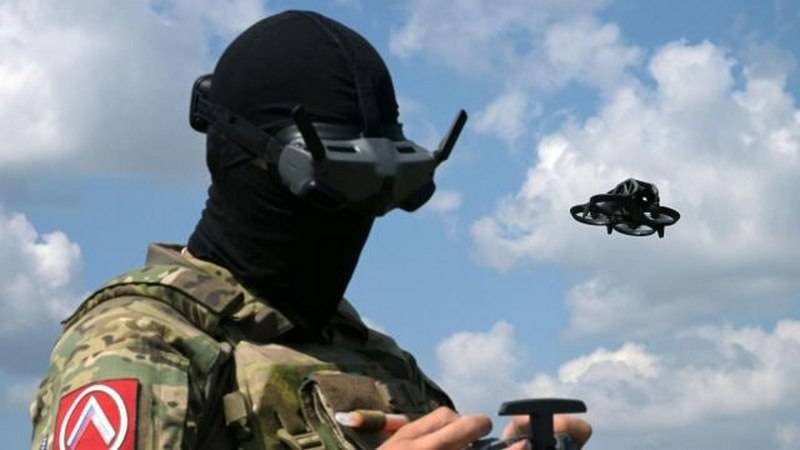 A special military operation pushed the development of unmanned aerial vehicles
aviation
, currently
Drones
actively participate in combat operations, performing various tasks. FPV-
drones
, controlled from the first person. They are mainly used as kamikaze drones to destroy enemy armored vehicles and manpower. At the same time, developers from the Center for Integrated Unmanned Solutions (CCBR) proposed using the drone as a chemical and radiation reconnaissance drone.
TsKRB has developed the Khrust reconnaissance complex based on an FPV drone. As stated, the main task of this drone is to identify sources of air pollution by chemical or radioactive substances. The drone can be used by both military and civilian specialists, for example, to detect leaks.
The Central Design Bureau is developing scenarios for the peaceful use of combat FPV technologies. One of the areas of work is the Khrust chemical reconnaissance complex for identifying air pollution from chemical and radioactive sources. The complex monitors an area of ​​several blocks within a matter of seconds and detects leaks with an accuracy of up to a meter
- leads
TASS
company message.
In design, the Khrust complex is no different from a combat FPV drone, only instead of a warhead, special sensors are installed that can detect dangerous chemicals and radioactive substances.
As explained in the Central Design Bureau, the company is developing a whole line of FPV drones that can be used for peaceful purposes. For example, for protecting the border in the mountains, monitoring various objects, etc. and so on. This can be done after the victory by highly qualified specialists who have left the army.
Already now it is necessary to convert combat FPV technologies into civilian use. Our victory is not far off. What then to do with the mountains of produced FPV drones, ground equipment and pilots with combat experience? We should not waste such specialists and leave their competencies idle; experience of working in difficult conditions of war can also be useful in peaceful life
- added to the company.