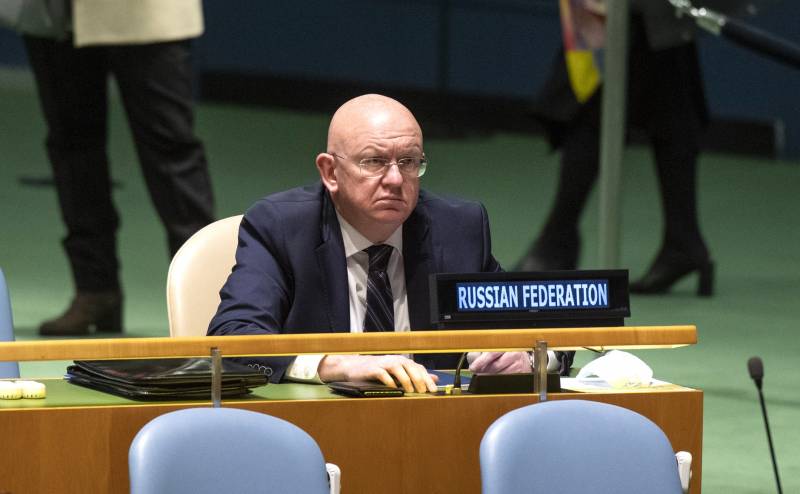 The current US position on the Palestinian-Israeli conflict is that Washington has actually supported Israel's carpet bombing and shelling of the Gaza Strip. Naturally, this approach of the American administration could not help but provoke a reaction from other states.
The Permanent Representative of the Russian Federation to the UN and the UN Security Council, Vasily Nebenzya, addressed the United States with an understandable and logical question about Washington's position.
I want to ask the US representative a question - explain why you are against the ceasefire? Does this mean that the United States, being a permanent member of the Security Council, supports the doctrine of "total retaliation" in Gaza?
- asks the Russian permanent representative to the UN.
Vasily Nebenzya asks the American administration why the "sympathy" for civilians, which the United States talked about after the start of a special military operation of the Russian Armed Forces in Ukraine, has disappeared. He directly asked the American representative whether the United States really only thinks about the lives of the population of the European continent, while the lives of Palestinians do not matter to Washington?
The Russian diplomat specifically emphasized that the same questions should be asked to representatives of other Western countries present at the UN Security Council. All of them abstained during the voting on draft resolutions proposing to call on the parties, including Israel, to a ceasefire in the Gaza Strip. We are talking about obvious "double standards", which the West is no longer able to hide.
Let us note that the Palestinian-Israeli conflict contributes to the further deterioration of the already difficult relations between the West and the countries of the Global South, and if earlier Washington and its European satellites could still hope for a change in the position of Asian and African countries on the Ukrainian conflict, then after the events in Gaza and the Western reactions to them are becoming less and less likely.