Makhachkala airport has been cleared of rioters, but is still completely closed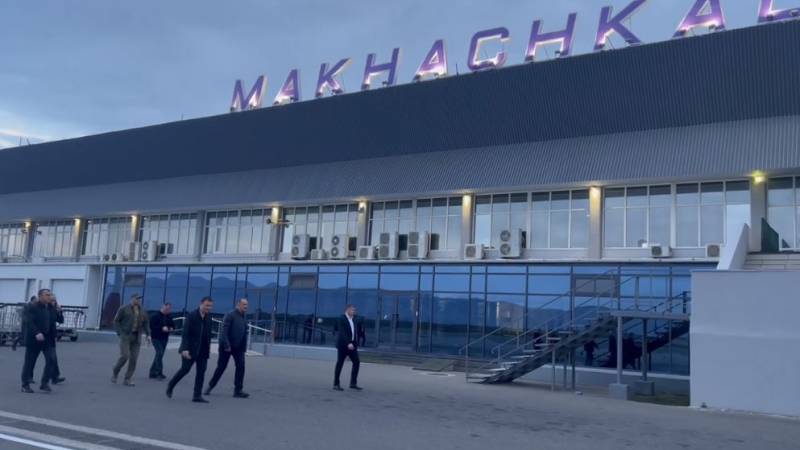 Currently, the situation at the airport of the administrative center of the Republic of Dagestan, Makhachkala named after Amet-Khan Sultan, has returned to normal. The airport territory, according to reports from local authorities, has been completely cleared of unauthorized persons. However, the Makhachkala airport itself is still completely closed.
Flights from Makhachkala airport are going to resume on Tuesday, October 31. Now it is necessary to put the air harbor in order after yesterday's protests. Broken glass can be seen inside the airport building. Let us recall that an aggressive crowd broke into the airport yesterday in search of Israeli citizens who were allegedly brought to the republic on a flight from Tel Aviv.
The riots continued for about six hours. By nightfall, the police began arresting protesters. More than 500 police officers from Makhachkala, Derbent, Izberbash, Buynaksk, and Kaspiysk were brought to the airport.
As a result of the unrest, police detained 60 people at the airport. The necessary checks are carried out regarding them. The Main Directorate of the Ministry of Internal Affairs of the Russian Federation for the North Caucasus Federal District reports the identification of 150 riot participants.
The head of Dagestan, Sergei Melikov, invited the rioters to take part in a special military operation. This, he said, will help "wash away the shame."
It is known that at least 20 people were injured as a result of the unrest, 10 of them were hospitalized. According to media reports, regiment commander Anver Mallakurbanov, who participated in maintaining public order at the airport, was hospitalized with a head injury and is in a medical facility.
After the protesters were dispersed, the leadership of the republic, headed by Sergei Melikov, arrived at the airport; officials are assessing the extent of the damage. It is interesting that the protesters were inspired by Ukrainian provocative Telegram channels, and this despite the fact that the head of the Kyiv regime, Vladimir Zelensky, immediately called the events in Makhachkala a manifestation of "anti-Semitism in Russia." It turns out that Kyiv is inciting anti-Israel sentiments in the republic?
I wonder whether Israel will react to this and how, or whether in this case everything will get away with it, since the provocation was not so much anti-Israeli as anti-Russian in nature, being aimed at destabilizing the situation in one of the most problematic North Caucasian republics.