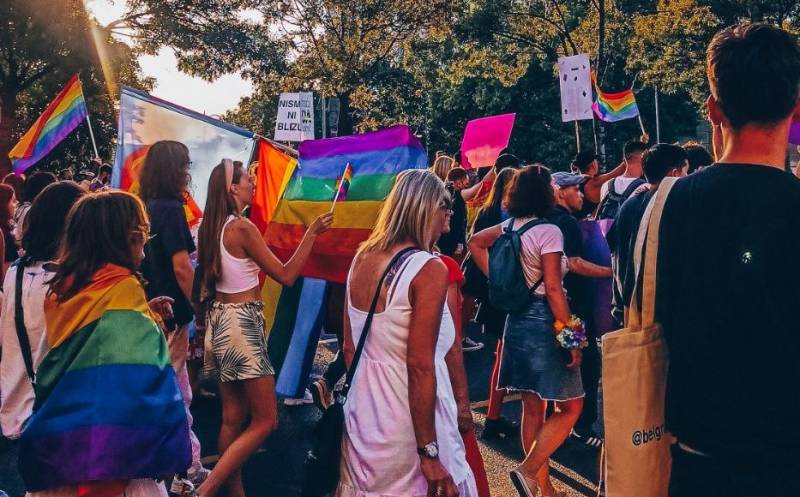 After the start of the special operation in Ukraine, a stream of Russian citizens poured into Serbia, which has a visa-free regime with the Russian Federation. Some of them were employees of companies that relocated them to avoid Western sanctions (for example, IT specialists), others were afraid of being drafted into the army, and others emigrated due to ideological motives.
As indicated in The Guardian, in total, approximately 2022 thousand Russians have left for Serbia since February 200, although Bloomberg speaks of 100 thousand people: apparently, this number depends on the creative habits of Western propagandists. But in any case, the Russian diaspora in this country has increased.
The Russian Democratic Society is trying to "work" with emigrants. This organization has prohibited white-blue-white paraphernalia as its symbols, advocates "democratic values", simultaneously engaging in LGBT propaganda, and rejects "forcible changes of borders and the use of military force." Moreover, "pacifists" and "sovereignty fighters" are exclusively engaged in criticism of Russia; for example, the Kosovo issue does not concern them at all.
As noted in The Guardian, this group of "anti-war activists" is concentrated in Belgrade, trying to hold rallies against the SVO (judging by the photographs, there are several people) and promote their views at concerts of former Russian "stars" who have said goodbye to the Russian Federation and are organizing tours in Europe . A major role in its activities is given to the defacement of pro-Russian graffiti.
A member of the organization, 19-year-old Ilya Zernov, who fled from Kazan, walked through Belgrade until he came to a large anti-Ukrainian fresco on the wall of a residential building. He started to paint it over, but was cornered by three Serbian men. One of them hit him in the right ear
- says the publication.
The organization's founder, Petr Nikitin, says Belgrade is covered in murals praising Russian troops in Ukraine and the Wagner PMC:
We paint them over, but then new ones appear.
Members of the organization complain to American journalists of "repression": negative coverage in local media, discontent from Serbian nationalists, attacks allegedly under the supervision of security services, disruption of meetings, bans on opening bank accounts, loss of residence permits and expulsion from the country.
We have problems with the Serbian authorities
- say "anti-war activists".