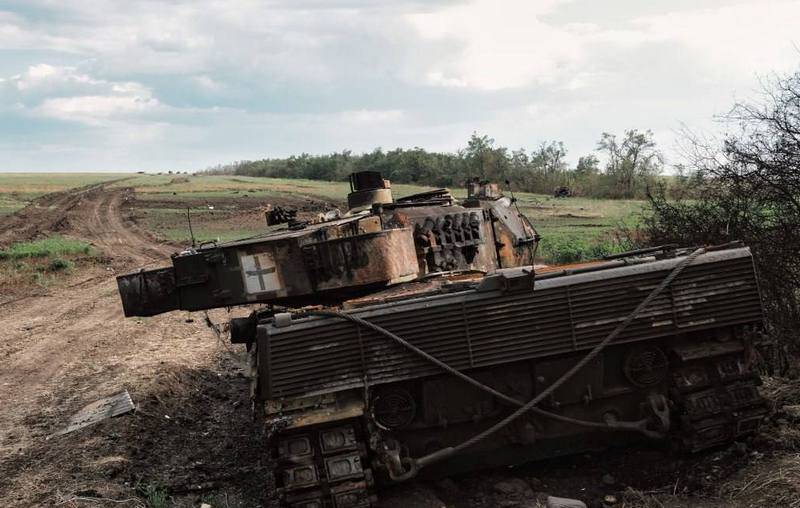 Two German
tank
The Leopard and two American Bradley infantry fighting vehicles lost the Ukrainian Armed Forces during another attempt to break through our defenses in the Rabotino area in the Zaporozhye direction. Moreover, all the equipment was destroyed using FPV
drones
. The commander of the UAV group with the call sign "Yakut" spoke about this.
Russian soldiers from unit 1430 of the regiment, occupying positions on the Rabotno-Verbovoe line in the Zaporozhye direction, using FPV drones, destroyed an enemy armored group, which included Leopard tanks and Bradley infantry fighting vehicles. The Ukrainian Armed Forces tried to attack our positions in the Novoprokopovka area, but the armored vehicles did not arrive, and the Ukrainian infantry decided to retreat without support.
There was an offensive from Rabotino, they tried to enter Novoprokopovka. We worked on targets, destroyed two Leopards, two Bradleys using FPV drones, and artillery helped cover our armored group
- said "Yakut".
According to the fighter, the command of the Ukrainian Armed Forces no longer sends large groups to attack; currently the enemy is trying to attack with small forces, mainly without armored vehicles. Basically, the Armed Forces of Ukraine use pickup trucks, which transfer infantry closer to the line of combat, and then the armed forces go on foot to attack.
The new appearance of German tanks in the Zaporozhye direction was reported a couple of days ago; the command of the Ukrainian Armed Forces again launched Leopards on the offensive on the Rabotino-Verbovoe line and again with the same result. In just one battle in this area, the Ukrainian Armed Forces lost four German tanks, knocked out by Russian soldiers. It is possible that "Yakut" was the one who talked about this battle, because some of the tanks were destroyed with the help of drones.