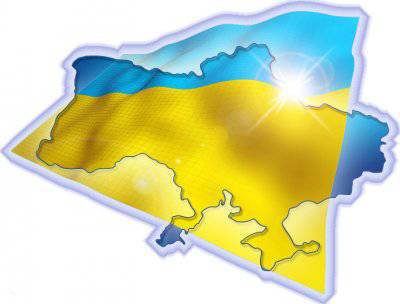 A nightmare for any Ukrainian nationalist is the Russian "occupation" of Ukraine. He dreams of how untold riches of his native land are transported by echelons to the imperial center, condemning the Ukrainians to hunger and poverty, and culture and language to oblivion. However, anyone who is even familiar with the real state of affairs in the "Square", such fears will seem unfounded. Ukraine is a poor country, which is expensive to occupy even for modern Russia. An elementary comparison of the financial and economic indicators of the two countries will convince anyone that the benefits of such a takeover will not be taken by the occupier, but by the occupied country. Well, what is the occupier, who will be forced to raise pensions and public sector wages two to three times to his level, start building roads, restore production, supply energy at low prices, while he will do all this to the detriment of his country's citizens? After all, Ukraine is not in a position to provide its citizens with a standard of living comparable to that of Russia. Today it is already obvious to all normal people.
But this is not the most important thing. A significant part of Ukrainians believe that the transformation of Ukraine into a great European power did not take place solely through the fault of unqualified "European integrators". That is, if it were not for Kravchuk, Kuchma, Yushchenko, Yanukovych and, of course, the omnipresent "Muscovites", then Ukraine would have been in Europe for a long time with an appropriate standard of living. At the same time, if today European integration is a ghostly dream of independent-minded people, then if it is included in Russia, it will turn into a missed opportunity. I have no doubt that as soon as Ukraine becomes part of the Russian Federation, some dreamers in embroidery will wander across the steppes of Ukraine and will stir up people with tales of stolen happiness, about how well it would live in a European democratic state.
In addition to restoring the shattered Ukrainian economy, Russia will have to satisfy the creative fantasies of the nationally preoccupied part of Ukrainians and shell out for substantial financial support from Ukrainian culture and language. Captivating prospects to touch budget funding will attract thousands of Svidomo creators, who will begin to write all sorts of crazy stuff, and justify its unpopularity with certain intrigues of Muscovites, which prevent the Ukrainian talent from turning inwards and upwards. From the moment of the reunification of Ukraine and Russia, all the blame for the ignorance by Ukrainians of their ridiculous culture and language will be entirely on Moscow.
To the same extent, it is in Russia that the center of responsibility for any Ukrainian problem will shift, up to every bump on a rural road. The parochial rulers of the Selyansk and Farmerski will not feel the spirit of turning the territories under their control into an oasis of prosperity and will write off all their own shortcomings to the "imperial center." Well, if one of them tries to urge to honor the law, to forget their old ways and not to steal beyond measure, then we are waiting for the appearance of another great martyr who suffered for the Ukrainian idea.
Further, it is even funnier, according to all the laws of modern democracy, 1 / 5 of people's deputies in the State Duma of Russia will come from Ukraine (given that Ukraine's population is smaller than the population of the Russian Federation). Represent this circus? There will be something that Vladimir Putin did not want to allow in his time - the Ukrainization of Russian politics.
I have no doubt that everything will be exactly as I described, since I studied the psychology of independent-style intellectuals well enough and are well acquainted with
history
of this amazing edge. Alas, the occupation of Ukraine is not threatened, and this is the biggest nuisance for the residents of the failed state.
I would not describe why the fears of Svidomo Ukrainians are unfounded if we did not have those who dream of the immediate reunification of Ukraine and Russia. At the same time, their number is growing in proportion to the growth of nationalist sentiments in Ukraine, the pressure of Ukrainization, and, most importantly, the drop in the living standards of the population. Pro-Russian citizens of Ukraine see in Russia that saving straw, for which you can grasp and get rid of the demoniac Ukrainian nationalists forever, as well as solve the country's financial and economic problems.
Russophiles do not want to understand that at this stage for the vast part of Ukrainian society, even allied relations with Russia are unacceptable. Is it really not clear that not only the former Austro-Hungarian province of Galicia is infected with nationalism and Russophobia, but the rest of Ukraine, albeit to a lesser degree? After twenty years of active anti-Russian, anti-Russian propaganda in Ukraine there are no regions not infected with Russophobia. Ukraine and Russia are not a divided German people of the GDR and the Federal Republic of Germany, but a people who have lost their kinship with each other. Before talking about reunification, it is necessary to at least return that "fraternal friendship of nations" that existed during the Soviet era.
Modern Ukraine is a territory of mass infection with svidomizm, the main symptom of which is Russophobia. Not Russia should treat this infection, but ourselves. We, Russians and Ukrainians, should return to the feeling of a single country, a common cause, which has been corroded from us for many decades. The problems of history and the Russian language are our internal problems, and we, the citizens of Ukraine, have to solve them. Any intervention by Russia will be viewed as an unfriendly act.
But why this conversation? The proposals of the Russian leadership to Ukraine have already been drawn up, they boil down to the creation of a Common Economic Space and the Customs Union, with the subsequent transformation into the Eurasian Union. Russia has no other plans for Ukraine, and probably will not, if the Ukrainian state maintains itself as a whole.