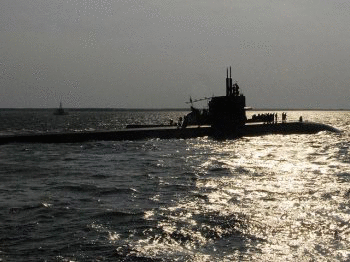 The US nuclear submarine Jacksonville on Thursday hit a fishing boat in the Persian Gulf immediately after passing through the Strait of Hormuz. As a result, one of the periscopes of the submarine was damaged, but no one was injured in the incident, Reuters reports citing a source in the US Navy.
navy
.
The nuclear reactor of the boat did not affect the collision. Also, there was no damage to the power plant system and there is no reason for concern about the watertightness of the submarine, the statement of the command of the Fifth Fleet of the US Navy said.
At the same time, it is noted that the collision was so insignificant that, apparently, the captain of the ship did not even notice it. The vessel continued to follow the same course, without stopping and not slowing down.
The incident occurred on Thursday 5 o'clock in the morning local time and is being investigated by official authorities. Recall that Iran is constantly threatening to close the Strait of Hormuz, which connects the Persian Gulf with the Gulf of Oman Indian Ocean, in case of increased pressure in connection with its nuclear program. Through this strait is transported a fifth of all the oil produced in the world. Washington states that the US Navy in the Persian Gulf provides security in the region.
Recall that in August, the US destroyer USS Porter collided with a Panamanian oil tanker in the Persian Gulf near the Strait of Hormuz. Then, too, no one was hurt. There was no oil spill, the damage was insignificant.