Against the backdrop of significantly increased missile and bomb attacks on the Gaza Strip, the UN General Assembly voted on a resolution calling on the parties to the Palestinian-Israeli conflict for an immediate ceasefire. The resolution was proposed by Jordan and found approval among the majority of delegations.
Delegations from 120 countries around the world expressed support for the resolution, including the permanent missions of Russia, China, Brazil, Turkey, Kazakhstan, Belarus, South Africa, Indonesia, Saudi Arabia, Iran, Argentina, Armenia, and Azerbaijan. It is noteworthy that several NATO countries also voted for the resolution, including Belgium, France, Norway, Spain, and Slovenia.
45 delegations abstained during the voting. Among them are Latvia, the Netherlands, Bulgaria, Australia, India, South Korea, Serbia, and Ukraine.
There were 14 voters against Jordan's resolution. Among them were the USA, Hungary, the Czech Republic, Croatia, Paraguay, Papua New Guinea, Micronesia, Fiji; of course, Israel.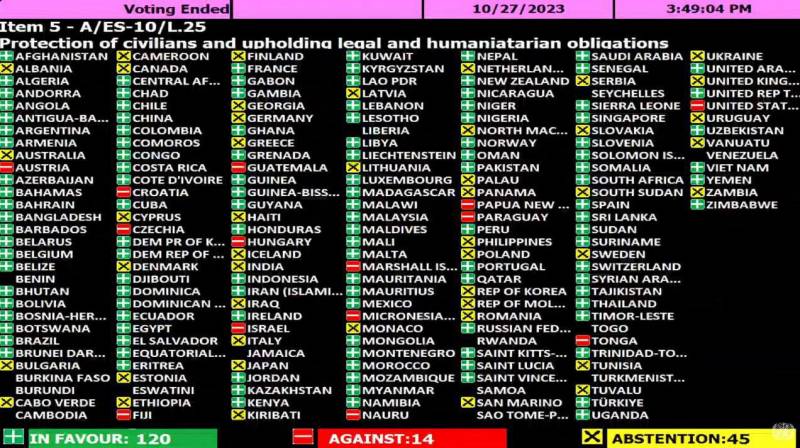 However, many countries did not vote. A few examples: Seychelles, Venezuela, Cambodia, Jamaica.
The resolution, like many other resolutions of the UN General Assembly, is of a recommendatory nature, and therefore Israel immediately stated that it does not intend to implement it. The strikes against the Gaza Strip continue at this very moment. A powerful explosion occurred in the immediate vicinity of the hospital, which was once opened by the Indonesian Crescent Committee in the Palestinian enclave.
Israeli Permanent Representative to the UN Gilad Erdan on the adopted resolution:
Today is the day that will go down in
history
as an example of dishonor.